Your new movie Massacre at Femur Creek - in a few words, what is it about?
It's a horror/comedy set in the summer of 1984. 3 childhood friends return back to their favorite childhood camping spot, "Femur Creek", to celebrate a weekend of camping, drinking and getting radical! The party interrupted by a knife wielding maniac with bloodshed on his mind. It's a fun, wild romp and a love letter to the 80's slasher genre. Think Friday The 13th meets Wet Hot American Summer with a dash of Stand By Me.
What were your inspirations when writing Massacre at Femur Creek? And since your film is paying hommage to old school splatter movies - is that a genre at all dear to you, and why?
I was working as an extra on a TV series about 3 or 4 years back, and like any extra gig there is a lot of waiting around so I brought a 200 page notebook and some pens and just wrote and wrote while in BG holding. One of the little scripts I wrote in that notebook was the seed that would eventually become Massacre at Femur Creek. It was a lot more nasty in that initial draft and the narrative was a bit different, but the concept of lampooning 80's slasher films was born then. Femur Creek is an actual place that exists on a hiking trail I frequent. The first time I saw that old faded wooden sign, I knew that was a great name to use in a horror movie.

Yes, the old school slasher genre is very dear to me, although the majority of filmmakers that grew up in the same era can share this cliché. The first one I ever saw was Friday The 13th Part 2 when I was 8 years old. Saw it at a sleepover at a friends on cable late one Saturday night, I had never been so terrified in my life (plus I saw my first onscreen naked woman). I was addicted to that feeling and spent most of my youth from there on out eating Count Chocula and watching every horror movie I could get my grubby little hands on. Horror films shaped my love of cinema, and I owe a lot to them.
What can you tell us your movie's look and feel? And what were the main challenges of making everything look like 1984?
It has obvious influences of the 80's genre of films. One of my fondest memories about being an 80's baby was my Mom and Aunt both had the same Tupperware in their kitchens. These ugly puke orange and green juice pitchers and containers, just putrid colors that they must have purchased at some wild Tupperware party back in the early 80's. I wanted Massacre at Femur Creek to have that same color scheme so if you watch it you will see a lot of orange and green mixed in the palette of the film. I also told the DP's and the colorist on the film that I wanted this (modern day shot on HD) film to look like a "Remastered DVD" of an old low budget 16mm slasher. Bumpy cameras and focus drops were ok, just not obvious. The colorist added a nice layer of film grain to the final conform to give it that soft raw look and he tried to match the colors and texture of the look to that of the original Friday The 13th, which I think he did a tremendous job doing. I also paced it as if this was a movie that was being edited on film. There are a lot of long takes. Cutting on film was painstaking, so if you watch the films of that era they all have that same pacing, no need for flashy cuts, etc. Modern day digital editing makes it easy to make crazy cuts and transitions, the quick paced music video editing was still in it's infancy in 1984, so I kept the mentality that I was editing on film when I was sitting at the computer.

All the props used in the film are authentic to that period. I was even able to get the exact same Coors beer cans that were used in Friday The 13th Part 4 (which was released in 1984). Honestly, if you scour the annals of Ebay, you can find just about any type of prop you need. God bless pack rats!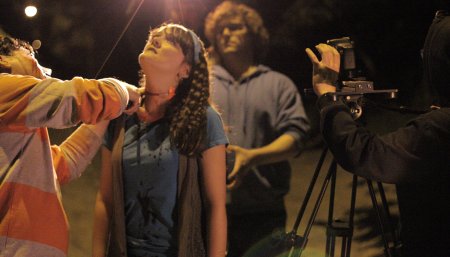 Heather Dicke at the receiving end
For all the gorehounds among my readers, you just have to talk about your gore effects for a bit, and was there any line you refused to cross (for other than budget reasons)?
Last winter I was at a film festival/convention promoting my previous short film Follow in New York. Standing in the press line ahead of me was Tom Sullivan, who did all of the effects on the original Evil Dead! As we waited in line we talked about the film, Ray Harryhausen, and gore among other things, it was amazing and he was a totally humble and charming guy! He actually gave me his blood recipe, the same one he used on all the blood for The Evil Dead. That same recipe was used for Massacre at Femur Creek, and I wanted it to spray just as hard. We had two 500ml syringes with tubing loaded with fake blood rigged for each blood take. I think we used close to 4 litres of blood on this one.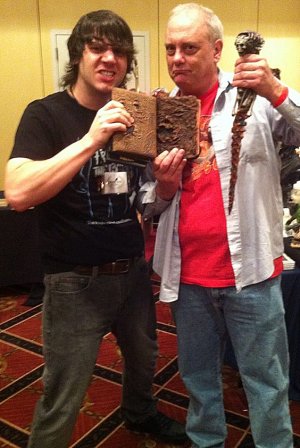 Kyle with Tom Sullivan
Your film also has a humourous edge to it - care to talk about your movie's brand of comedy for a bit?
Horror is a tougher genre to pull off than some think. It really works best when it's really scary or really funny. This was my attempt at making a funny one. I wanted to satirize the genre itself. I sort of did an Airplane! approach to the humor, watch the most serious genre film you could find and then try to inject humor into it and see if it works. My 3 main leads all have a strong improv and comedy training background so that was most definitely a huge help in getting the humor across.
What can you tell us about your key cast, and why exactly these people?
Heather Dicke [Heather Dicke interview - click here] as The Hitchhiker. I worked with Heather on my short Follow the previous year and had a great experience working with her, so I wrote this part for her. She has a great attitude on set, comes prepared and always gives you lots of options in editing; a director's dream actress. By the time her shoot day was over she was covered in litres of fake blood, but was still ready to get another take if need be.

Nigel Grinstead as Pat & Andrew Barr as Kevin. Nigel and Andrew came as a package deal that was arranged with Dean Young (co-star and co-producer), when we were in the early stages of casting. Nigel and Andrew are both two of the brightest up and coming stand-up comedians working in Toronto right now so it was great to have them play these parts. They have a great onscreen chemistry together and also came prepared with material of their own that was worked into the film to help develop their characters and propel the humor.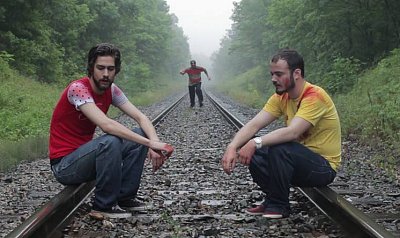 Nigel Grinstead, John Migliore, Andrew Barr
Dean Young [Dean Young interview - click here] as Rory: This is the 3rd short of mine that Dean has acted in and we have worked on each other's projects for years. He originally came on board to work on some punch up for the script but really enjoyed the script and wanted to become a part of the production team and eventually the cast. He was integral in getting Nigel & Andrew on board and arranging all the table reads and script meets before shooting began as well as being my "Dimestore DeNiro".
John Migliore [John Migliore interview - click here] as The Shape: I can't think of anyone else who could play this part. When I wrote it, I had a few people in mind for this character, but I saw John at a Troma screening interviewing the stars of Return To Nuke 'Em High as his alter ego character Johnny Goulash and I knew this was the guy! We worked on the character during a costume fitting, and he brought the character to life with his interpretation. His enthusiasm on set is very quite infectious even though he was playing a knife wielding maniac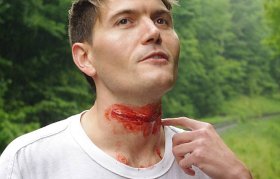 Dean Young
Massacre at Femur Creek is mainly an outdoors film - so what can you tell us about your location, and what were the advantages but also challenges filming there?
Everytime I make a film outdoors, I say it's the last one, but they always end up back in the woods! The opening scene location (the country road) was actually locked in with a city shooting permit and we had the run of that road for the night we shot, which was great. 2 of the 3 days we shot outdoors in the woods we got caught in some hard afternoon rain, which delayed shooting back to the point we needed a pick-up day to finish off the shoot. The advantages were that once we hike out into the location is complete and total isolation, which is what I wanted to convey on screen and it comes across as such. The final scene of the film was originally intended to be filmed during "magic hour" with a warm sunset behind us, but of course it was pouring rain that day. However, the effect that the fog and rain has on not only the look and the actors' performances actually helped create a much better ominous feeling for the film's ending. Like Morgan Muscat [Morgan Muscat interview - click here] has said about it, although it was rough to be out shooting in the rain for hours on end, what comes up on screen makes it worth it.
What can you tell us about the shoot as such, and the on-set atmosphere?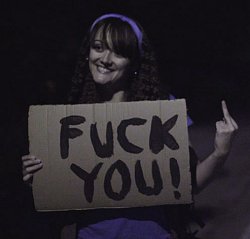 Heather Dicke
Other than the rain issues, the shoot went great. This was a very ambitious project, and I had the biggest crew I've ever worked with (11 deep) so there were a lot of things that could go wrong, but everyone worked awesome together. I like to keep a very relaxed set, and as long as we are getting shots in the can, everyone can stay that way. The long hikes and equipment hauls were tough on the crew but as the saying goes, once its up on screen it is worth it!
The $64-question of course, when and where the film will be released onto the general public?
It will have the premiere screening at the Hamilton Film Festival, in Hamilton, Ontario, Canada, which runs November 3-9, 2014. It is now being submitted to film festivals around the world and will hopefully play in a city near you... and you, too.
Any future projects beyond Massacre at Femur Creek you'd like to share?
I'm working on a new horror film about family, land and blood.
Your/your movie's website, Facebook, whatever else?
http://kylewhytonen.wix.com/femurcreek
https://www.facebook.com/pages/A-Henry-Krinkle-Production/328942153788610
Anything else you are dying to mention and I have merely forgotten to ask?

Feeling lucky ?
Want to
search
any of my partnershops yourself
for more, better results ?

The links below
will take you
just there!!!

Find Kyle Hytonen
at the amazons ...

amazon.com

amazon.co.uk

amazon.de
Looking for imports ?
Find Kyle Hytonen here ...
Something naughty ?
(Must be over 18 to go there !)

Well I just wanted to give a thanks again to the amazing cast & crew of Massacre at Femur Creek, all of the IndieGoGo supporters and the music composers of the film, Gregory Barnes and Jupiter-8, who both composed great original music for the film. You folks are the backbone of the movie!
Thanks for the interview!
Always a pleasure, and thanks for supporting indie film!