Your upcoming movie Massacre at Femur Creek - in a few words, what is it about, and what can you tell us about your character in it?
Massacre at Femur Creek is Kyle Hytonen's [Kyle Hytonen interview - click here] love letter to the 80's, and specifically 80's slasher films. I play "The Shape" in the film, so I got to be the psycho killer, which was great...
What did you even draw upon to bring a psycho like "The Shape" to life, and (even if that might sound mean) how much of yourself can we find in your character? But also, how much fun was it to play a character like this?
Well, I didn't draw from real life at all. We were creating a movie set within a specific era and genre, so my influences were other slasher movies. I was the guy on set saying stuff like Michael Myers would probably do something like this... I think you can see a lot of me in the character. He's a killer, but he's not really all that polished. He makes mistakes and does funny stuff. I can definitely relate to that. It was great playing this sort of character. I do a lot of horror films, so masked psycho killer has been on my bucket list for some time.
To what extent could you identify with the movie's brand of comedy, and do you consider yourself a humourous person in real life?
The movie's brand of comedy was right up my alley. I don't speak in the film, so I have to get everything about me across physically. The humour I had to convey was always very physical and I love that kind of comedy. I do see myself as humourous in a creepy kind of way. I also play horror host Johnny Ghoulash in Partially Devoured Movies, which has a lot of outrageous comedy in it...
How did you get hooked up with the project in the first place, what did you find appealing about it?
I met Kyle at a film festival a while back. We were both showing films there. He approached me with a script sometime after that. I read it and laughed out loud a few times. I knew it was going to be something cool. I've always been a fan of mixing horror and humour. It just goes so well together...
What can you tell us about your director Kyle Hytonen [Kyle Hytonen interview - click here], and what was your collaboration like?
Kyle's a real professional. He takes good care of his cast and crew, he's well-prepared and knows what he's looking to capture on film. It was real easy and fun to work with him. His directions were always clear and very helpful.
Do talk about the shoot as such for a bit, and the on-set atmosphere?
A lot of it was shot deep in the woods. We did a lot of hiking to locations. The set was professional, but at the same time it was just like being out with a bunch of pals. I really had a good time, even though I'm not a big fan of hiking! I did tended to keep quiet or to myself some of the time, just to help me stay in character.
Any future projects you'd like to share?
I just finished shooting the second season of Partially Devoured Movies a short while back. The show will be playing on Zom-Bee TV and some other Roku stations soon. I'm currently working on a feature called Johnny Ghoulash Escapes From Creightonville. It's the story of a horror host who, by mystical and magical means, becomes trapped in a movie. I hope to have it completed by the end of September. It's going to premiere at HELLoween Fest in Virginia this October.
What got you into acting in the first place, and did you receive any formal training on the subject?
I've been shooting and acting in my own movies since I was a kid. Super 8, Beta, VHS, Hi 8, Mini DV... I burned through them all. I never had any formal acting training, but I took some film courses here and there and am quite naturally a ham sandwich...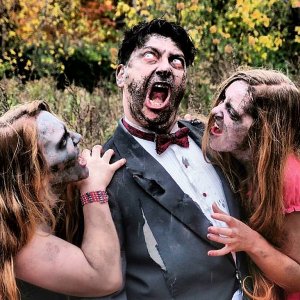 Relics of the Damned
You have played zombies in an I think record-breaking number of movies, including several by George A. Romero - so what do you find so appealing about playing the undead, and some of your zombie-highlights?
Yeah. I've lost count. Definitely more than 25 zombie films to date. Dawn of the Dead (2004) was my first. I loved zombie movies and was always terrified by them. That one helped me get over my fears. Survival of the Dead was an amazing experience. I got to be one of the zombies that tear Chuck to pieces at the end of the film. I just kept going back and biting and ripping, biting and ripping... I think playing a zombie can be very cathartic. I've never felt more free to release all my rage and still not go to jail afterwards!
You of course also have to talk about your recurring character/horror host Johnny Ghoulash for a bit, and the movies and series he has appeared in?
Johnny Ghoulash started out as a bit I did for Matt Cloude's Midnight in the Mortuary series. He then became the host of Partially Devoured Movies, which Matt and I produced together. Johnny also appears in Kount Kracula's Review Showcase, which is produced by Tony Watt. Johnny made an appearance in a short film called Project 37 and is now the main character in a feature film entitled Johnny Ghoulash Escapes from Creightonville.
Any other films of yours you'd like to talk about?
Sure! I've appeared in a few films by Brett Kelly, like My Fair Zombie, Homicycle, Spyfall and Raiders of the Lost Shark. Working with Brett is always great. I got to be a graveyard ghoul in John Johnson's remake of Plan 9 [John Johnson interview - click here], which was very special to me as a fan of the original film. I played a number of small roles in Lloyd Kaufman's Return to Nuke 'Em High: Volume 1 and Volume 2. Basically, I love horror and exploitation films and can't wait to do more!
Other than making movies, you have also done quite a few comicbooks, right? So what can you tell us about John Migliore, the comicbook creator/artist?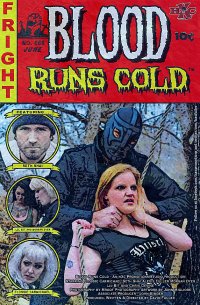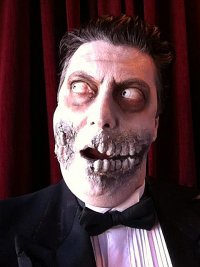 Night of the Living Dead Live


Feeling lucky ?
Want to
search
any of my partnershops yourself
for more, better results ?

The links below
will take you
just there!!!

Find John Migliore
at the amazons ...

amazon.com

amazon.co.uk

amazon.de
Looking for imports ?
Find John Migliore here ...
Something naughty ?
(Must be over 18 to go there !)

Well, he's semi-retired these days. I probably wrote close to a hundred published comics over the years. I wrote The Grad for Lethargic Comics and Dinky on the Road for Blind Bat Press. I wrote a bunch of Stargate books for Entity Comics that took the characters from the movie to new adventures. Most recently, I did a comic called, Blood Runs Cold for hXc Promotions.
How would you describe yourself as an actor, and some of your techniques to bring your characters to (after-)life?
I'm a big movie buff. I'd say I base my performances more on what I've seen other, better actors do rather than relying on real life experiences. Also, I'm basically an average guy, so I tend to like losing myself in costumes and make-up and becoming someone else entirely. I find that really helps me turn into a character. I'm not a method actor, because I can turn it on or off, but I do like getting lost in a role.
Actors (and indeed actresses) who inspire you?
I'm inspired by Sylvester Stallone, Jamie Lee Curtis, Lon Chaney, Christopher Lee, Bela Lugosi [Bela Lugosi bio - click here] and so many others. I'm also a big fan of actors like Dick Miller [Dick Miller bio - click here] and Sid Haig. I really relate to them and want to have careers like them that span the years.
Your favourite movies?
This is always tough. My favourite horror movies are The Shining, The Exorcist, Dawn and Day of the Dead, and Halloween. My favourite adventure movie is Indiana Jones and the Temple of Doom. Airplane is my favourite comedy without a doubt. I love Brian De Palma's films, particularly Carrie, Phantom of the Paradise and The Untouchables.
... and indeed, films you really deplore?
I don't really enjoy much in the way of dramatic films. Ever tried to watch The Prince of Tides? So boring...
Your website, Facebook, whatever else?
IMDb - http://www.imdb.com/name/nm4276395/
Web - http://johnmigliore.blogspot.ca/
Twitter - http://twitter.com/survivalzombie
Survival Zombie Films - http://www.facebook.com/survivalzombie
Anything else you are dying to mention and I have merely forgotten to ask?
Nope! Better tear me away from the mic while you've got the chance!
Thanks for the interview!
You're most welcome!