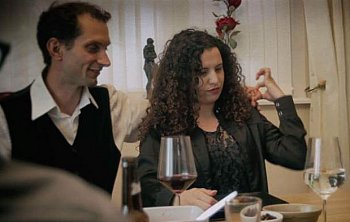 with Petr Malinkovic in The Night Monica Came Back
Your upcoming movie The Night Monica Came Back - in a few words, what is it about, and what can you tell us about your character in it?
The Night Monica Came Back is an astonishing and delirant horror-comedy short film. A few teens are going for a camp and some of them die in odd circumstances. 20 years after, they receive a mysterious invitation to meet again...
I play the adult Monica, she seems to be much different than when she was a teen. She has an amazing twist in the story.
What did you draw upon to bring Monica to life, and how much of Sandra Valera can we find in her, actually?
Well, Monica is a sassy hahaha, and I consider myself a bit sassy too, so regarding that it was easy. I started to think as Monica, that is what I need to do to bring a character into life, also thinking of what kind of clothes she would be wearing. She likes people paying attention to her too. Also it was pretty easy as she is Spanish like me, so I put a bit of myself into it too. I am very happy with the results.
With The Night Monica Came Back being a horror comedy, are these genres that actually appeal to you, both as an actress and as a viewer?
I have always loved horror films, and I can easily play somebody mysterious, I love to do that. I must to admit that I have never been much of a comedy viewer as I prefer other genres, but this short film has been a nice and amazing discovery for me, as a person but also as an actress. Comedy was always something that I resisted.
Shooting The Night Monica Came Back was actually part of an "actors' bootcamp" - so do talk about the bootcamp for a bit, and how did you get involved with it even?
Well the bootcamp was an intensive weekend. We did not have much time to play around, if you know what a mean. We did some badass warriors workout, and oh God, it made me realise that I was not fit at all. Then we did mindset, and that was tough, we had to open the deepest part of ourselves to the rest of the group, but it was so worth it that I do not regret a bit. Meditation was involved too, and of course the amazing a beloved Laurance R. Harvey, with whom we had the pleasure to do a workshop with. We all became very close, and at the end of the weekend, we felt like if we were family. Was absolutley amazing. I remember having a live call with Eirian Cohen [Eirian Cohen interview - click here] while I was on holiday in Spain, she informed me about this amazing opportunitiy, and without thinking twice I told her that I was in, it took me less than a minute to decide, hahahaha.
The Night Monica Came Back also stars horror veteran Laurence R. Harvey from Human Centipede 2 - so what was working with him like?
Working with Laurence was something from another world. Oh Dios mio, he is such a proffesional, amazing, kind, caring person. You can learn so much from him. He even gave me some good tips and also told me when he discoverd that he wanted to be an actor. I will never forget the experience of working with him, and I am looking forward to do it.
What can you tell us about the shoot as such, and the on-set atmosphere?
Well the shoot took more time than expected and we ended up filiming for about 13 hours nonstop, but the atmosphere was very good. Working with Cameron Prudames is easy and quite funny, I worked with him before, when we shoot A Mole Walks into a Bar and I knew it was going to be as easy as it was the first time. Also the rest of the actors and crew were very helpful so the day went by very quickly, thanks to all of them, and also thanks to our Dr. Evil!! without him this would have not been possible. Do you know him? He is an amazing, crazy person, hahahaha [and who on closer inspection would be Michael Haberfelner, who on very close inspection is actually, me ... Michael Haberfelner interview - click here]. Well everything was excellent on all levels.
Any future projects you'd like to share?
Well, I am preparing a short film with other tribelets, but I cannot say much about it, as we will present it in a competition on November 11th , so as you can see we have a very tight schedule. I will only add that it is going to be hilarous
What got you into acting in the first place, and what can you tell us about your education on the subject?
I always wanted to act, but unfortunatley all the shcools I searched when I was a teen were to expensive, and we could not afford to pay them. Then I moved to England 5 years ago, and just on February this year I found Northern Star Acting, I joined them at the begining for fun and going to the class, but everything started to move very fast, and here I am 8 months after, and I have already filmed two short films, and I love it, it is a dream come true!! But nothing comes for free, so you need to work hard, and commit if you want to be part of something amazing as acting.
How would you describe yourself as an actress?
I believe I am very professional, I could play different roles in drama, horror, but there are certain types I would not go for. I commit to my job as an actress, and I always try to learn, in this life you never stop to learn, but you must want to do it, it is pretty easy to be sitting at home waiting for things to happen. As an actress and as a person I push myself every day, trying to escape the routine and easy life of being sitting at home :)
Actresses (and indeed actors) who inspire you?
Well I really like Jennifer Lawrence, she is very young, but has that availability to move you when she is playing any role. I loved her character in the film Silver Linings Playbook. I do also admire Kate Winslet, she is one of the actresses who said to those who never believed in her "look at me, I am here", but I admire every actress, their job. Peter Jackson, I adore him for binging Tolkien to life!!
Your favourite movies?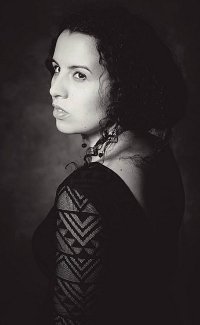 Feeling lucky ?
Want to
search
any of my partnershops yourself
for more, better results ?

The links below
will take you
just there!!!


I got one absolutley favourite movie, the one since I was 14 years old, The Lord of The Rings. All about this movie, its characters, its landscapes, the deep conversations, those amazing scenes and the sript that we will never forget. I do also love Whiplash, that was a masterpiece, and Lost in Translation. Have you also watched Inception, love Leonardo DiCaprio, he is a brilliant actor, can play so many different roles, I do admire him!! Oh by the way, Deadpool, hahaha hilarous! Any sci-fi movie too :)
... and of course, films you really deplore?
I am still trying to recover for the big deception that Lights Out was!!! I love horror movies too, but boy that movie was having one of the worst finales ever. I also cannot stand Ted - a teddy bear that gets drunk, smokes weed and farts ... seriously???
Your website, Facebook, whatever else?
Twitter: @Sandra_Valera_
Facebook: Sandra Valera
I am still in process of creating my website :)
Anything else you're dying to mention and I have merely forgotten to ask?
I would love to tell everyone, that they should be following their dreams, I might have said this thousand times already, but do not let anyone tell you what you can or you cannot do!!!!! Just the poeple who are not happy with their lives will try to put you down, don't give them the satisfaction!!!
And I would like to thank all the members of Northern Star Acting, especially to Eirian Cohen [Eirian Cohen interview - click here] and Liam Rooke.
Thanks for the interview!