Hot Picks

The Night Monica Came Back


UK 2017
produced by
Eirian Cohen, Michael Haberfelner (associate) for Northern Star Acting
directed by Cameron Prudames, Layla Randle-Conde
starring Laurence R. Harvey, Elizabeth-Mae Starbuck, Sandra Valera, Lee Ashley Preston, Petr Malinkovic, Charlotte E. Jones, Eirian Cohen, Dylan Furness, Chris Dudley, Kayla Leigh Holdsworth, Tshayi Hercules, Jacob Ian Brayshaw, Taylor Jayne, Sharon Spink, Barnaby Edward Skelton, Sharon Melo, Rachel Brownstein, Gabriel Angelo Frisicaro, Harry Sugden, Thomas Baxter, Michael Haberfelner, Elin Russell-Hughes, Tristan Roberts, Patrick Lee
written by Michael Haberfelner, music by Kevin MacLeod/Incompetech, cinematography by Cameron Prudames, edited by Michael Haberfelner


short

review by
Mike Haberfelner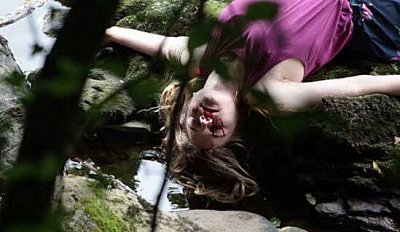 20 years ago, scout leader Pops (Laurence R. Harvey) took a group of kids, aged 8 to 16, camping, an endeavour doomed from the start when Spanish exchange student Monica (Elizabeth-Mae Starbuck) is attacked by a person unknown when alone in the woods and her arm is slashed. Young Herbert (Dylan Furness), who has long wooed her from afar, sees this as his chance to get close to her as the understanding good friend ... but ultimately it's show-off and self-proclaimed "manly man" Thurston (Lee Ashley Preston) who wins her over, reading to her the "spell of death" from a "book of spells", just for a laugh - but then she keels over and dies. And Pops, when he finds her, has a fatal heart attack ...
20 years later: The erstwhile kids from the summercamp are re-assembled for a macabre reunion ... by non other than Pops, who has returned from limbo but can only exist in the land of the living inside a column of fire, and who wants to finally find out what had happened back when. But his return from the dead is overshadowed when adult Thurston (Petr Malinkovic) brings alive and kicking Monica (Sandra Valera) to the event, who claims she has been dead only "by British standards". But then people start dying at the reunion, and now it's up to adult Herbert (Chris Dudley), his bff Agatha (Tshayi Hercules, as a kid played by Kayla Leigh Holdsworth) and ditzy Christine (Eirian Cohen, as a kid played by Charlotte E. Jones) to find out what's really going on ...
The Night Monica Came Back is a movie produced by Yorkshire acting academy Northern Star Acting, shot over two days, one starring its teen, the other its adult students, plus veteran actor Laurence R. Harvey (Human Centipede 2) and the academy's director Eirian Cohen. And since I was personally involved in the making of this movie as writer, associate producer and editor, I am of course biased enough to be unable to write an objective review, so I asked Canadian punk rock body horror auteur Nadine L'Esperance to help out as guest reviewer:
This independent movie starring Laurence R. Harvey has a unique, darkly humourous twist. A group of people who grew up together have a party and reminisce about the past when their late counselor "Pops" pops into the party. As they all remember what happened 20 years ago questions arise, but then something unexpected or rather "someone" unexpected happens.
This is a dark humour short, with many oneliners and bits of slapstick kind of comedy it was hilarious to watch. The campiness of this film makies it exactly the kind of movie I enjoy. Plus I really got a kick out of Laurence wearing a Wu-Tang Clan t-shirt - THAT was funny!
I recommend this film for people who like dark humor and a twist of the supernatural.