Your upcoming movie A Killer Conversation - in a few words, what is it about?
In a nutshell, we can only imagine how we would feel should we answer the door to a burglar ... well this film turns all those thoughts upside down.
How did you get involved with the project in the first place?
I was working with the producer Melanie Denholme [Melanie Denholme interview - click here] on another project, and she asked if I would be interested in reading the script as I'm known for being a one-man band and that was what she was looking for, someone who could shoot, direct and edit the film. I read the script on a journey home from Bristol to Gatwick and literally could not put the script down, I messaged the producer half way through reading to inform her that I wanted to be part of it.
As far as I know, A Killer Conversation is your first comedy, right? So what can you tell us about your directorial approach, and how does making a comedy differ from directing drama?
I had made one very short comedy horror in the past but this was my first full blown comedy feature and it was so much fun. Having become familiar with the script I knew a horror approach would be best-suited to the project but I wanted to push the visual style further than I had done before, and so jumped in with both feet and went that one step further hammer and tong. Having so far edited the first two scenes I believe I made that choice well and what will emerge will be a contradiction to generic codes
How would you describe A Killer Conversation's brand of humour, and which kind of humour do you prefer personally?
I'm fully a fan of toilet humour and grew up with shows such as The Young Ones and Bottom. I'm a fond fan of the Carry On-films - but the humour in this film is definitely firmly set in the dark side. There is a definite dry black humour evident in the script and I loved every minute of it. Luckily working close with the writer during the shooting process, more comedic elements from our conjoined mind made its way to the screen.
A Killer Conversation is confined in almost its entirety to one set. Did that pose a serious challenge, also aesthetically?
I was both thrilled and concerned at the one-location idea of the film, with only three cast members I wanted to give every one of them the screen presence they deserved, and I was a little worried about getting the camera into the tight spots in order to capture my vision. Luckily on some of the more tight shots the assistant (Adam Lanfranchi [Adam Lanfranchi interview - click here]) had brought his Canon 5D, which was a little more suitable to some angles than my Canon XLH1.
However I was amazed at how quickly we managed to alter the set and give such more realism to the timeframe of the film.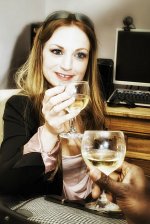 Melanie Denholme
Let's talk about your cast for a bit: What can you tell us about your leading lady (and producer) Melanie Denholme [Melanie Denholme interview - click here]?
Mel is great - I met her back in 2011 during a paranormal investigation I was filming with the cast and crew of another film, she was one of the actresses in that movie (Paranormal Haunting: The Curse of the Blue Moon Inn) but it wasn't until another paranormal endeavour where we worked more together (Team Impact Investigates). She is a talented lady who is very determined and goal-orientated. There is no stopping this woman so keep your eyes out for her. Her performance of Pauline was a great transformation, she really took on board the personality of a right stuck-up bitch and yet still managed to bring enough charm to the character to intake the audience.
As far as I know, you brought Ryan Hunter [Ryan Hunter interview - click here] to the project. Why him, and what else is there to say about him?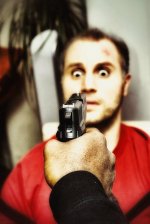 Ryan Hunter
Ryan is a great guy, I met him at a festival back in 2008 where he was promoting a film he was in and I was promoting Animal Soup. I was so impressed by his performance that I knew I would eventually cast him in a film. It was in 2010 when I put in to action my thriller Monitor where I hired him as one of the leads. His performance in that film is amazing and I'm really grateful worked with him, his knowledge of the filmmaking process is impressive and he's always willing to help out with the more mundane tasks. I've since gone on to work with him in Forest of the Damned 2 and we have discussed a few other projects, including a comedy script he himself has written. I knew Ryan would be great for this role as he is a very funny guy and again, like Mel a very dedicated actor. I knew it would be challenging as it's his character that is in 99% of the shots and as I'm sure he'll tell you if you ask, he had a great time in the role too - so many times the comedy on script was so good that we the cast and crew would be laughing on set and I'd have to call cut.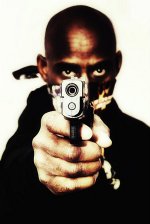 Rudy Barrow
Last but not least Rudy Barrow [Rudy Barrow interview - click here] - a few words about him?
With the character of Rudy I was originally concerned as I thought by wearing a balaclava a lot of the physical ability of the actor would have to be in his body rather than axial expressions. I made a compromise and changed the style of mask thus allowing us to see the eyes - by doing so we get a treat, Rudy is a great actor and his character is really brought to life. The change in mask also allowed Rudy to concentrate more on his actions rather than his dialogue, so we could later ADR his lines in. I knew Rudy was good in a silent role as I had seen one of his previous films, and it was that element I wanted to have with the burglar, I wanted a character almost like Jason Vorhees, who is imposing without having to say anything. Rudy brought with him a very dead-pan element to his lines that really heighten the comedy of his role.
In all honesty, what did you think when you first heard A Killer Conversation's writer Michael Haberfelner (which would be me) [Michael Haberfelner interview - click here], of all things a self-appointed movie critic, would be on set for the entire shoot? And, well ... how did I behave?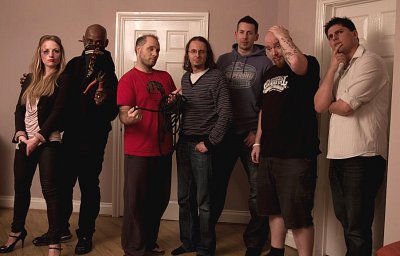 Melanie Denholme, Rudy Barrow, Ryan Hunter, Michael Haberfelner, Paul Hobday, David V.G. Davies, Adam Lanfranchi
Honestly, I was a little worried as I was new to the script and you had written in 20 years ago - I didn't want to mess with your vision too much, but I know you had faith in me and that was comforting. I also appreciated the fact you were there when there were times where we added to the script and changed a few scenes, had you not been there I would have been more reluctant to make such changes.
On set, you were a very funny guy, and we all had a great laugh during the making of this film.
A Killer Conversation was shot in a mere three days - did you think that was even doable before the shoot, and would you do it again in such a limited timeframe?
It was very exhausting as we all had very little sleep over the weekend, and myself and Mel had just come from another project with very little sleep, but we all managed to pull it together and the filming went really well. There were a couple of scenes that were so funny to shoot (although they really shouldn't have been) that delayed our schedule slightly but we only overran by a few hours and considering we only really rolled cameras for 2 days and had one day rehearsal I think we all managed really well.
Would I do it again? I remember thinking right afterwards not anytime soon (haha) - but yes, I will definitely work on a film again with a similar schedule.
What can you tell us about the actual on-set atmosphere, and a few on-set anecdotes?
One scene which definitely should not be seen as a funny one really tickled all of us during the filming, so much so that at one point Ryan had to leave the room and I turned my back to the camera and we really had difficulty in not laughing. I think it actually took us 40 minutes to nail that 30 second scene
Even during the shoot of A Killer Conversation, someone (it wasn't me) suggested a sequel. Your thoughts?

Feeling lucky ?
Want to
search
any of my partnershops yourself
for more, better results ?

The links below
will take you
just there!!!

Find David V.G. Davies
at the amazons ...

amazon.com

amazon.co.uk

amazon.de
Looking for imports ?
Find David V.G. Davies here ...
Something naughty ?
(Must be over 18 to go there !)

I knew right away I would definitely work with the same cast and crew again, and at the time I didn't think it would be a direct sequel, more another film in another setting just with the same cast all playing different characters - but when you emailed us all with so much excitement that you had a feasible idea for a direct sequel I was already looking for a pen to sign up for the film. Having now read the script I can definitely see the film happening very very soon.
Any (other) future projects you'd like to talk about?
I've got my film Monitor currently heading out to festivals and hoping for a distribution deal soon [Monitor interview - click here]. I also have my segment of a horror anthology called Three's a Shroud and Forest of the Damned 2. Plus a tv show and a new horror-based website all happening this year - and so many scripts I'm looking at for 2013, including a werewolf project and a couple I cannot mention just yet.
Your/your movie's website, Facebook, whatever else?
Website www.FilmMA.com
Twitter @FilmMA
Anything else you are dying to mention and I have merely forgotten to ask?
Having now done comedy, thriller, horror and documentary, U think my next step might be Sci-Fi!
Thanks for the interview!