Your film In the Lantern - in a few words, what is it about?
Itís about a couple and their best who friend who purchase an old abandoned theatre (The Lantern) located in a small village. The idea is that they will reopen it to its former glory. However there is something very old and angry waiting inside the theatre.
What did exactly kick off the project in the first place?
Well the writer, Will Griffin, and I where on set for another film and we started talking about what films we liked. This lead to Will saying Ďshall we do a film together?í and having worked on and seen the other films Will had written I said yes immediately! So it kind of all started from that conversation really.
What were your initial inspirations for In the Lantern and what can you tell us about your collaboration with your screenwriter Will Griffin?
Will said to me ĎHow about we do a ghost story?í and I really liked the idea. We had a chat about story ideas and we came up with a few rules for the film:
I said I didnít want to shoot the film in a house as I felt a lot of short films are set in houses and wanted something different. I also said that we shouldnít have any teenage characters, as the minute you have teenagers and Ghosts in the same story it could easily become a Ďslasherí film, and Will and I wanted it to be something else. We also didnít want the ghost to be walking through walls. He had to be more than that. I think Christopher Nolan inspired us the most as we are both huge fans. We tried to think of something different in every decision when writing the film that would make it stand out.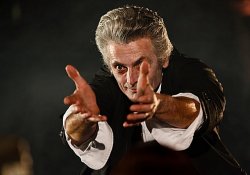 I then mentioned The Amulet Theatre, which doubles as The Lantern - I knew about the place beforehand. That is when it all started to fall into place. We thought a ghost story set in and old abandoned theatre was original and interesting. We then came up with the idea of making the ghost an old performer of the theatre. Once we know it would be set in a theatre it kind of all just feel into place and everything went from there. Will is a fantastic writer and we both have a similar taste in movies, so it was very easy to find a style we liked and films that influenced use. We both wanted to have a film that was all about the characters and their relationships, and not too many chases in dark corridors. Will wrote fantastic dialog for all characters and we actually shot the first draft of the script as it was bang-on the first time. I had met Will about a year beforehand so we where already friends which made the writing process easier. It also meant we couldnít fall out over anything!
How would you describe your directorial approach to your subject at hand?
After reading the script I knew that we would need to nail the performances for the film to work.
We had two days of rehearsals which the actors, Lionelle the producer and I attended. When directing it I just thought about what shots would complement the actors and their performances the most. I think overall it was basic coverage really, but it almost allowed the crew to take a step back and let the actors do the work without anyone getting in the way.
Also the decision to not have any hand-held shot gave the film, I think, a certain grace which kind of reflects The Pale Man and his mannerisms. I really wanted the audience to get the feeling he was everywhere in the building and it was HIS building, not Clement's and Laraís. I also wanted the film to be slow-paced as the audience, in theory, are going to be on edge. They know something is going to happen but donít know when or how. When something does happen they are caught off-guard.
What can you tell us about your wonderful location, the titular Lantern, and how did you find it?
Itís funny really: we had the location before we began writing! In reality The Lantern is called The Amulet and I had done some musicals there a few years beforehand. Unfortunately The Amulet closed down and was left unused.
I told Will about this place and he and I visited the location, the owner is a friend of mine and he said we could use it for as long as we wanted. After Will had been to The Amulet he wrote the script with that place in mind. It has such a great run-down feel to it that you couldnít really recreate in a studio. It was also always cold in there! We didnít have a production designer as the building was already falling apart. There was mould on the walls, roof tiles hanging off, doors on there hinges and also this fantastic stage!
The seats in the auditorium can actually go up into the roof and in the script the seats came down from the roof with Clement and Lara sat in them. Unfortunately about a month before we shot they got trapped up in the roof and wouldnít come down! This obviously would have meant we couldnít use the location so we rushed around to try and get a back-up. Luckily a local electrician company saved the day and got the seats working again! Last I heard The Amulet is being turned into a Weatherspoons, which is very sad - In the Lantern has become the building's swan song.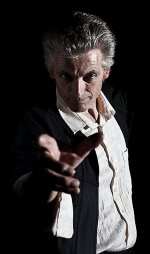 Guy DuSade
Your positively creepy Pale Man Guy DuSade - what can you tell us about him, and what's he like in real life?
Let me tell you, Guy is nothing like The Pale Man at all. He is a real Jack the lad kind of guy and a real gentleman. He likes to have a laugh and lightens the set with his sense of humour. To date Guy and I have done four films together including this one.
He is actually a friend of mine who I have known for a few years. Bit of trivia for you, before he was an actor he was a builder and helped to build The Amulet, the location we shot this film.
When Will and I where talking about what the ghost should be like I mentioned Guy to him, showed him a few photos from his website and Will said Guy was exactly what The Pale Man should look like. I sent the script to Guy and basically said the part was his. I didnít have another choice for the role. Luckily he said yes and was the first to be cast. Guy has this look in his eyes at certain points in the film where he just looks unhinged! You canít quite tell what heís thinking but you know itís not good. Guy made The Pale Man a lot creepier. In the script he was more of a straight cut villain but Guy gave him that theatrical quality which works really well and made sense as he was a performer before he died.
A few words about your leads Lucy Harvey, Jason Bailey and Ben Williams, and how did you find them? And what made them perfect for their roles in your eyes?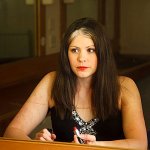 Lucy Harvey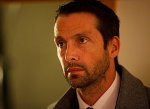 Jason Bailey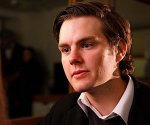 Ben Williams
Lucy was the second person to be cast, after Guy. I went to drama school with Lucy and had acted with her. Again she was someone who I always had in mind for the character of Lara. I sent her the script and she said yes.
What I like about Lucy is she can make you care for the character. I personally think Lara was the hardest part to act because she is under The Pale Manís control and only she can see him to start with. This meant Lara needed to be glazed over and seem distant without it looking like the character was wooden. She is also a tortured soul because of some decisions she has been forced to make. Lucy did all of this perfectly. You really feel for her come the end of the film.
I had worked on a film as a camera assistant about six months before In the Lantern and Jason was the lead. It was a bit harder to find Clement as both Will and I had different ideas on how Clement should be.
I had trouble getting hold of Jason for a while because he was on holiday! When he came back he called me and said he would love to play the part.
What Jason did with Clement was make him a nice genuine guy who tries to make the best decision for each situation. He needed to be like this, otherwise audience members would have thought Lara is only with him because of his money. Clement also needed to be attractive so you could see why Lara has married him.
Jason is a tremendous actor who consistently gives as a performer. Not just for the camera but also to the actors heís working with. He brought a vulnerable side to Clement which was so important because it made him more human and allowed for some great acting with the other cast members.
Also he has a fantastic voice! A very calming voice, he doesnít need to shout to be heard.
Ben was the last actor to be cast as Brett. This was also the hardest part to cast. Initially I wanted Brett to be the same age as Clement, but it didnít really work so he became the same age as Lara. This meant all the people I had in mind for Brett I had to throw out.
Again I had met Ben at drama school, so when looking through lists of names for Brett I came across Ben. I called him, talked him through the script and characters and he was onboard.
In rehearsal I told Ben to play Brett as Ďthe nicest man in the worldí. The reason for this was so when you realise he has only come down to try and break up Clement and Lara you see what a complete asshole he really is. Those opening scenes when he has some banter with Clement and you think it's all friendly - but watch it again and you see there is something more sinister. This is the reason Brett gets the fate he does, as a punishment. It is very much the bad boy-thing that girls like without being that obvious. We needed someone that you could believe Lara would turn to in troubled times. Ben played the character perfectly and with his schoolboy-looks he makes Brett a very interesting character to watch and almost a direct contrast to Clement.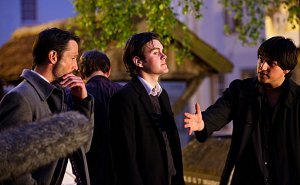 Jason Bailey, Ben Williams, Adam Lanfranchi
What can you tell us about the actual shoot and the on-set atmosphere?
It was a very long shoot! Two days, 8 in the morning to midnight both days. The crew were all people I had worked with before minus one or two people. We are all friends and it was very relaxed. I got a bit tenser as the shoot went on but only because of time restraints.
My Director of Photography, Paul Dudbridge, made the film look absolutely fantastic! It added real production value and having Simon Pearce as the Camera Operator meant I knew the film was in safe hands.
The problem was that the building was really cold! We shot in April but the building made it seem like it was October and we had no heating. It felt like the building was actually haunted.
There was a funny moment when one of the girls on the crew got lost and was scared out of there minds! I wonít tell you which crew member but safe to say we all had a good laugh! The days leading up to the shoot were fun also as Ben and Lionelle my producer stayed round my house so we had time to chill out and have some fun. All in all you couldnít really ask for a better crew and on-set atmosphere.
With In the Lantern essentially being a horror film, is that a genre you can at all relate to, and why (not)?
I wouldnít say I can relate to it. What I wanted to do with In the Lantern was to address my problems with horror films.
You always have teenagers on holiday, usually really attractive ones. A few of them have sex. A villain shows up with a half-burnt face and starts to kill the teenagers in really over the top ways. The last survivor, traditionally a female, kills the villain but then the villain isnít really dead, setting up a sequel. Will and I never wanted to do any of this and deliberately avoided it.
I wanted a film with a REAL story and REAL characters. The film is character-driven. The audience learns more about each character as the film goes on. I really love watching actors performing with each other; itís very much like a play. In The Dark Knight, when Batman and The Joker meet properly for the first time, they arenít fighting; they are talking to each other.
Also even though there is a ghost in the film, I wanted the film to be believable. Apart from Act 3 of the film everything that happens could actually happen. These characters could all exist. Even The Pale Man could have existed at some point. Not as a ghost but as an old theatre performer. I donít think the word Ďhorrorí was ever used on set. If we had shot it as a horror it wouldnít have worked. We shot it as a drama and after editing it together and adding music thatís where the creepiness and horror aspect came from.
What got you into filmmaking in the first place, and did you receive any formal education on the subject?
My love of films got me into filmmaking really. Also being fascinated by the stories they told and the characters actors portrayed. At a young age I always wanted to see how films where made or how they did certain parts of a film.
I havenít received any formal training for filmmaking, no. I went to drama school but not film school. The reason for this was because I feel to be a good director you should know how to act not just direct.
I do an ITV workshop in Bristol. This teaches you more of the basic stuff like filming formats, equipment and writing. Iíve met a lot of friends there who worked on In the Lantern and are filmmakers themselves. It's run by ITV and not a University which means it's going to be good!
I think filmmaking can be self taught. Iíve bought a tone of filmmaking books on writing, editing, filming, directing and producing. Thatís where a lot of my skills have come from. Personally I think in this day and age with ridiculous tuition fees itís a waste of time to go to University to do film. Not only this they have a bad habit of teaching you the wrong things for filmmaking. They love the film theory side of things but when it comes to the practical side they donít really teach it in depth and thatís the important part! If you canít use a camera but can tell someone the secret meaning of a film then thatís not going to get you work or help you making a film.
What can you tell us about your filmwork prior to and besides In the Lantern?
I had worked on films as a runner or camera assistant but I had never directed anything this large. I had done films with my friends in the back garden on my parentís camera but nothing like this.
Of course since In the Lantern I have done other projects, as In the Lantern was over a year ago.
Again the films I had worked on were short films but thatís where I met people like Paul Dudbridge, my DP, Will Griffin, the writer, Simon Pearce, the camera operator and a few other crew members.
With In the Lantern being a short, any intention of making a feature film some day soon - and/or any other future projects you'd like to share?
I won't be making a feature film version of In the Lantern, but yes, I would love to do one some day. Iíve worked on a few but never directed one.
There is an idea I have for one called Farmers Vs Gangsters, but it's still a while off. Obviously with a title like that itís an action comedy and Iíve done some work on it with a writer but not much more than that really. My trouble is my ideas are always too big!
I do however have two short films in production.
One is called Elsie and Joe. This is a drama about a woman, Elsie, who has two months to live. She makes an extraordinary offer to Joe, her neighbour Ė a wad of cash if he agrees to drive her on a tour of key places that have featured in her life. Unfortunately the two of them donít get along.
This is very much a project that is character-driven. It has been written by a writer named Richard Addison and heís created a script that is all about relationships, love and regret. Its also very different from In the Lantern, and Iíve never directed anything like it before.
We are currently in pre-production for that and Iím casting it as we speak.
The other project is another short film that Iím working on with In the Lantern-writer Will Griffin. It doesnít have a title yet but we have a rough plot and a location. I donít really want to give too much away but it's and action thriller and it's going to be dark. Maybe darker than In the Lantern.
Directors who inspire you?
Christopher Nolan, Quentin Tarantino, David Fincher and James Cameron. Also Trey Parker and Matt Stone.
These guys are the top of the class and know how to make a film interesting and enjoyable. Not a fan of Avatar though - sorry James.
Your favourite movies?

Feeling lucky ?
Want to
search
any of my partnershops yourself
for more, better results ?

The links below
will take you
just there!!!

Find Adam Lanfranchi
at the amazons ...

amazon.com

amazon.co.uk

amazon.de
Looking for imports ?
Find Adam Lanfranchi here ...
Something naughty ?
(Must be over 18 to go there !)

The Dark Knight, The Godfather, Pulp Fiction, Seven, Terminator 2, Alien, The Naked Gun, ... to name a few!
... and of course, films you really deplore?
Anything by Michael Bay. He should stop making movies.
Your/your movie's website, Facebook, whatever else?
Check out In the Lantern on IMDb. Or have a look at some stills from it on my Facebook page. There are also still from other films Iíve done including Wakey Wakey, Confessions of a Farmer and The Chase.
My website is www.manixpictures.com (currently under maintenance)
Or follow me on Twitter Adam Lanfranchi @MANIXPICTURES.
Anything else you are dying to mention and I have merely forgotten to ask?
Not really apart from thank you for taking the time to read this.
The trailer for In the Lantern is up on Youtube, so please check it out. There is also a link for another short film trailer I did called Two Men, One Brain in Wakey Wakey.
Also if you want more information on upcoming projects follow me on Twitter.
Thanks for the interview!