Your new movie Break Even - in a few words, what is it about?
It's really about a torn young woman who's done her best to escape her rough past growing up in a criminal family, and after her friends unearth $50M in dirty money while on a dive trip to a remote island, is forced to jump back into survival mode and save them.
Now how did the project come together in the first place?
I have known my producing partner on this, Adam Kane for almost 30 years. Adam had just endorsed my book, which I was promoting and while having dinner he said, "We should make a movie together… something fun and cool in your guerrilla type-style." Adam didn't know that I was contemplating retirement from filmmaking and wanted to become a full-time film schoolteacher. But his passion ignited the passion in me to do it again. At the time of promoting my book, I met our writer CJ Walley [CJ Walley interview - click here], hoping he would get behind it because his website scriptrevolution.com had really started picking up steam. I had read a script of his called For Your Dreams which fired me up to get back in the ring - and I knew I just had to work with him on this. I always wanted to make a film on the water surrounding the criminal underworld that takes place around the islands and how drugs and money are dropped and shipped from entity to entity with a sexy backdrop. After a meeting with Scott J. Jones (our executive producer) and I told him the concept, he said, "Let's do this!" and things quickly fell into place. A few months later, we were in pre-production.
What can you tell us about Break Even's writer CJ Walley [CJ Walley interview - click here], and what was your collaboration like?
As I mentioned, I was an instant fan of his work. He and I had one Skype meeting regarding my book and his script, and an instant friendship was born. I got into this business to work with the people I love and enjoy being around. I knew after 10 mins this was someone I could go into battle with, and to this day CJ has delivered time and time again. We share a vision with making movies that portray strong, female leads who kick ass and have heart and a bit of sensuality so they can inspire young women who watch our work to believe anything IS possible but also entice our male, action-loving audience.
Of Break Even's four protagonists, who could you actually identify the most with, and why?
For me, it was Jaq. Jaq was based on a young woman I met over 25 years ago during my travels who was on the run due to her family's involvement in the underworld. She was constantly looking over her shoulder and running not only from her own demons, but her family ties as well. I guess she just had seen and knew too much. She must have relocated states and countries 20 times in 10 years, and one day she just vanished… I learned tragically, she had lost her life and everything she was running from had finally caught up with her. It was heartbreaking.
What can you tell us about Break Even's approach to the action genre?
Well, considering I have made a career producing films on a dime that look like we spent a Dollar, I went into my first action film with the same mindset. It was important to me to shoot organically and not rely on any VFX or gadgets to pull this one off. I really didn't know what to expect and although we aimed for the fences on a micro budget, we didn't go in trying to reinvent the wheel. We just got blessed and we're able to make a fun film that I hope audiences will enjoy.
Break Even contains many chase and action scenes - so do talk about those a bit, and how were they achieved?
Our stunt team led by Tom McComas was only used for 2 days – total. We had the amazing Casey Adams (known for the boat chase in The Italian Job) for the speed boat jump onto the truck, but the rest of the cast was actually there on board holding on tight for the ride. Tom and Gary Hymes were there to make sure everything went off without a hitch and they certainly delivered. The only effects we used in post-production were to knock out some signage of brands we couldn't clear in our backgrounds shooting throughout the city. It's as "what you see is what you get" when it comes to the action. Our cinematographer, Joel Layogan deserves a lot of credit. He read the script and instantly caught the vision of how to pull this off within my way of doing things. Without him and his incredible department of operators and assistants, we could never have done it.
Do talk about your directorial approach to your story at hand!
I hate to admit it, but it's not really rocket surgery. Like the great Clint Eastwood, a script either gets me wanting to make a film or it doesn't. I cast actors I feel fit or "get it" and in turn trust them to allow me to make the film we need to make and go from there. I make films from the editor's perspective (having cut films for over 30 years) so I go in with the end in mind as best I can. It can throw actors from time-to-time, especially early into a production, but usually after a day or three, they get my approach and we're in lockstep.
What can you tell us about Break Even's key cast, and why exactly these people?
Funny you should ask. One thing CJ Walley and I were adamant about was finding our Jaq. Someone believable and someone who could no doubt, handle herself. Hollywood has this image of what a female bad ass is and frankly, I don't buy it. After searching for about 2 months, producer Adam Kane, who resides in Canada where the show was filmed, suggested I take a look at the TV show The 100. He said there were a few women on that show who could easily fit. I looked up the series on IMDb.com and saw Tasya Teles and reached out to her manager, Mike Gillespie for a reel. The opening scene of it showed her beheading someone. I didn't need to hear her read a single line of dialogue, just watching her move and handle herself, I knew in three seconds, that was our Jaq.
Brent Bailey (Sebastian) was a great find. I have to credit our co-producer, Shawn Fredrick for that one. After not being sold on anyone any of the agents had submitted to us for the role, Shawn suggested him (they were old friends), and after seeing his reel, we met for dinner and fell in love with the idea of Brent playing the character. He was a great get and it's been exciting watching his career blossom. I feel very lucky to have got him when we did.
For Dash, played by Erik Fellows, that was interesting… I had reached out to a commercial agent/friend, Tim O'Shea for some bit parts in the film and for one of the parts, the audition included a scene with Dash's character. He was smart enough to submit for the role of Dash and after CJ and I saw it, had to have him for the part. He nailed it! Erik is one of the hardest workers I know, and I think people will enjoy his take on the character.
For Rosie, Alisa Reyes, that was a no-brainer for me. I had made three films with Alisa over the years and selfishly, I needed someone who I know would have my back as a filmmaker. I knew I would be putting our cast through a lot, physically and emotionally, with a grueling six-week schedule, and IF my cast was getting restless or pissed, she could be there to assure them that I wouldn't fail as a filmmaker and in the end, they would make it through unscathed. She was my security blanket.
My wife Val Barri, who also produced the film, suggested Joanna Pacula for our villain, Eris Crowe. She knew I was the biggest fan of Tombstone, and after getting to know Tasya, had learned there were some similarities to her real mother and Joanna. She was an absolute treasure and knocked it out of the park for us. I mean, it's no secret Val did suggest Dwayne "The Rock" Johnson for Gridiron Gang, so I more than trusted her instincts. I tell ya, she should become a casting director if things don't work out with her entering the world as a producer. She's cast quite a few great actors in my films and never gets the credit.
For Ivan Sergei, that was Scott J. Jones' suggestion. They had worked together and not only did Scott feel he'd be perfect for the role, but thought we'd hit it off well as friends. To this day, Ivan is one of my closest friends and I am so grateful to have worked with him on this.
Steve Guttenberg was actually pushed onto me by Dwayne Johnson. They had just done a season of Ballers together and Dwayne couldn't say enough good things about him. He was certainly a GREAT get for us and nailed the character of Lance, the eccentric billionaire car collector/arms dealer to a tee.
James Callis was a nice surprise. I named his character Zalman after my late dear friend and mentor, Zalman King. His agent Steve Muller at Innovative suggested him for the role and I was ecstatic. James knows his craft better than just about anyone and brought an energy to the set and to the film like no other.
A few words about the shoot as such, and the on-set atmosphere?
We went through hell. Every day was a physical and emotional test on the cast and crew, and more so on me as a filmmaker. I say that as on the first take of our big action scene with three cars chasing through the desert, our hero car caught on fire. It was our co-producer/general factotum, Neil Chisholm who took care of all kinds of mishaps. We had boats sink, break down, cars get destroyed and within an hour or three, it was Neil who had us back up and running. On the day of the speed boat jump action scene, much of our cast and crew suffered food poisoning from ice at the hotel where we were staying (we learned later as a large amount of the resorts guests had suffered the same fate). We were supposed to start the day at 7AM and didn't get going until later in the afternoon. We were permitted and slated to shoot the film on the back side of Catalina Island. It's unpopulated and looks like a remote island in the middle of nowhere. Upon leaving Marina Del Rey for our first day of filming on the island, a storm came in prohibiting us from going to the back side, and we ended filming at the Isthmus and Cherry Cove. There's a lot of residents there and a summer camp for kids. Between takes there were times when over 50 kids in kayaks were crossing through, so that added a tremendous amount of challenges. Due to the storm the water dropped to 57 degrees Fahrenheit and gave us zero visibility. We had planned two beautiful underwater scenes (including when they find the $50M) and had to scrap it all. You couldn't see your hand in front of your face underwater.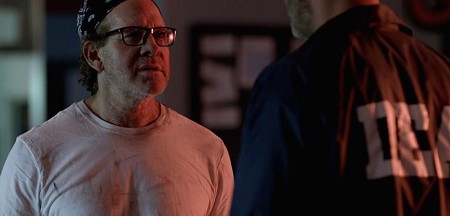 Anything you can tell us about audience and critical reception of Break Even?
Years ago, I learned art is nothing but opinion. Different strokes for different folks, right? I don't take any positive review of my work for granted or get complacent with them, and I take nothing negative personally or to heart. There are so many great films out in the world and so many stinkers – I mean where do you land? I just want to find my place somewhere in the middle and entertain an audience for 90 mins and hope when it's all said and done, it's not an hour and a half they'll be begging to get back on their death bed. As for my approach, being an 'indie rat' with limited resources, just try my best to make something I'm proud of and that someone might enjoy. If it picks up steam and gets momentum, I take it as a blessing and use it as a springboard to tell another story. Every day on set is an audition for the next movie. I hope our momentum can continue.
As far as I know, you're presently busy shooting Double Threat - so what can you tell us about that one, and about the shoot, especially in regards to the current Corona situation?
Well, Double Threat is a huge undertaking, not just because of the over-the-top action thrill ride we've set up, but because of shooting during a pandemic. My manager and producing partner Kurt Patino and I were discussing how 2020 had been such a grim year for us all and derailed so many plans. Then one day in late September, I had an epiphany - "We can either look in the rear-view mirror and say 2020 kicked our ass, or we can make it our bitch!" We chose the latter. Kurt called his client, Danielle C. Ryan (who is also is producing this picture) to star, and I called CJ and said, "let's make a movie – right now!" The four of us had a Skype meeting, put our heads together to hatch a plan and CJ went to work kicking out an amazing script in only six days (that's not a typo, only six f*cking days). Danielle is an accomplished stuntwoman in her own right and a mixed martial artist. I mean she'll be riding a horse at full gallop in once scene while shooting bows and arrows. No stunt-double, all her! And that's only the beginning. Kurt suggested Matthew Lawrence for the male lead, who couldn't have been cast any better as well as rockstar vixen Dawn Olivieri, whom I dreamt of working with for almost a decade. Kevin Joy was also Kurt's suggestion, and man, this guy should be the next Superman. Holy sh*t this cast is incredible and more than I could ever have hoped for – especially during a pandemic. My wife Val suggested we reach out to Mo Gallini (2 Fast 2 Furious) to play our ominous bad guy from the shadows (Mo has a great part in Break Even). We shot Mo's scenes this past week and he was incredible. Andrea Logan (also Patino's client) has a great role as well, and to be honest, with the exception of having to get tested three times a week, it's just movie making. The unions had put restrictions on our hours and crew size, so I have to give a HUGE shout out to our crew who is working tirelessly on a very physical picture with limited support in their departments. We have twice the action in this film compared to Break Even and one-third the crew. It's been incredible.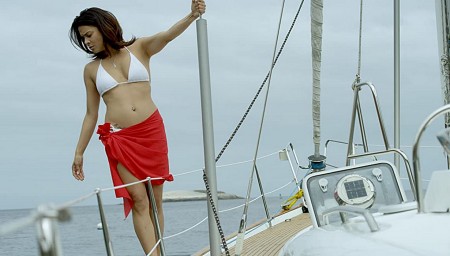 Any other future projects you'd like to share?
I've learned this business ... well, I've learned LIFE is full of surprises. Due to COVID, I had two films scrapped and then Double Threat was born and birthed in a matter of days. I have quit talking about what's next knowing it'll probably not be what's next. I will say, I am in love with this female-led action genre. I love making movies with CJ, Kurt, my wife, and Scott J. Jones. The cast on this are a Godsend and I am sure between them and my rascally bunch on Break Even we will continue this tremendous momentum. All I can do is thank God each day I wake up and get to do what I love with the people I love. Every moment is an adventure I pray never ends.
What got you into filmmaking in the first place, and did you recieve any formal training on the subject?
I grew up in the business. My father, Lee Stanley was a working actor in the 60s and 70s who fell out of love with acting and became a filmmaker. I had a Movieola (and old-school edit machine) and cameras at my disposal at a young age and always worked with him until graduating from high school. Any training I got was on the job or by trial and error. And believe me, there were a lot of errors.
What can you tell us about your filmwork prior to Break Even?
My body of work before Break Even is a film I'm very proud of - however, there are really no consistencies to it. You have films like Gridiron Gang and No Code of Conduct, then you flip the script and there's A Sight for Sore Eyes, The Untold Story and Mistrust. I went through a phase making films with Zalman King which leaned more toward the erotic thriller niche spawning My Trip to the Dark Side and its sequel. What I've discovered is, I really love this genre of action films and hope to continue on this path with the occasional romantic thriller or adventure film mixed in. I turn 50 next year and when a lot of people might start to think about slowing down with their workload or mindset, I feel I am more invigorated now than ever to kick ass and take audiences on wild thrill rides and have no plans to slow down for at least another decade… or maybe two IF I can keep up.
Now you've been in the filmmaking game since the 1980s - so how has the business changed over the years?
The business hasn't changed as much but the players have. It's still the film industry and the blueprints are the same. We can get away with a lot more now, audiences are certainly open to new and creative things thanks to gritty indies that have found success, but with that the expectation levels from audiences has elevated – substantially. Back in the day, if you had an aerial shot, it meant you got a helicopter and spent endless amounts of money for your establishing overviews or transitions, that now anyone with $500 can go get with a drone from Costco to achieve the same feel. Dollies took time and money, now you can make a slider from scratch and add production value to films that we couldn't as much before when the budgets were scarce. I love this fact, but it also means, filmmakers have to constantly create new ways to up their game to stay ahead of the curve and not become complacent or flat in their approach to telling a story.
How would you describe yourself as a director?
I think I am the one you want to watch and learn from on how NOT to do it. I don't say that to be cute or self-deprecating, but my approach is very left of left - but - it works for me. I've painted myself into a unique box with how I tackle a project. As the guy who edits his pictures, I am hands on from concept to delivery so when I read a script or work out a scene on set, I am usually thinking from a different point of view than only "director" which can leave a void here and there in the director's chair, but I don't care – I know how I'll make it work when others are often scratching their heads wondering what in the blue f*ck I'm doing while I film. I'm accused of going about things bass-ackwards but feel most comfortable in the midst of my own self-created ballet of chaos. It comes from the trust in the actors I work with and the crew I hire. I am constantly thinking about logistics, which mean company moves, locations and of course, editing the picture and its magic moments that will find their way into the film's trailer and marketing plan. I try to get things in two to three takes, I don't over-cover or get artsy-fartsy with my shot choices. I know I'll never be a Spielberg or a Tarantino, I just want to tell a story that plays and entertains while spinning 300 other plates at the same time. I admittedly take on way too much.
Filmmakers who inspire you?
Mike Figgis is one of the best! Man, that dude does it all. David Lynch and Robert Rodriguez too. I may not love all of their films or have been influenced by them, but I'm constantly encouraged by their approach to the craft.
Your favourite movies?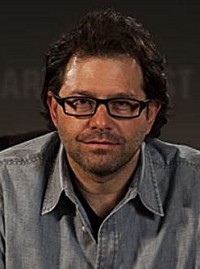 Feeling lucky ?
Want to
search
any of my partnershops yourself
for more, better results ?

The links below
will take you
just there!!!


That's simple: Sideways, Jerry McGuire, Notting Hill, Indiana Jones, and The Black Stallion.
... and of course, films you really deplore?
I don't deplore any film. As someone with a huge target on his back and know at any time the wheels can come off the wagon, I respect ANYONE who can get it done. Virtually no one goes in to make a bad film, sometimes it sticks and works for a viewer and other times it doesn't. Like I said before, "art is nothing but opinion."
Your/your movie's website, Facebook, whatever else?
Instagram: OfficialShaneStanley
Twitter: @shanestanley
Anything else you're dying to mention and I have merely forgotten to ask?
No, you've covered it quite well, my man. I just want to take a moment to sincerely thank all of my cast and crew on every film I've worked on. Without them, there would be nothing. Of course, my wife for her endless and unconditional love and support, and most of all, the viewers. I take it to heart when someone takes the time to watch something I've made. It really means the world.
Thanks for the interview!
Anytime, thank you!