Your new movie Break Even - in a few words is it about?
Four thrill-seeking friends find $50m dollars of hidden illegal cash and go on the run with the DEA and a crime-lord on their tail.
What can you tell us about your script's approach to action cinema? And is this a genre at all dear to you?
Action is where I started with screenwriting back in 2012. Itís where my heart lies. However, Iím all about real stunts with the actors as involved as much as possible. Break Even was a great opportunity to write sequences that punch above their weight. I had to get inventive and talk some stuff through with the director Shane Stanley [Shane Stanley interview - click here], and I was surprised by how much he felt we could do. We actually ended up going above what we thought we could get away with and even bought and modified the speedboat Fair Warning so we knew we wouldnít be putting someoneís pride and joy at risk.
What were your sources of inspiration when writing Break Even?
Funnily enough, a lot of the inspiration was drawn from a spec script of mine that Shane fell in love with called For Your Dreams which follows two sisters on the run across Texas and Nevada in a muscle being forced to run drugs. Shane came to me to talk about making it more marketable to the mainstream, to put it on the water and set more of it in the city. I said Iíd go one better than that and write a whole new script for him because Iíd read his book and wanted to work with him so much. Shane then threw in a load of suggestions from his own life experiences and we worked with that until we had this sort of Fast and Furious on the water vibe.
Of the four leads in Break Even, whom could you identify with the most, actually, and why?
Iím big on theme in my storywriting, and Break Even has a strong one under the surface. It pivots around the theme of second chances and how our past defines us. All of the leads provide a different view on this; Jaq has written herself off as ever being normal due to her upbringing, Sebastien feels nobody can escape their past, Rosie desperately wants to hit the reset button to survive, and Dash is in the early process of rebuilding a new life. Since they all give different angles on the same core topic, I identify with them all equally because they pull from different chapters of my own life experience.
Now how did the project fall together in the first place?
Basically Shane and I are on the same wavelength. We finish each otherís sentences. We know what each other are going to suggest the second we bring something up. You canít put two people like us in the same room and not have us walk out the door with a bunch of ideas and the energy to make them happen. Shane stumbled across me via some of my blogs and liked what I had to say. That caused him to wonder what my scripts were like, and thankfully I had them all on my website ready to read. He played it very smart though. He sent me his book to read first which told me everything I needed to know about how he likes to work. When I came back raving about his ethos and leadership mentality, he knew it was the right time to hit me about collaborating. Break Even was inevitable and weíve spoken nearly daily since first connecting, that ďroomĒ being Skype since Iím in the UK and heís in the US.
What can you tell us about Break Even's director Shane Stanley [Shane Stanley interview - click here], and what was your collaboration like?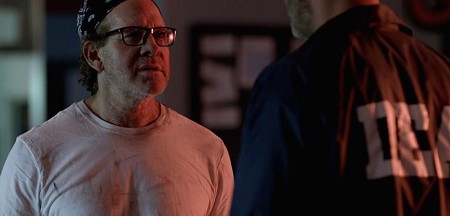 Shaneís the kind of guy who can have a million and one fires to put out during a shoot while heís doing five peopleís jobs and still notice if an assistant on the other side of the set needs cheering up because theyíre having a tough day. Heís genuinely like that. Iíve been with him when heís helped load grip trucks at 3am after everyone else has left and handed out bottled water between takes in the desert. Heís also incredibly decent. One of the most decent people Iíve met and his long-standing reputation is built on that. Thereís people who wouldnít cross the road to follow some directors but people will follow Shane through the wilderness. I was going through a really rough time when we connected and was carrying some baggage from having a bully of a boss in my past. I had a lot of fear about collaborating and needed kindness and decency. Writing for Shane was actually more fun than writing specs alone because he had so much respect for my words and craft. I thought our early meetings were going to be full of notes and issues but it was just typo corrections and praise.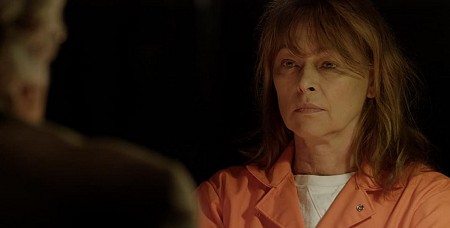 Break Even was the first time we worked together but itís been a blur since. While that comes out in North America, we have our next project already shooting. We werenít going to let Covid hold us back. Itís not been easy but weíve found a way to do it. Whatís been great is Iíve gone from writer to producer in the process, setting up my own production company Rebelle Rouser to really solidify my commitment to a new genre I want to bring to the world: Nexploitation - good old-fashioned hedonistic entertainment mixed with modern progressive values.
Were you actually involved involved in the actual shoot in any way, and if so, what can you tell us about it?
Shane insisted that I come out to the shoot because thatís the fun part. Besides, weíd not met in person until that point. That meant I was flown out to LA (my first time in the city) and got to see every aspect of the production, and I mean every aspect too. It was a wild ride and up to me in terms of how involved I wanted to get. I think I fell asleep in front of Shane three or four times due to a combination of jet-lag and exhaustion but I couldnít get enough. I spent a lot of time shadowing Shane and Neil Chisolm, our co-producer and head of transpo, and experienced bit of everything. As a result, Neil has become one of my dearest friends too. I mean the guy took me to Trejoís Tacos in central Hollywood in a Ford Raptor weíd borrowed from the Top Gun: Maverick production - how can you not become best buds with a dude like that?
Any future projects you'd like to talk about?
The hot one right now is the film we have in production Double Threat which stars Danielle C. Ryan, Matthew Lawrence, Dawn Olivieri and Kevin Joy. Itís an action-comedy which follows a forensic accountant whose journey across the country to scatter his late brotherís ashes turns precarious when he crosses paths with a young woman with an unpredictable psychological condition and a sketchy past. Theyíre pursued by a mob enforcer and the mob bossís son who argue about honour and tradition while in hot pursuit. The theme is about baggage and different ways we deal with it all wrapped up in something that has a satirical edge to it. The super-cool thing is Danielle C. Ryan, is an actor capable of some remarkable stunts, so the film showcases that. Itís been a dream come true for me to work with someone with that skillset.
What got you into scriptwriting in the first place, and did you recieve any formal training on the subject?
Iím open about the fact that I got into screenwriting and writing in general after a mental breakdown and life-crisis in 2012. Before then, due to my difficulties with spelling, grammar, and proof-reading, the idea of me becoming a writer was laughable, but I just had to get these daydreams out of my head. If I already wasnít passionate enough, I then learned that some people donít really have an active imagination as such and being born with a vivid one was a gift that creatives need to share with the world. Iím 100% self-taught, learning the craft mainly by trial and error while reading books on filmmaking, writing, and art. Iíve never felt so devoted to anything in my life.
What can you tell us about your filmwork prior to Break Even?
Thereís honestly not a lot there but a lot of effort behind what little there is. I spent around five years only writing short scripts and giving those away to aspiring filmmakers for free. I must have optioned in the range of thirty but only saw maybe three get made. I felt like I never really got a break with that but the reality is Iím not a great short script writer because I donít want to write the kind of short films that currently get picked for festivals. I did manage to get a few accolades with the writing scene, the most significant being having one of my scripts selected as a notable project by Amazon Studios back in 2013. That said, I was still pretty much a complete unknown when I connected with Shane.
How would you describe yourself as a writer?
Iím very upfront and transparent that Iím here to write pulpy movies with female leads. I want to take the b-movie genre and push it with higher quality storytelling and gritty action. I am obsessed with the fundamentals of storytelling in that it should provide a form of life-affirming medicine to those it speaks to. A good story should teach you something even though you may not realise it and what you learn should make you feel more comfortable with life and the human condition as a result. Iím also fast and easy-going, not precious about my words, and appreciative of the business and other artistís needs. Iím here to help directors, actors, and the whole crew go on their own journey of creative exploration.
Screenwriters, writers, filmmakers, whoever else who inspire you?
I am blatantly inspired by the work (and attitude) of Tarantino but also Tony Scott and Oliver Stone. What can I say? Iím a product of the 90s backlot rebel movement. People say you shouldnít try to imitate people like that but I double-down on it knowing my own voice is strong enough to shine through. I also love to watch B-movies from the 70s and 80s, and almost always find inspiration in them. They were so ambitious and often walked a fine line between shlock and arthouse. I watch a film like A Boy and His Dog or Psychomania, and Iím thinking about how to make a modern version of them while still holding the same thematic aspects.
Your favourite movies?
This changes all the time but Iíd say Akira, Breakdown, High Plains Drifter, The Hitcher, and Dirty Mary, Crazy Larry are five you donít see people often list but hold a very special place in my heart.
... and of course, films you really deplore?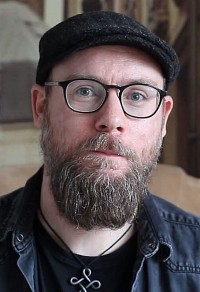 Feeling lucky ?
Want to
search
any of my partnershops yourself
for more, better results ?

The links below
will take you
just there!!!


I genuinely mean it when I state ďI donít care if itís Tarantino or Twilight, Iíll find the love in anything.Ē Iíll argue the cultural merits of the Twilight franchise all day long even though those films are juxtaposed to the kind that appeal directly to me. Thereís a huge difference between a badly executed movie and one thatís not trying to appeal to your demographic. The last film I remember really strongly wanting to end as quickly as possible was The Favourite because I was watching it in the movie theatre and couldnít escape. I still loved the Duchess of Marlboroughís shooting outfit though, which I personally feel is an iconic piece of movie costuming.
Your/your movie's website, social media, whatever else?
You can check out more info on Break Even via www.breakevenmovie.com, and pretty much everything about me can be found via www.cjwalley.com where there are links to my social media accounts.
Anything else you're dying to mention and I have merely forgotten to ask?
When Iím not writing/producing, I am running my script hosting website www.scriptrevolution.com, which is free, has been going four years, has over 8,000 members, and is getting some success stories for people. Itís ideal for anyone trying to break into indie film on a budget because Iíve been building it organically around all the things Iím learning and proving works. Writers can also find my Turn & Burn Screenwriting Guide there too. Rockstar members who pay a tiny subscription fee can not only get various discounts, they can come join in Zoom sessions with Shane and I were we answer peopleís questions and chat for sessions lasting as long as six hours sometimes.
Thanks for the interview!