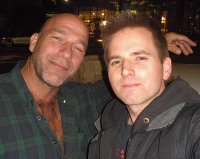 Kevin Gage, Shane Ryan
Your upcoming film The Owl in Echo Park - in a few words, what is it about?
The synopsis: A cop (Kevin Gage) on a leave of absence watches his life spiral downhill. The story begins with him - now a full-fledged alcoholic - drinking himself to death in a cheap motel room, snorting coke, sleeping with prostitutes, etc. After his suspension his wife kicked him out. Though she unexpectedly fell ill and passed, leaving behind their teenage daughter who runs away instead of facing foster care, and his 20-something year old son - already mixed up in the wrong business - now supplies his father with his drug habit. Sometimes his old partner comes to visit him, speak some hope, but nothing helps. On this day, however, his partner brings word about the lifestyle the daughter is now living; running with the prostitutes her dad sleeps with. He finds out his son is even partially involved with profiting off of his sister. When he runs into his daughter, he tries to save her with what ounce of humanity and sobriety he has left, and - the worst - he must fight to find it in his heart to even give a damn.
What sparked the idea to make this movie?


Hmm, who knows, a variety of things. I came up with an idea centered around having multiple character actors and former B movie stars based on a small budget I supposedly might get for another film. But it'd been 2 years since I shot a feature (when I feel the need to make at least 2-3 features a year), and I just can't wait on something like financing that, like most times, could easily not happen. So, I came up with a very similar idea, just with less characters, which I could do with no money and do it right now. Kevin was down, and that really was all I needed aside from a couple of crew members and a couple other actors. Part of the idea was shooting it like a play; a small character piece set in one location (sort of like Amateur Porn Star Killer). I figured, if that many people watched me and another unknown for a full film, who wouldn't watch an amazing well-known character actor like Kevin Gage? Plus there's more going on in this film anyway. The idea for the prostitution thing came up, because, obviously sex-trafficking, rape and prostitution are things I like to touch on, things I feel should be brought up more often in a realistic and depressing way to wake people the fuck up. And I've always loved the dirty cop movies. And the end of a life brought by self destruction is always fascinating and totally haunting. Every time I see a homeless or crazy person or drug addict on the street, I picture them when they were 5 years old, and think to myself, "how can this be?" It's just sad, and you can't help but wonder how somebody ends up in this horrible place.
The foster care thing with the daughter reminds me of being in foster care when I was little and later when I was a teen being threatened by authority figures I'd be going back, which is the last goddamn thing you ever want to hear, you'd rather fucking die. So, I could see a girl thinking "I rather sell myself and control my own fate than have the system take me away and control me and put me in strange homes with people I don't know." And that leads into the problem with prostitution; most hookers are girls who ran away from home, were forced out onto the streets (like in Warning!!! Pedophile Released) or worse, were made sex slaves by evil fucking pimps. It's a sad world, not often exposed, and I constantly feel the need to expose it. Hell, it's even helped myself. I've been so goddamn depressed the past 2 years since I got dumped, and several times thought, "fuck, I have no game at all anymore with women, I might really need to buy myself a hooker just to release some steam." But luckily I keep focusing on making my original sex-trafficking film, and learning more about it. Now that I know most hookers are surely not there by choice, I'm glad I never bought myself a prostitute. But almost all men do not think that way, even women. Because they don't know, because it's not brought up enough, or if it is, it's simply made fun of. Of course, it's the people who try to show the reality of it who are the so-called "perv filmmakers" but that's because most Americans are fucking retards. So, deep down, I think my own rage and loneliness and isolation, as in most cases, sparked this idea. I'm angry people live this way, that life can be this way, but for some goddamn reason I can't escape the need to explore it. To understand "why?"
Fortunately for the distinguishing viewer, you have so far never shied away from tackling controversial issues. Will this also ring true for The Owl in Echo Park?
Oh, I'm sure if everything I just talked about comes through on screen, then it will. I am, however, finally working with a great actor, so for once I am more focused on simply this character, watching what happens with him in this improvised setting. I guess the same can be said for all of my films; that they all simply follow the characters around and let things organically grow but just so happen to be surrounded by controversial issues. But they've all starred girls, so, for the first time, I'll have the main focus be a man, which is new to me. And again, instead of following around unknowns (whom all did great jobs but hadn't really acted before - though everyone was irreplaceable), I'll be following around an actor I've been a personal fan of for over 15 years. So, it's a little new to me, and I'm more focused this time I guess on moving my career and experience along than trying to be controversial. I mean, Ridley Scott, Simon West, Ted Demme, Michael Mann is where Kevin came from, nothing like going from first time actors to having the pressure of living up to that. So, we'll see how it plays out. I got controversy in there I'm sure, but I also want to direct great performances from people I admire.
Kevin Gage, Shane Ryan
How far along in production is the film, actually?
We are looking to shoot in about 2-3 weeks if everything goes as planned.
The Owl in Echo Park stars ubiquitous Hollywood character actor Kevin Gage. How did you get him, and what makes him perfect for the role?
Kevin's practically family in a way. He's a very old friend of my friend Molly who is basically a 2nd Mom to me. I've been talking with Kevin for about 7 years about working on a film. He was supposed to be in Romance Road Killers, from way back in 2005, but I was never able to get the funding for that as it would have needed a decent budget. But we've stayed in contact, we clicked from the first conversation, and finally started hanging out just recently. I had him come in and work on the film American Girls, our first time getting to actually work together, and we've just been doing our best to line up projects since.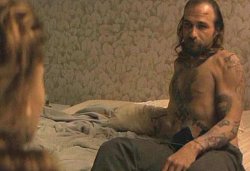 Kevin Gage in Heat
He's perfect because he's such a villain on screen, yet so charismatic. He's just got so much character in him. I mean, he did back in the movie Heat years ago, as everyone knows, but now, with age, he just can show so much in a face. And I can see him, just by looking at him, in this role. So, he won't barely have to do anything and he'll just nail it, that's how perfect he is for it. I can see rage, depression, fulfillment, all in his look. And you know me, I love showing things in looks with as little dialogue as possible, so be prepared for plenty of those scenes.
What can you tell us about the rest of your cast and crew?
Nothing much yet. Andy Sere (producer of my Japanese short film Tag) is my producing partner. Will have more info for you after the shoot on everything/everyone else :)
What touched me about your last few movies, especially Warning! Pedophile Released and My Name is A by anonymous, was your impressive use of (usually decaying) locations and scenery. Is this something you will continue with The Owl in Echo Park, and any ideas yet where the film will be shot?
Yes, while I am aiming to shoot most of it in one location, there are plenty of city and driving shots/scenes where that is all I wish to show. I've never shot anything in L.A. before that I recall, so now it's time for Los Angeles to be my decaying city. I have friends in Echo Park and noticed so many great areas while driving down there that I've been dying to film at. I found the perfect location just last night actually, for the main place the film will be shot. It couldn't be better. Let's just hope we can get away with shooting there.
I know it might be waaaay to early to ask, but any idea when and where the film will be released onto the general public?
Yes, waaaay too soon! Either I will aim to play the festival route, or go straight to a distributor, depends how it turns out and how long post-production takes.
Any future projects past The Owl in Echo Park yet?
Yes, hopefully the original idea I had of using all of these name actors (Kevin starring in that as well, hopefully) for what is a fairly similar story, just told differently (bigger). I was also prepping to shoot a 3D Natural Born Killers-type film (even though I hate 3D but that was per request of the financier), but don't know what happened to the money for that. I was supposed to get it any day, several weeks ago, so we'll see, as usual. I am finally shooting my sex trafficking film (who knows what the title will eventually be but originally it was called Abducted Girl: An American Sex Slave) this fall thanks to Domiziano Arcangeli for putting that together [Domiziano Arcangeli interview - click here]. He is producing and acting in it. Kevin will also be in that, we shot a teaser for it (with yet a different name) a few weeks ago - http://youtu.be/3NiIyguZRW4.

Feeling lucky ?
Want to
search
any of my partnershops yourself
for more, better results ?

The links below
will take you
just there!!!

Find Shane Ryan
at the amazons ...

amazon.com

amazon.co.uk

amazon.de
Looking for imports ?
Find Shane Ryan here ...
Something naughty ?
(Must be over 18 to go there !)

And I may be directing a very controversial film for Kevin and his producing partner, more waiting and seeing. The story was not my idea this time, and I unfortunately can't talk about it yet but it's very bizarre, upsetting and haunting. But hopefully something that will actually really, really help abused victims come forward, heal, recover, help other victims in the process and move on.
Your/your film's website, Facebook, indiegogo, whatever else?
http://www.indiegogo.com/theowlfromechopark
http://www.madsincinema.blogspot.com/
http://www.facebook.com/shane.ryan.77
Anything else you are dying to mention and I have merely forgotten to ask?
The last I heard ZoŽ Saldana was single. Somebody, help a fella out.
Oh, and why won't anyone hire Van Damme's daughter, Bianca Bree, for a film? Hook me up with those digits as well, I'd love to use her in a movie. I am actually completely serious about that. I'm serious about the ZoŽ thing, too :)
Thanks for the interview!
Thank you!