Your new comic is called Robot Jungle Girl. First of all, what is it about (or what's it going to be about, since it's still a work in progress)?
Well, to comic fans with a deep knowledge of obscure silver age comics I can simply explain it by saying it is the American Gold Key comic Mighty Samson retooled for a female lead and told in a Brothers of the Spear format. However, that will be lost on most people, so let me get into a little comic history as a way of explaining myself.
I was born in 1960 in Minneapolis, Minnesota ( the U.S. City featured in the '80s movie Purple Rain, and yes that is a real club, yes I've been there, and yes I have seen Prince) and got interested in comics at the hieght of the Silver Age. This was when Jack Kirby and Stan Lee were reinventing superheros over at Marvel and DC was buzzing with hot unique comics like Metamorpho, Doom Patrol, Metal Men etc. But I managed to ignore the big two publishers having a real preference for the monsters and science fiction of the third publisher Dell/Gold Key.
Gold Key is probably best remembered for it's long running Star Trek comic, the scifi classic Magnus, Robot Fighter and the Native American Indians vs Dinosaurs-comic Turok Son of Stone. Gold Key also owned the Tarzan-rights at the time and created an excellent spin-off companion strip Korak Son of Tarzan. Brothers of the Spear was a long running serial backup feature in the Dell/Gold Key Tarzan comics about two 'brothers' one white, one black, bonded by their warriors oath to "the spear" and on some kind of endless jungle quest. So that's the format - serialized jungle fantasy/adventure. I loved the Brothers of the Spear but could never get comics regularily enough to follow the story in serial format. It was only years later when the stories were collected into their own comics that I was able to read complete stories. Mighty Samson which is about to be collected into nice hardocovers by Dark Horse Comics, was my favorite comic as a kid. I only had two issues in my little stack of original comics, and I worshiped those issues, reading them over and over. In this post apocalyptic future, the city "N'yark" ( New York) is a ruins of half destroyed skyscrapers overgrown with mutant radioactive jungle. A scientist and his lovely daughter emerge from their shelter to find every kind of bizzare creature artist Frank Thorne could dream up, like the Gorillasaur - top half fanged grrilla, bottom half dinosaur. Luckily, the biggest, baddest caveman on the block - a one eyed blond brute in a red fur toga (and matching eyepatch) named Samson takes an interest in the scientists daughter and protects them from all comers.
What impressed me as kid is the same thing that I love about this comic as an adult. The 'wide-open' nature of the scenario. They had a catch-all expanation for everything: Radiation. There's no logical reason why radiation would create giant vampire bats, or a sea creature that looks like a centipede, or man-eating plants or winged people or 4 armed monkeys or any of the things Frank Throne and the writer cooked up. As a reader, you simply had to accept that this is a place where anything can happen and there is not going to be a lot of tortured explanation for any of it. Very few comics give the creators this much freedom to create. Jack Kirby's Kamandi, Last Boy on Earth is another one, and another favorite of mine, incidently. So this is what I set out to create, a wide open scenario, a background of mutant jungle and ruins where superheroes, dinosaurs, robots, aliens, monsters and anything else I can dream up can all play together.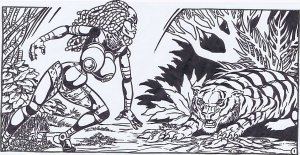 Robot Jungle Girl
Some of the backstory ties in with the 'adult' ( smut/porno/underground...) Crimson Gash comics I did for antagraphics and Carnal Comics. Because Adolf Hitler escaped from Hell and nuked our sister city of St. Paul in the comic The Crimson Gash vs Hitler, the 'lost city' of St. Paul is now a ruin. Because the nuke used was created with "Hellmagik", Hellmagik radiation has caused the explosive jungle growth, dinosaurs and unique creatures. The Robot Jungle Girl was introduced in a short story in Blowjob # 18. Her boyfriend, The Radioactive Kid (a Crimson Gash-regular) was introduced to her in the same story. The Robot Jungle Girl at this time remains a mystery--her origin is in her memory, but she lacks the 12 digit passcode to unlock it.
You have conceived Robot Jungle Girl as a webcomic. Please do give us the link, and why have you chosen the internet as a medium to publish this one?
Gladly! Come over to http://robotjunglegirl.blogspot.com. I'll have a new chapter every month or so for the forseeable future.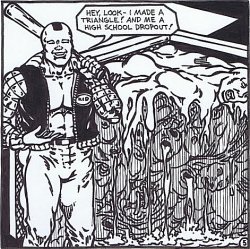 Radioactive Kid
Why the web? I'm really not a computer guy, and it is something I resisted somewhat. I much prefer just to fedex my pages into a publisher and let them deal with the business end. But the big American comic distributer Diamond Comics has severely cut back the number of small press items they are handling and have basically stopped carrying independent small publishers. Many small distributers are trying to fill the void, but for now trying to get good coverage to American comic shops without Diamond is an uphill battle. And I feel I am too old to waste a lot of time pitching my ideas to publishers. So I decided just to create the comic I wanted to create and put it out there. I firmly believe that over time, I will be able to build an audience for the book and I will not even think about making a nickle off this strip until a large readership is there At that point, I can look at doing a book collection, a tee-shirt, coffeemug, or whatever. But reading the current adventures of the comic will always be free to all.
Do you make a difference drawing for the web as opposed to drawing for a traditional comicbook?
I draw it the exact same way, but I think it reads a little different on the web. Turning an actual page gives you more of glimpse ahead than scrolling down a page you just enlarged, so there is potential for more surprise on the computer, which is a good thing.
On the other hand, 2 page spreads are pretty much out of the question, which is a minor bad thing, but one I can live with.
What were your inspirations for Robot Jungle Girl?
Aside from the aforementioned Gold Key comics, the classic '40s and '50s jungle girls, Sheena, Rulah, Lorna etc. which I really only became aware of as an adult fan. Also a large number of 'tough chick' films, especially the sexploitation films of Russ Meyer and the 'black action' films of Pam Grier. The Amazonian ass-kicking vixen has always been a favorite B-movie character of mine.
The comic has an 8-page "eat and be eaten"-prologue. Would you like to elaborate on this for a bit?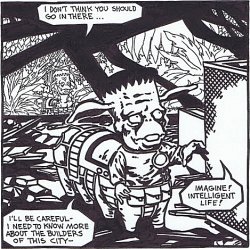 Space Ponies
Well, it's basically just the old cartoon gag of fish eaten by bigger fish, then a bigger fish, then a shark, whale, etc. The goal was to do a lot of wild visuals and establish the sceanario of this being a place where anything can and does happen.
From the second chapter on, Space Ponies play a big part in Robot Jungle Girl. Now how on earth did you come up with these?
The Space Ponies are intrepid alien explorers, spacewrecked in the jungle. They are actually based on a sketch that I did in the margin of a church handout while fighting boredom at some church function with my family. They will play prominently in the first storyline, tagging along and commenting on the strange things our heroes do. After that, I don't know if they will be rescued, retire to a treehouse in the jungle or stick around for the next storyline - one'll just have to see when the time comes. They are basically comic relief and plot exposition, so if they are good in that role they may continue one. I do plan to have a large cast of characters that come and go throughout the comic's run.
After years of drawing mostly adult comics, Robot Jungle Girl is a return for you to more family-friendly entertainment. Why, and was it hard to leave adult comics behind (or is this just a stupid question)?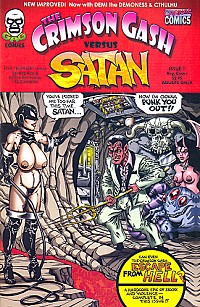 Not a stupid question at all. I loved doing adult comics, primarily I loved the wide open freedom of them (kind of a thing with me...). I didn't set out to 'leave' adult comics - the American adult comics industry fell apart under my feet, and I had no choice but to look elsewhere. Fantagraphics (under their Eros Comix imprint) was the big American publisher of adult comics, and I left Fantagraphics when the editor told me over the phone that they were cancelling all their remaining adult titles as soon as they used up the pages they had already committed to. They still reprint books from their back inventory and I know they still occasionally issue a new comic for a particular adult artist who has a long relationship with them, but otherwise they are out of the adult comic business. So I ran straight to Carnal Comics, which is now run by Steve Crompton [Steve Crompton interview - click here], the creator of Demi the Demoness. Me and Steve did a great comic together, The Crimson Gash vs Satan, put it out there and were underwhelmed by the lack of response from buyers. Steve is a great guy, who I would like to work with more, but the bottom line is Carnal Comics is having trouble selling everything but the core Demi the Demoness title and their Adult Film Star Bio. series.
Why the adult comic market in America was beginning to swirl down the toilet just as I came into it is complicated. In part it has to do with comics never really being respected in America as an adult medium. In part it has to do with Fantagraphics taking the market for granted and mismanaging their position. Fantagraphics published the Comics Journal and never bothered to use the Comics Journal to review (much less write about in any serious way) adult comics. The website for the Eros imprint was a trainwreck of neglect. The "New Releases" listed on the front page of the site never changed in the 4 years I worked for them. Actual new releases were added as a line of text while the outdated pictures of the old "new releases" gave anyone checking back on the site the impression that nothing new had been published. At one point I tried to search the Eros website for Sandez Rey and was told by that I had done 2 stories. At the time I had done 12 + two of them had my pen name misspelled, and EIGHT more issues did NOT list contributers!
If I had started with a more stable company (Fantagraphics almost went out of business the second year I worked there and had to send a begging letter around to comics shops pleading for them to stock up on Fantagraphics back catalog of books) like NBM in Europe I would probably be happily drawing cumshots to this day.
Will you eventually return to the world of adult comics at all?
I would not rule it out. I would love to see a few more Crimson Gash adventures. But the money would have to be right.
In both your "all ages" and your adult comics, your style seems to be very much influenced by golden age comicbooks. Would you like to elaborate on that for a bit, and your favourites from that era of comics?
Jack Cole's Plasticman is probably my favorite superhero comic overall. I'm a big fan of the Simon & Kirby stuff. I think the recent reprinting of Simon & Kirby's Sandman and Newsboy Legion show modern fans that these guys were even more advanced than they get credit for. The golden age Sandman may be the best overall combination of story and art of any superhero of that era.
Also, some Lovecraftean traits can be found in almost all of your stories. A few words about H.P.Lovecraft's influence on your work?
Back in the '70s the complete works of Lovecraft were out in paperback, and I read it all, at about the age of 14 to 15. That kind of powerful storytelling, at that age, left an indelible mark on my brain. I like to work in a reference or two where I can.
And then there's of course your own, weird, over the top brand of humour. How would you describe your brand of humour, and what are your influences, humour-wise?
There was a local TV station that used to have an old movie show called Comedy and Classics. Through that show I learned about Laurel and Hardy, W.C. Fields, Abbott and Costello and especially the Marx Brothers. I lived for any Marx Brothers movie. Duck Soup is to me the perfect comedy. It is the comedy of anarchy, and that is what I like best. I also like 'dark' comedy, probably because I've seen a lot of dark things in my life, starting with my parents nasty divorce, working an adult job at the age of 12, dropping out of school and getting involved with self destructive drug use. (I still drink and 'smoke' - but I don't do it in a self destructive way anymore. At least that's the goal!) So when I comes to modern comedy I like films like Repo Man, The Big Lebowski, Oh Brother, Where Art Thou? Really anything by the Coen Brothers.
Any other influences on your work you'd like to mention?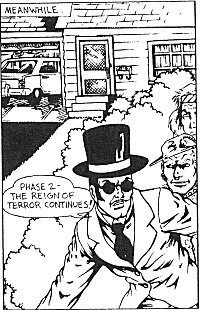 Baron Blue
I'd be remiss if I didn't mention music! As a teenager in the 70s I was part of the first wave of PUNK rock. Yes, I saw the Ramones when they toured for Rocket to Russia with the Runaways as a warm up band, and twice more. I saw Iggy Pop tour for Lust for Life and 4 more times. etc. etc. etc! But it was the local bands - Suicide Commandos, The Suberbs, the Hypstrz, the Mighty Mofos, and many more - and the local club scene at Jays Longhorn Saloon, Kellys Pub and later at First Avenue that had a deep influence on my outlook. If I had to pick just one single word to describe my art the word would be "Psychotronic" and if I couldn't use that word, my choice would be "Punk".
Let's return to your golden age-influences once more: For your story The Enchanted Dagger Meets Incomprehensible Girl, you use a handful of actual golden age characters, Enchanted Dagger, Dolly O'Dare, girl detective, and Baron Blue, by now all in public domain. What can you tell us about these characters' appeal to you?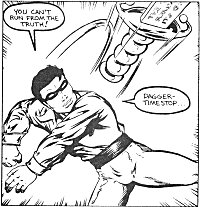 The Enchanted Dagger
I love the sheer "off the cuff" quality of a guy like the Enchanted Dagger, whose one story dosn't explain anything about his origin or the dagger. Baron Blue was just a crook in a top hat and tails. He had no special powers - but he wore a Top Hat! and his gang seemed impressed by that. I love to breath just a little more life into a dead and forgotten character, I suppose because I love comics.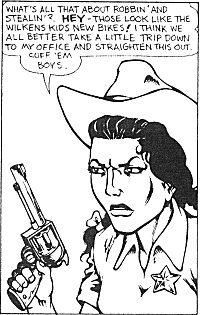 Sheriff Judy
The Enchanted Dagger Meets Incomprehensible Girl also features a character called Sheriff Judy, of course a hommage to actress Judy Canova. What can you tell us about the actress and your fascination with her?
There is a two page Bio of Judy Canova in the back of my Sandez Rey vs Reality book. First, I like Judy Canova on her own merits, I think she's funny, talented and she lights up the screen with charm and charisma. Second I am fascinated by the fact that Judy Canova was a huge superstar as recently as the 1950's and yet is forgotten today.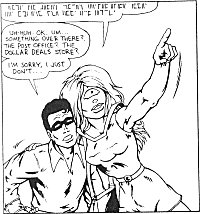 Incomprehenisble Girl explaining
Apart from these characters, The Enchanted Dagger Meets Incomprehensible Girl of course also features the titular Incomprehensible Girl, a very typical weird creation of yours. A few words about her?
I loved the name the moment I thought of it. All girls have always been a little incomprehensible to me, as they are to most men.
The idea was to have a character like the little bird "Woodstock" in the Peanuts comic strip. Woodstock speaks in little "birdtalk" dashes, which the reader can't understand - but Snoopys reaction gives you the gist of it. Suppose an alien couldn't speak any earth language - which is likely. That leaves the reader and the other story characters in the same spot of trying to figure out what the devil she is up to. To me that situation has a lot of comic potential still untapped, and the Incomprehensible Girl may well be a guest in the Robot Jungle Girl universe at some future point.
The Enchanted Dagger Meets Incomprehensible Girl has been published in the collection Sandez Rey vs Reality. A few words about that book and the other stories in it?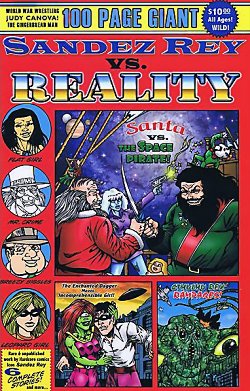 I did 3 issues of a comic called The Minneapolis Free Comic which was paid for with local ads and distributed in free racks here in Minneapolis & St. Paul. I've long felt that the fantasy adventure about Santa Claus trying to return the stolen moon, which was the first issue of the Free Comic, is among my best stories. Likewise, the downbeat World War Wrestling story from issue 3 was also a favorite. After escaping from the burning bridge of American adult comics, I wanted to put some of my best pre-adult stories back into print for readers outside of the local area and also collect the best of my unpublished pre-adult work. To anyone who dosn't live in my hometown or across the river this book is 100% new. It is 100 pages with only 2 pages of text and includes a nice Cthulhu as a giant monster piece which is pretty much 8 pages of non-stop destruction and tries to bridge the differences between a Lovecraft story and a Godzilla movie. Other stories include The Tree which is a tribute to both Woozy Winks (Plasticman's sidekick) and Mr. Crime from Crime Does Not Pay. Tibetan Torture Chamber is a violent screed in which two low level servants of the Gods of Chinese folklore bust some Buddist monks out of Commie Hellhole, and Run, Ginger Run is a purely goofy story about Leopard Girl chasing "The Gingerbread Man" around the world to end his sugary reign of terror. I'm really proud of this book, I think it has a very entertaining balence of stories and is a good introduction to who I am. And the bio of Judy Canova is the most complete you will find anywhere - I did a lot of research and pulled together many facts left out of other bios of her!
The 64 Dollar question is of course: Where is Sandez Rey vs Reality available from?
My friend Steve Crompton [Steve Crompton interview - click here], who was kind enough to take on the task of coloring the cover and doing all the prepress work has it listed on Amazon. Otherwise, the quick and easy way is to order direct from me, through my friend Jay. $10 American for USA orders, $12 for anywhere else. Just write Jay Naylor, 3130 Bloomington Ave. Mpls. MN. 55407 (U.S.A.) Make sure your full address with postal code or number is included.
Any other comicbooks you have published recently you'd like to talk about?
For the time being, all my creative energies are going into http://robotjunglegirl.blogspot.com.
Any future projects?
Funny you should ask, I am just now today, turning down a paying job to do an educational comic for a school system here in Minnesota. So, at this time, no. I want to know what happens next to the Space Ponies!

Feeling lucky ?
Want to search for books by
Sandez Rey
yourself ?
The links below
will take you
just there !!!


Anything else you are dying to mention I have just forgotten to ask?
I loved 20th Century Boys 1 and can't wait to see what happens in # 2 & 3!
Thanks for the interview!
No, thank you my friend. I have to say that of all the people I have ever met, you know more about obscure movies than anyone I know except for one person. I respect that! I used to say that any comics editor who gave me work was a genius. I have since found out that many of them were more like idiot savants - profoundly right about one thing, clueless about everything else! Yet I still firmly believe that anyone who appreciates my comics IS a genius. In the words of Stan Laurel, "That's my story and I'm stuck with it."