Your new movie Megan - in a few words, what is it about?
Relationships. Fundamentally this film is about the relationship between the Callum Smith and Megan characters, even though they are only seen together for a short time in the film. Therefore, the relationship had to both be believable and have a long lasting effect on the audience. I think a relationship can only be truly identified through crisis, that is why the films setting is post-apocalyptic. The main character Callum becomes separated from Megan when the apocalyptic event occurs. In its aftermath he searches for Megan over the period of five years. What sort of character would not give up his quest despite the challengers that surround him? Somebody who had developed a deep relationship with another person. The two main leads in the film, Dean Sills [Dean Sills interview - click here] and Carley Motley did a fantastic job conveying this relationship across the few scenes they are in, indeed the last scene is quite emotional.
To what extent can you identify with your movie's central character Callum actually?
The sense I wanted to bring across in this film is that the characters are ordinary everyday people. They are not special forces, action hero types that you see especially in zombie post-apocalyptic films. They have ordinary lives, jobs and worries, but in my view these sort of people would probably survive better in an apocalyptic situation. That is why a lot of the opening flashbacks are set in recognisable environments. Working Men's Clubs, houses and cars, places people will go to regularly. The short film is just under twenty minutes so there wasn't much room in which to manoeuvre and have a large character arc Callum could go on, but I do feel there is a sense of change in the character as the film progresses. He has to change in order to survive, but there still remains a sense of decency in him. What would you do if you had just killed someone? Obviously you would be horrified.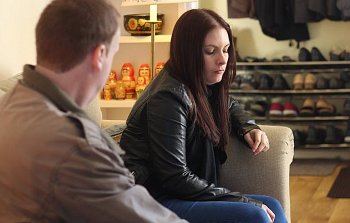 Megan's lead Dean Sills [Dean Sills interview - click here] described your movie to me as "a zombie movie without zombies" - at all a description you can live with, and any zombie and post-apocalypse movies that particularly inspired you to make Megan?
There is one zombie in the film but you do not see her or him until the end (no spoilers here) but Dean is right in the fact that we wanted to approach both the zombie and post-apocalyptic genres in a different way. The main example I give is Danny Boyles film 28 Days Later, in which the structure is run away from the zombies from point A to B. In Megan the structure is spilt between the present day (five years after the apocalypse) which is shown in colour and various flashbacks which are from a period before the apocalypse as well as a week before the present day (this is shown in black and white). In a sense Callum is remembering what has happened over the years and how things have shaped him. This film is therefore not a zombie gore fest (I wouldn't be interested in doing such a film) but a film centres on character studies and memory. For some reason, I cannot explain it, but I keep returning to these elements in my films. The Railway Carriage is about a character struggling with memories in a surreal environment. Even my first short film Guardians deals with two conflicting elements which are fighting to take over the protagonist. In reality an army sergeant tries to keep the protagonist alive, while in purgatory the protagonist's former girlfriend who committed suicide tries to take him to the afterlife with her. I have just realized all my films use an extreme setting (Purgatory, a nightmare and a post-apocalyptic world) in which to explore human relationships. When it comes to inspirations, I looked at a wide range of sources, but gaming seems to inspire me nowadays. Games such as The Long Dark and the Fallout franchise show a post-apocalyptic world that has yet to be seen on screen. The Long Dark is different from the norm because there are no human characters (apart from the playable character) in the game at all, rather there are random encounters with wild animals. Thus the antagonist in the game is the actual environment itself and thus there is a focus on survival. Early on I wanted to make a film with this ethos in mind and have the environment and surviving in it a real noticeable element.
In terms of films, two stand out to me as key inspirations. Maggie is a zombie film starring Arnold Schwarzenegger. This dealt with a zombie infection in a differing manner than the norm. The main zombie in the film was the lead character's own daughter, posing the dilemma, should he hand her over to the authorities or take care of her himself? The other film is The Road. A fantastic post apocalypse film which centered on a family relationship.
What can you tell us about your directorial approach to your story and hand?
My Mother jokingly calls me an auteur whenever we talk about Megan. I managed everything from beginning to end. I came up with the story, wrote the script, found the locations, and shot everything as well. Dean Sills was a great help, giving feedback on the script, securing locations and finding actors. Like The Railway Carriage he is going to promote the film. In terms of how I direct, I feel the best approach is to try and make it enjoyable for the actors and crew. I am not too forceful because the people I work with are usually doing me a massive favour. I also like actors to improvise if they think they can act out a scene better than how it was set out in the script. The main problem I had with the film was time. I only had a short amount of time to shoot the film. That said I think it was amazing what we managed to do over the course of the shoots. I also tried to make each shot interesting and also make the environment both realistic and a character in its own sense as well. This film would not have worked in the way it did if I had completely set it in a house for example.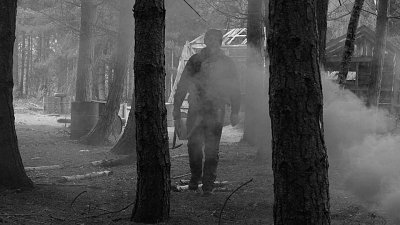 Megan is set in a post-apocalyptic world - so how did you manage to come up with just the right locations for your presumably small budget, and what were the advantages but also challenges filming there?
The film was mostly shot around where I live, which is not known for its post apocalypse locations. The places we managed to find were often hidden away. One such location for example was on a former RAF base in Sheffield. It has been closed since the 1970's, it is now a driving school. We found some fantastic buildings on site, which included a hanger and ruined barracks blocks, unfortunately the buildings were known to have asbestos in them and both me and Dean didn't want the massive risk factor if we filmed inside them. There was however a bunker on site which looked fantastic and is seen half way through the film. Another amazing location was at a paintball center only five minutes away from where I live. It had all sorts there, so much so I felt we could have filmed on that location for a week. There were ruined buildings, old military land rovers, helicopters and even a tank. Along with several churches and a Working Men's Club, I feel the choice of locations should leave an impression with the audience. Another amazing fact is that we got to film at these amazing sites for free, which is down to Dean's great efforts in persuading organizations to allow us to film there.
What can you tell us about your key cast, and why exactly these people?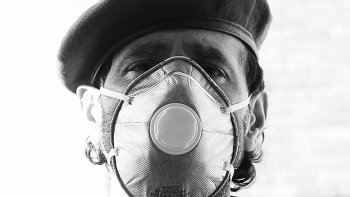 A big thank you to all the actors who were involved in the film: Dean Sills, Carley Motley, Kuljit Singh, Ross Marshall, Mitchell Hone and Samantha Senior Needes. I cast these actors for the roles because they look visually interesting. Kuljit for example played the soldier in the film. He is only seen for a short time, barely a minute, but he leaves a lasting impression. The close-up shot of him wearing a facemask so the audience can only see his eyes is quite powerful and has stayed with me over the last two months. I would love to do something else with him in the future. I think Dean and Carley work well together and their relationship in the film seems natural. Dean is also great at expressing himself through body language, so I try and keep his speaking parts to a minimum so his visual persona will shine through. Ross Marshall was great as well and lent a menacing aspect to the character he was playing. He had never played a ukulele before but he really made it his own in the scenes he is in. Again I would love to work with him in the future, indeed a lot of people have talked to me about the possibility of doing a sequel to Megan concentrating on the character played by Ross. Mitchel Hone has been in most of my films and I feel he has progressed greatly from the first film which was Guardians through to this film. I hope to make a film where he is the lead character. Finally, Samantha Senior Needes did a fantastic job in her role as a public announcer. All the actors were all professional and really wanted to do the roles I gave them. I would love to work with all of them again.
Do talk about the shoot as such, and the on-set atmosphere!
There was not a lot of time to shoot everything on set, so time was an issue. A lot of unforeseen events also happened that could not have been helped. On one shoot for example we were shooting scenes beside a fire, and of course, a thunderstorm happened. Apart from these hiccups the actors and crew were still cheerful despite often waiting hours before I was ready for them. At the end of each shoot I was exhausted but happy that everyone was putting in 110% effort to make the best film we possibly could.
The $64-question of course, when and where will Megan be available to the general public?
Megan is just being entered into several film festivals, so fingers crossed, you could see the film in a few months anywhere in the world. Like my last film The Railway Carriage (which is just about to be released), the film will eventually go online a little over a year after it was made, but you can still see some short videos about it on my YouTube channel.
Any future projects you'd like to share?
Yes. Since finishing my degree I have had loads of ideas of what to do next. At the moment I am working on a film about The First World War, I've wanted to mark the centenary somehow since 2014. After this next film I would like to take a break from serious films and perhaps try my hand at comedy.
Your/your movie's website, Facebook, whatever else?

Feeling lucky ?
Want to
search
any of my partnershops yourself
for more, better results ?

The links below
will take you
just there!!!

Find Ross Adgar
at the amazons ...

amazon.com

amazon.co.uk

amazon.de
Looking for imports ?
Find Ross Adgar here ...
Something naughty ?
(Must be over 18 to go there !)

If you want to see more about this film or any of my other projects have a look at the links below.
https://www.facebook.com/MeganShortFilmAdgarProductions/
http://adgaruni.wix.com/adgar-productions
https://www.youtube.com/channel/UC36VlpXmOpktQrOAiYzQ_Sw
Anything else you're dying to mention and I have merely forgotten to ask?
Finally, I would like to give a big thank you to all the crew who helped me. Jack Chell was the sound recordist on location. Colin Bradley was the sound engineer on the studio recordings we did for the public broadcaster. Paul Hynes was the composer and created some fantastic ambient scores to add emphasis to some of the films key scenes. Steve Call helped out when we shot the scenes with Dean Sills and Ross Marshall. Finally, Callan Evans, somebody I have worked with before on my short film The Railway Carriage, did a fantastic sound design for the film. He really created another element to The Railway Carriage and I had no doubts that he would do a good job on Megan. I would not have been able to make the film if it wasn't for their help.
Thanks for the interview!