Your new pilot Up North - in a few words, what is it about?
Dean: Basically, it's all about two neighbours who show us how society live in the north of England, one family is posh and the other is common as muck. The show is done in a fun way from taking the mickey out of Yorkshire people to displaying how people survive in a modern day unemployed society.
How did the project fall together in the first place?
Dean: I first came to Steve Call with the idea last year when we were filming a feature film called Tears in the Dust. Steve loved my script and said we could film it once Tears in the Dust was finished. At first Up North was originally just going to be a short film but Essex TV showed interest in it so we turned it into a TV pilot and the rest is history!
Dean, what were your sources of inspiration when writing Up North, and is any of this based on personal experience?
Dean: The inspiration came from a number of things. I am a big John Sullivan fan, who wrote one of the best-loved British sitcoms, Only Fools and Horses. The character of Richard Head played by the wonderful Ross Marshall was based on Tony Angelino, the singer who has a speech impedimen in Stage Fright, the episode of Only Fools and Horses when Raquel and Tony perform Crying. I just thought I had to add someone like that then give most of the cast character names being with R. I am a people watcher so a lot of my inspiration came from this too watching how society behaves up north and adding silly little things into each character. The Olivia scene is based on personal experience, a few years back when my daughter Rebecca was in school one of her friends came to our house and I asked her what she was called she said "Olivia" and I said "no you don't, I live here not you". Other humour is elements of Morecambe and Wise and the TV series Bottom. Up North is for people from 15 to 50.
Do talk about Up North's brand of comedy for a bit, and how much was in the script actually, how much conceived on the spot?
Dean: 99% of Up North was actually done from the script. Steve Call came up with the idea for the Taxi driver to be called Patch and he was bloody awesome as the taxi driver. We had such a laugh filming that scene and even threw in the Young Frankenstein gag "didn't you use to have that on the other side?" replacing the hump with a Patch.
Steve: Ha Ha yes, to be honest we had a blast filming the whole show, that particular scene came about because I had an operation on my left eye three week early so it was still a bit red, so I thought it would be funny if we had a one-eyed taxi driver. As you do. Ha Ha. We had to do a few takes just because we couldn't stop laughing. To be honest the on the spot stuff we kept coming up with would have made another show.
Steve, what can you tell us about your directorial approach to your story at hand?
Steve: Well I hope I'm a kind, caring director. I've heard so many horror stories regarding nightmare directors and how they treat castmembers. Well fortunately that isn't me, my approach is simple, try to bring out the best in your actors. Many actors react to scripts and stories differently especially on set, they don't know how the director works, what his or her temperament is, how does he or she want the character to be played. So my role isn't just being bossy on set, far from it, I want the best out of my actors in every way possible. I know that he or she isn't sure of how I'm going to react if they get it wrong, I know that some actors get nervous so forget lines and I know that some are very self critical regarding their performance. I have to take all this into account before we even switch the cameras on, but it's not a problem, while we are setting up the equipment I get the actors to read through their part in the script, all the while I'm listening to how they are playing or sounding like the character (yes directors can multi task), I get them to repeat their part over and over out loud, until they are comfortable with the script. Once I have set up the camera and sound I will then read the part myself, but how I would like the character to be played and sound and then ask them to do the same.
Dean and I would run over the script beforehand and work out how and what the character is to be like and develop that person. If they get it right first time then that is brilliant but it's not always the case, so I have to coach the actor to be like the character. I encourage the actors to bring their own ideas too, simply because it's always good to encourage them as actors to develop their skill more, it really is no good shouting at actors because its counter-productive, we want great actors in our productions so we support and encourage them to be more confident in themselves.
One thing I do not do is show the reel back to them, if they ask to see what they have just done it's a simple NO. They are a couple of reasons for this, one is time and battery power and the other is, if the actor sees him- or herself and doesn't think they have done a good enough job (even though I've said it's all good) they will want a re-shoot and the actor's confidence drops. They start doubting their abilities and pulling themselves down, not all actors do this but some do, so I have to preserve their confidence, so if I say it's good it's good, if it's not then we do it again with a little bit of coaching. On some projects we would have a rehearsal day just to see how they react to their characters and then develop them while filming, but with Up North we already knew most of the actors from past films we have done so we didn't really need rehearsals.
I have a clear vision on what and how the character is to be portrayed so I build up my actors, encourage and coach them to be like that person on the day. I am very focused on the project at the time of shoot so I can deal with any issues that crop up and deal with them there and then. It's ok to make mistakes none of us are perfect but sometimes the only way to learn is to make mistakes, dust yourself down and do it again. We have a great bunch of actors and we always have fun on set, even when we mess up. A happy cast is a productive cast, so I try to deal with any issues the actor may have with the script or character they areplaying. We have a great team of actors, they all chip in and help out where and when they can.
Dean, you also play one of the leads in Up North, so what can you tell us about your character, what did you draw upon to bring him to life, and did you write Mick with yourself in mind?
Dean: He is a waste of space to be honest, a guy who cares more about beer and his pet corn snake Popcorn than his family. He does love his wife and kids but in his own silly way. I just based Mick on real people. In the UK, unfortunately society in general looks down on the unemployed people. It's wrong because most are looking for work and hate relying on state benefits as their main source of income. Sadly some don't want to work and milk the system and sadly Mick is one of them. He has nightmares about working, haha! Yes I knew to play a character like that, it would have to be me who plays him because I actually wrote all the characters with the actors in mind. He is such an easy character to play and totally different in every way to me as a person.
What was the collaboration between the two of you actually like when making Up North? And how did the two of you first meet even?
Dean: It was actually great. Steve and I are great friends and we do work very well together. We have never fell out and we respect each other's ideas and just make a great team. When I wrote the script for Up North a couple of the cast said it was too cheesy and over the top but Steve believed in me and took on my project. We do have the same humour and I think this helps when it comes to filming a project like Up North.
Steve: True yes, we do get on pretty well, we tend to bounce ideas off each other, often we have sorted out the next five episodes before we finished the first. We spend hours on the phone just coming up with ideas and laughing about the stuff we could put in, people have become to know us as little and large, can't see why. But yeah we do make a good team.
I first met Dean on one of my early features, I was very impressed with Dean's level of commitment and punctuality and ability to act, so much so I cast him as lead actor in Tears in the Dust and from that we just have become really great friends.
Do talk about the rest of your cast, and why exactly these people?
Dean: Ok, Carley Motley is an actress from Buxton in the UK. She is fanatastic as Rosie, my on-screen wife and a really good actress. Johleen Wakefield and Kuljit Singh play the Devi family and both are really great at bringing more to the role and helping the characters stand out more on screen. I first met Kuljit on A Total Thug Up. This is the first feature film Steve Call directed and it's also how I got to meet Steve. All the cast were wonderful in their roles. Why these people? Great question because a lot of them are good friends. Carley Motley, Johleen Wakefield, Ross Marshall and Samantha Senior, I met all these great people at the Yorkshire School of Acting in Sheffield. Steve Pollard, Andi Hodgetts and Keiron Goodwin I met on the set of The Eschatrilogy: Book of the Dead and William Marshall [William Marshall interview - click here], I worked with Will on projects like Exorcism of Evil. The biggest name in the cast is Bernie Clifton. Bernie Clifton is a British comedian and entertainer who is most famous for having an ostrich called Oswald which he rides. This year he also appeared on the fifth series of The Voice UK but failed to progress past the blind auditions. You can see his performance here: https://www.youtube.com/watch?v=tizLmN0SOwM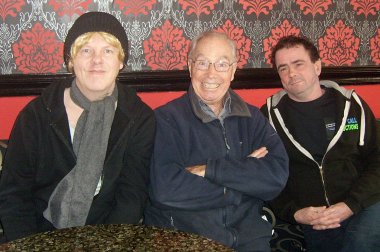 Dean, Bernie Clifton, Steve
What can you tell us about your locations, and what was it like filming there?
Dean: When it came to filming most of the locations were filmed in Bolton upon Dearne, South Yorkshire where I live. The kitchen scene for the Smith's house was actually filmed in my kitchen and it was cool having many of the cast around. I loved filming the Olivia scene with Carley Motley and Jessica Bannon, it was so much fun. The home of Bev and Geoffrey Devi was a locaion we got in Derbyshire thanks to Ross Marshall. We used his Mum and Dad's house for free and are very grateful to them. The pub scenes were filmed in one of the pubs in Bolton upon Dearne. Thanks to the lovely Barbara Cassell who runs two pubs in the village where I live she let us film in The Angel Hotel for free and we used her as an extra in a scene with Bernie Clifton. Barbara is a huge help and I can't thank her enough. Last year we filmed in her pub The Collingwood when we did Tears in the Dust and she was also an extra in that one too! When I wrote Bernie Clifton's part I called his character Colin Wood as a thank you to Barbara. It was really weird filming in pubs I have been drinking in and I hope it does help put my village on the map.
Steve: I'm a great believer in doing things a bit different too, most if not all the locations were for free, both Dean and I are overcomers, if we can't get a particular location then we would find a way round it and make it work. We have this ability to make the most out of what we have got or can get. It's brilliant.
A few words about the shoot as such, and the on-set atmosphere?
Dean: Every shoot was so much fun. My personal life has been pretty stressful so filming was a real joy. During the shoots at times I could not keep a straight face, especially the barbecue scene. The on-set atmosphere was fantastic, we are like a close family and my screen wife Carley Motley is one of my best friends on the acting scene, so it was a true blessing working with her plus other wonderful actors and friends like Kuljit Singh, Johleen Wakefield, Ross Marshall, Steve Pollard and William Marshall. All the cast were amazing and I can't thank them enough for helping Up North become a funny pilot.
Steve: Oh, the bbq scene, yes very funny, even when I was editing the show I couldn't stop laughing, even the reaction from the cast as they where watching us shoot it was too funny. My favourite scene.
The $64-question of course, where can Up North be seen?
Up North can be seen on Essex TV. It's available on demand now at https://www.essex-tv.co.uk/up-north/
Anything you can tell us about critical and audience reception of Up North yet?
Dean: Yes, so far it's been bloody brilliant. Everyone seems to love the humour. I recently read a tweet from Korean News saying "Up North got us in tears."
Steve: It's been well received and all those who know me agree, it's my style of humour so for me shooting Up North is a privilege because we have so much fun on set.
So what's there in store for potential future episodes of Up North, and any idea when more might be released? And other future projects you'd like to share?
Dean: I have great ideas for 5 more episodes including a fishing and football episode already in draft. Not sure yet, I am in talks with Essex TV and hope we can start filming more episodes very soon. Steve Call and I have a feature film out in December which Steve wrote and directed called Tears in the Dust. I play the lead role of Trevor Wallis, a guy who becomes homeless.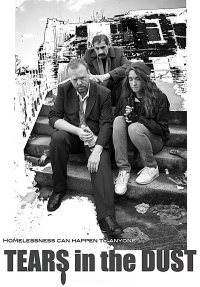 Feeling lucky ?
Want to
search
any of my partnershops yourself
for more, better results ?

The links below
will take you
just there!!!

Find Up North
at the amazons ...

amazon.com

amazon.co.uk

amazon.de
Looking for imports ?
Find Up North here ...
Something naughty ?
(Must be over 18 to go there !)

Steve: Working with Dean on Up North is pretty cool, because we have the same sense of humour and I get to hear the great ideas for the shows. Although Dean is the main writer I get to throw in some fun stuff also, its great because both Dean and I laugh for hours about what we could do. To be honest we could probably make ten episodes but think we gonna stick with five for now I think.
One of the great things about the team is that we have so many ideas for future projects we don't know which one to choose first. All we can say for now is watch this space.
Your/your show's website, Facebook, whatever else?
https://www.facebook.com/DEAN-SILLS-Actor-and-Freelance-writer-457478424320885/
https://twitter.com/dean_sills
https://twitter.com/STECProductions
https://www.facebook.com/Up-North-823316491090585/
Anything else you're dying to mention and I have merely forgotten to ask?
Dean: Yes, Indy the corn snake is available for work. He would be great in a horror movie.
Also if you want to have a barbecue this summer just ask Johleen Wakefield for some great barbecue recipes, haha!
Steve: I would go easy on the special sauce though, bit heavy on the stomach, oooof. Patch ain't too good with that sort of thing, if you know what I mean. Eek!
Thanks for the interview!