Your new movie The Cabining - in a few words, what is it about?
The Cabining is a horror-comedy about two hack screenwriters who dodge writer's block and dead bodies at a remote artist's retreat.
What inspired you to write The Cabining, and how did the project get off the ground?
Steve: The Cabining was an idea born at the DC Shorts Film Festival. I had just attended a seminar by Kelley Baker about low-budget filmmaking - a subject near-and-dear to my heart. Yet, I had spent a decade proudly wearing the low-budget badge of honor, and I was ready to kiss it goodbye. While it's often glamorized, low-budget usually resulted in delays and pain. But Kelley Baker's workshop and personal energy slowly won me over. Perhaps low-budget was not always a dead-end.
After the workshop, my brother Mike and I were pretty inspired at the possibilities of whipping together a low-budget feature, specifically something in the horror realm. This was a big jump for us because most of our prior experience was in character-driven comedy.
I had attempted horror writing in the past. But I could never take the story past the first few scenes. It always devolved into something predictable. The solution to this dilemma was to write a story that played to our comic strengths. In essence, I wrote a comedy… that just happens to involve horrific events. And the writing and ideas came quickly.
Since the movie is at least in some way a slasher movie - a genre at all dear to you, and some of your genre favourites?
Steve: I grew up in the 80s, and I can still remember the palpable excitement when Nightmare on Elm Street came out. It's perhaps a bit difficult to comprehend now, but these movies were massive events, especially for kids. I was way too young to see it in the theater, but I remember my friend, Pat, renting it (on VHS of course) probably around 1985 or 1986. It scared the crap out of us, and we were sorta hooked for the next few years.
But as the movies grew in number and frequency, my excitement waned. I saw - yes I paid money for it - Jason Goes to Hell in 1993. Besides in general sorta sucking, that final shot of Freddy's glove taking Jason's hockey mask into hell resulted in a massive groan from the audience. That was a low-point.
But Scream revived the genre and my interest too, especially because it included the element of humor.
Mike Kopera
Mike: I love The Shining, Rosemary's Baby, and Friday the 13th.
Mike, what can you tell us about your character, and what did you draw upon to bring him to life?
Mike: Todd is a very frustrated writer, who's struggling to make it in Hollywood. And, um, for the last several years, I've been a frustrated actor, struggling to make it in Hollywood! So frustrated, in fact, that I had to resort to casting myself in my own damn movie!!! It was quite easy for me to play Todd, to tap into those frustrations, and playing the straight man to Bo Keister's "Bruce", all I had to do was stifle laughing at his one liners, which I'm fairly good at.
To turn this question on its head and ask the both of you: To what extent can you find yourselves as filmmakers in your two lead characters, the bumbling writers?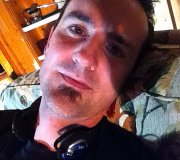 Steve Kopera
Steve: I remember seeing an interview with Tim Robbins. He was asked about his method of writing. Tim's response was something like, "For me, writing is a mostly staring at a blank computer screen." I could definitely relate. The bouts of *inspiration* are few and far between. 99% of the time, writing is laborious, slow work. So it's tough to motivate. I think Todd is the responsible side of my brain that feels a drive to work, and Bruce is the devilish side that just wants to kick back and play online poker.
Mike: I definitely see myself in Todd, at least in the charming way he seduces Mindy. Er, um...he does seduce HER, right?
Steve, how would you describe your directorial approach to your subject at hand?
Steve: I wanted it to mimic the classic horror stories. So most scenes have slow, moving camera, and then a handful of jarring smash cuts to hammer home the frights. The music also played to this. Our composer, Steve Sholtes, mentioned Psycho and The Shining as influences.
With the actors, we didn't have much time for rehearsal. The entire thing was shot in 15 days. So prior to production, I had discussions with each lead actor about his or her character. We chatted about the characters' back-story and what they would want to achieve at the artist's retreat. The cast really made my job easy. They came prepared every night and meshed well. And, because they were so prepared, it was natural to let the actors (especially Bo Keister [Bo Keister interview - click here]) improvise and add their personal humor to each scene.
Your movie gets quite violent in a few instances - so what can you tell us about your gore effects, and was there ever a line you refused to cross?
Steve: I wanted the characters to die in bizarre, non-standard ways. Troy Holbrook, our FX guru, and I had a few discussions on how to make these bizarre deaths seem somehow plausible.
There was no line we refused to cross. In fact, because our movie has only a handful of horror elements, I wanted the gore to stand out as much as possible. Troy and his team worked their butts off and totally delivered.
Mike: One of my favorite days on set was the second day of shooting, when we had Alice Sherman impaled on a tree stump. Troy Holbrook used mashed bananas for her brains and the effects REALLY brought the scene to life. I think I posted a picture of the impaled Alice later that day to Facebook, super-proud of the film we were creating.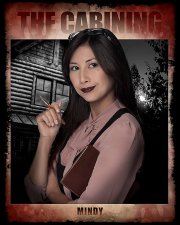 Angela Relucio
Do talk about your cast for a bit, and why exactly these people?
Mike: We ended up casting Angela Relucio and Melissa Mars pretty late in the game (like two-three weeks before we actually started shooting), so the process was a bit rushed, and we got EXTREMELY lucky. Angela is an old friend of mine, but I hadn't even thought about her for the role until she submitted for it via Actors Access (a tool for actors out here in LA to submit to projects). She came in and read for the role, and immediately, I felt a connection. Steve, who was able to sit in on some of the auditions via Skype (since he was in Michigan) also really enjoyed her portrayal of the nerdy Mindy. Originally, we were hoping to just cast a really good actress, who could play "nerdy" and "awkward," and the only drawback to Angela was that she was too good-looking! Well, it didn't take long for fellow producer Ian Michaels to convince me that having multiple beautiful women in my film wouldn't be a bad thing, so we hired her, and she absolutely nailed the role.
Melissa Mars submitted for the role of "Celeste," along with about 1,000 other young women, and she was one of the TWENTY that we chose to see. When I sent her an e-mail requesting that she come in to read for the role, she responded saying that she was in France! So... we let her send in a videotaped recording of the audition, in which she read the lines opposite her mother. She nailed it. It was a bit complicated hiring a non-American for the role, and we were a bit hesitant to do so, but we could tell how much Melissa wanted to be a part of the film, and how perfect she was for the role ("Celeste" is actually French in the script!), so we hired her, and things worked out perfectly.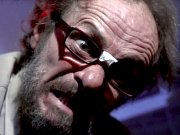 Luce Rains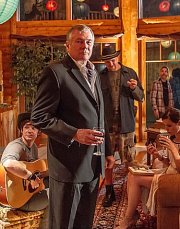 Mark Rademacher (center)
Both Luce Rains and Chuck Saale came to us as referrals from Ian Michaels, who had worked with them both before. I had originally thought that we'd just cast MI locals for their roles, but, when they expressed interest, how could I turn them down? Luce was in 3:10 to Yuma, for crying out loud! And Chuck is just... hilarious!
Mark Rademacher came on board only TWO days before we needed him in Northern Michigan. The original actor who was to play Monroe got stuck on Scary Movie 5 and had to bow out last minute, so I called up Mark (who I knew from my days of doing regional theatre in metro Detroit, and who had recently been in The Five Year Engagement) and pitched the project to him. He cleared it with his wife and work, and promptly drove up north. He was amazing.
You of course also have to talk about your location!
Steve: Mike and I had our eyes on Boyne City, Michigan for many years. It's such a beautiful area, especially in the fall. Our cast flew-in from all around the country, and yet they all commented on the picturesque location. (Here's a photo taken by our actress, Melissa Mars, while she was staying up there.) Still, the location had to provide something that resembled an artist's retreat, and, more importantly, it had to be available for rent! That search was quite an ordeal. I looked all over northern Michigan, hoping to find some place within driving distance of my parents' house in Boyne City. I visited four or five potential "Shangri Las", but nothing met both our budget and the script requirements (on a lake, remote, spacious).
As the deadline to production drew nearer, my brother, Matt, suggested we ask my uncle, Mike Shell, who lives in Boyne City year-round. He's dialed-in and may know of a house for sale that could fit the bill. Mike instantly suggested a house that was a mere 15-minute walk from my parent's place. The owner, Brian, was extremely easy to deal with, and we locked up that house as soon as possible. The only hitch was that it was completely empty. So our production designer, Elyse Shapiro, had to furnish that entire space on our limited budget. It was an enormous task, but she delivered.
What can you tell us about the shoot as such, and the on-set atmosphere?
Steve: We got lucky. We didn't have the budget to provide hotel rooms for the cast/crew, so we had to make due with some pretty tight living quarters. Yet, that seemed to cement the bond. The cast and crew meshed so well, despite the incredibly long hours. We had one day off during the marathon two weeks in Boyne City, and the cast and crew spent that one day off hanging out together. It was pretty special.
Before we wrapped, Bo asked me to write a sequel just so we could get the band back together. It just might happen too.
The $64-question of course: When and where will The Cabining be released onto the general public?
Mike: Good question. We're in talks right now with many distributors and sales agents, in preparation for AFM in November (where we hope to sell it to some foreign territories). At the earliest, we're looking at a VOD release date of around March.
We're submitting to festivals, though, as well, with some occurring before then, and many happening in April... Follow us on Facebook, or check www.thecabining.com, for the most up-to-date info.
Any future projects you'd like to talk about?
Steve: Mike told me to write an action script. We haven't done anything like that before, so I thought it could be a great opportunity to stretch the creative muscles. While the composer was working on The Cabining's music, I wrote a post-apocalyptic story with a female protagonist, which I've jokingly dubbed Mad Maxine.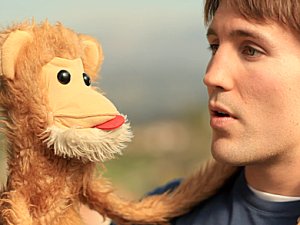 My Friend Peter
Mike: Oh, future projects--so many in development, but none that are yet financed! Steve mentioned Mad Maxine, which we'd love to shoot in the next couple years. I have an awesome found footage script called Abduct3d, basically Blair Witch but with aliens. And there are a few more in the works, including a biopic about my high school football coach and my passion project - a musical comedy with puppets called My Friend Peter.
What got you into the filmworld to begin with?
Steve: It began with my dad's camcorder. I was infatuated with it and, like a lot of filmmakers, made movies with my friends as actors. The infatuation continues today. No doubt filmmaking is a tough, competitive racket. There's a lot of work for often little reward, so it's the love of actually doing it that keeps us in the game.
Mike: I've just been following Steve this whole time... :-)
Do talk about your filmwork prior to The Cabining for a bit?
Steve: The majority of our work was character-driven comedies. I directed a quirky musical dramedy called Starlight & Superfish - http://starlightandsuperfish.com/ - in 2010. Then Mike and I collaborated on My Friend Peter - http://myfriendpeter.com/ - later that same year. It was on the festival run for My Friend Peter that I met many of the crew members that helped us with The Cabining, notably the cinematographer, Jeffery T. Schultz.
Mike: My biggest accomplishment was writing, producing and starring in the short film My Friend Peter, which had an extensive festival run (over 25 int'l fests, that basically took me through all of 2011). I learned from My Friend Peter how much I enjoy producing (as well as acting), and what a good producing/directing team Steve and I make--we both revel in what the other dislikes, so I think we balance each other out.
How would you describe yourself as a director and an actor, respectively?
Steve: I'm an actor's director. I love chatting with actor's about the scene, specific beats, and all that arty stuff. I take very seriously the ability to communicate effectively with an actor, so that you both are happy with the final product. When an actor isn't hitting the right note, I think many director's fall prey to giving the line-reads or nebulous direction like "say it fast". This tends to kill an actor's confidence. I've found that actor's respond better if you paint a picture and let him/her invent within that picture. Yes, I know that sounds like big, high-falutin' talk, but I know there are actors out there nodding their heads in agreement.
I also give actor's a ton of freedom. Despite being the writer of The Cabining, I wasn't married to the words. I let the actors tinker with their lines. Many of Bo Keister's one-liners were completely improvised [Bo Keister interview - click here].
Mike: As an actor, I'm subtly comic, tragically sensitive, and oddly attractive.
Actors, writers, filmmakers who inspire you?
Steve: I love David Fincher's movies. He's delivered quality work in so many different ways. I can even sorta enjoy Aliens 3 now. From a DIY/indie perspective, Robert Rodriguez is an excellent role model. I always pay attention to the work of the Alfonso Cuarón, the Coens, Guillermo Del Toro, and Tarantino too.
Mike: The Coen brothers definitely, as well as the Duplass brothers - in fact, I really only watch films that were made by brothers. No, just kidding. My favorite actor is Liam Neeson. I find myself inspired mostly by independent filmmakers, and even by actors like Matt Damon and Ben Affleck, who went about making Good Will Hunting to showcase themselves, and found that creating a film with heart, with a good story and great acting, won them praise and set them on very successful paths. If you can make something good, people will notice! And good scripts get made!
Your favourite movies?
Steve: As I mentioned, I'm a child of the 80s. So, yeah, I love Star Wars, Jaws, Raiders of the Lost Ark, and all the great popcorn flicks of that era. Some less obvious favorites are Children of Men and Pan's Labyrinth.
Mike: It's a Wonderful Life.
... and of course, films you really deplored?
Steve: Crash. Hated it.

Feeling lucky ?
Want to
search
any of my partnershops yourself
for more, better results ?

The links below
will take you
just there!!!

Find The Cabining
at the amazons ...

amazon.com

amazon.co.uk

amazon.de
Looking for imports ?
Find The Cabining here ...
Something naughty ?
(Must be over 18 to go there !)

Mike: Er... Re-Animator? Though, that was mostly my wife who was complaining about it the whole time.
Your/your movie's website, Facebook, whatever else?
Official website: www.thecabining.com
Official Facebook: facebook.com/TheCabining
Anything else you are dying to mention and I have merely forgotten to ask?
Steve: Your fans should also check out House of Good and Evil - https://www.facebook.com/HouseOfGoodAndEvilFilm -, written by Blu De Golyer [Blu De Golyer interview - click here]. Blu served as one of our consulting producers, and this movie has definitely made some waves. It's had a great festival run and is now available on-demand.
Mike: I think that was a VERY thorough interview, Michael! :-) Thank you! Look forward to bringing you our next film
Thanks for the interview!