Your upcoming movie Escaping the Dead - in a few words, what is it about?
The film starts during a typical day for the lead character, David. David is a marijuana pusher, but he is the kind of dealer who smokes more than he sells. In the meantime the country has been hit by a new death drug, and when David and his partner in crime Ahmir are offered some exceptionally cheap cocaine, they see it as an opportunity to earn big money at a techno concert the following Friday. But the cocaine turns out to have a terrible side effect, creating a huge zombie outbreak that spreads across the entirety of Copenhagen. The film then follows David and his bloody fight out of the city.
Basic question: Why a zombie movie, is this a genre at all dear to you? And what can you tell us about Escaping the Dead's take on zombies, and what will make the film stand out of the big crowd of zombie movies?
Zombie movies and the horror genre in general have always been dear to me, and making a zombie movie has always been one of my biggest dreams.
The zombies in Escaping the Dead will be a mix of different infected: Runners, walkers and a new kind we call "CRACKERS" (the last kind is the ones who got infected from taking the drug) wich is gonna be the most evil kind of zombie you could imagine. Besides that, the movie is taking place during a couple of days, so as we get further in the film, the zombies are gonna get more and more rotten to look at.
This movie will stand out from the crowd because we have a original plot that hasn't been used a 100 times before, we use original types of caracters and there is always something going on in the film, we won't let the audience get bored in this one.
How did the project get off the ground?
Me and my co-director Bastian had been talking about making a new movie for a while, and when I had the money for it we just decided to make a short film, but after shooting for the 3rd time we realized that we had way too much footage for it to be a short, so we just expanded the script and cast and decided to do a full movie instead.
You obviously have to talk about your co-director and star Bastian Brinch Pederson for a bit, and what's your collaboration like, and how did you hook up in the first place?
We do talk a lot, but we're also good friends. we write, edit and do our special effects together. I first met Bastian at a party, when I was around 14 or 15 years old, and it turned out that both of us were making movies and special effects in our free time, so we just started working together from there and became very good friends over the next few years. When we are out shooting, its typically goes down like this: We meet up the night before the shootings at our selected location, we go through the script and agree on how the whole scene is gonna be shot. On the day of shooting we have people coming over for makeup in the first 9 hours of the day, afterwards we go out, and Bastian steps into his role as David, and then I do all the directing out there. If we're more than 25 people at a time, me and Bastian split up the cast in zombies and survivors, we'll take a group each and direct them into the scenario before shooting. Once we're done, we send people home and start the editing right away so that we won't have a long post-production later on.
Do talk about the film's look and feel for a bit if you can?
Everything on the film is gong as planned, even better actually. The quality of the film is pretty high even though its a low-budget indie. Much of the scenes a very intense and grabbing, you get the idea that the main caracter could die at any moment. I personally think that this is gonna stand out alot from what people are used to see in those kind of movies.
Zombie movies almost invariably suggest blood and guts - so you obviously have to talk about your gore effects for a bit, and is there a line you refuse to cross?
Me and Bastian have over 9 years of self-taught experience with blood and special FX, many of the zombies in the movie have exposed bones, deep wounds and nasty flesh that rots more and more as we go through this film. The zombies in the trailer are from the first day of infection in the movie. We produce our own fake life-size corpses to use as props or when someone is getting their head chopped off. Long story short: There will be lots of blood and gore in this. I'm so tired of zombie movies only showing 15% gore in the whole film. This is gonna be 40% story 60% hardcore zombie splatter. We're gonna cross as many lines as possible and I can already say that we're planning for zombie kids and victims too.
Do talk about Escaping the Dead's key cast for a bit, and why exactly these people?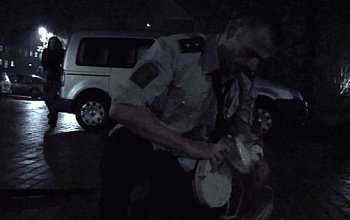 Kim Sønderholm
There are the two main caracters: David and Ahmir (Bastian Brinch Pedersen and Rama Øzel).
Why does Bastian have a role in his own film is a question many people ask, and as a answer I can only say that his personal style just fits the describition of the caracter David. so since I have alot of acting experience from my younger days I started teaching Bastian as well as I could and he picked it up really fast and good.
Rama Øzel is an old classmate from acting school, when I started making movies, he continued as an actor. I saw Rama very fitting for the part as Ahmir since he has Turkish background, so I contacted him and had him try out the role, and after some hard work he picked it up as well. So now when we had the two main caracters, we could begin the rest of the cast and we found many and are still finding alot of people for the film through www.onlinecasting.dk and Danish Facebook pages for actors.
Along the casting we came across Kim Sønderholm [Kim Sønderholm interview - click here], a Danish professional actor (The Winedancers, The Gray Gold) ,who got the role as Lars, a policeofficer that David comes across during the outbreak. We're also gonna meet many different survivors through the film.
http://www.imdb.com/title/tt3334746/
What can you tell us about the actual shoot, and the on-set atmosphere?
We typically start at 12 in the afternoon having people over for makeup, and everything starts out calm and smooth, but as we and the rest of the crew and people meet through the day, things get more and more busy, we have a tight schedule but we always make in time without stressing out. The atmosphere on the set is good, people are happy and social with each other, and when on camera everyone gives it 100%. One thing is common everytime we're out shooting, we scare the hell out of people walking by, and very often there is someone threatening to call the cops on us because we're scaring them or their kids. Funny thing is we always have permission from the police when we're shooting :) But besides from that we get a lot of curious people coming by. A lot who want selfies with me and Bastian, hehe.
The $64-question of course: When and where will the film be released onto the general public?
The movie will be finished in the fall of 2014, but I can't tell you any release date yet.
Any future projects you'd like to share?
Me and Bastian have some future projects in mind but they are being keept secret for now.
What got you into filmmaking to begin with, and did you receive any formal training on the subject?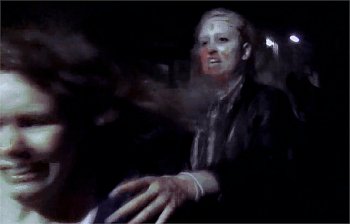 When I was around 12 years old I began watching my first horror movies, and I remember the dream of being a director started there. When I came across independent horror movies a year later I thought "okay, I don't have to go Hollywood style to be a director. There is an actual chance here" - so I started to make short movies with a dude from my school until me and Bastian started working together. In the years from 2008-2012 I worked on special effects on many film school productions, and there I also learned alot more about professional ways of doing it. So I haven't been educated at an actual movie school, but I have so many years experience with results that I work just as good. I have been every way around a production and know how things have to be done. Bastian on other hand has spent some years on a film school and has therefore some more tecnical wisdom on how to use the right equipment for the shootings. Bastian has also been working with special effects since he was a kid.
What can you tell us about your filmwork prior to Escaping the Dead?
A lot of short movies and a full test film: Rædslernes Tunnel (Tunnel of Terror), A Chronicle of Violence, Forest of the Living Dead, Back from the Dead (Full), Mobning og Selvmord (bullying and suicide).
How would you describe yourself as a director?
Self-taught, entusiastic with a burning passion for making movies. Good with his crew, and not affraid of challenges or telling people what to do. I know what I want and how to get it.
Filmmakers who inspire you?
Lars Von Trier, Peter Jackson, George A. Romero.
Your favourite movies?

Feeling lucky ?
Want to
search
any of my partnershops yourself
for more, better results ?

The links below
will take you
just there!!!

Find Martin Sonntag
at the amazons ...

amazon.com

amazon.co.uk

amazon.de
Looking for imports ?
Find Martin Sonntag here ...
Something naughty ?
(Must be over 18 to go there !)

Braindead, Night of the Living Dead, The Shining, Evil Dead, Grave Encounters, Frontiers, Christiane F, Nordkraft.
... and of course, films you really deplore?
Hmm, the Meat Market-trilogy is probably the worst i've ever seen, also the House of the Dead-movie and Jason X.
Your/your movie's website, Facebook, whatever else?
https://www.facebook.com/EscapingTheDead
Anything else you are dying to mention and I have merely forgotten to ask?
I think we got everything that needed to be said for now, but you can check out the movies' trailer here:
http://www.youtube.com/watch?v=j0nAkjtrnDM
(It's in Danish and there will come one with subtitles later on.)
Thanks for the interview!