Hot Picks

Escaping the Dead


Denmark 2017
produced by
Bastian Brinch Pedersen, Martin Sonntag for Dangerous Island Films
directed by Martin Sonntag, Bastian Brinch Pedersen
starring Bastian Brinch Pedersen, Kim Sønderholm, Rama Øzel, Lone Fleming, Lloyd Kaufman, Sead Sainoski, Sune Rolf Jensen, Heine Sørensen, Hervé Toure, Daniel Hutera, Hassaan Hamza Waseem, David Munnecke, Umut Kilavuz, Lianne Hattel, Ahmed Hussein, Adam Habib Buratowski, Dorte Rømer, Paw Krogsbæk Mathiasen, Frederik Thorenfeldt Poulsen, Robert Ølholm, Steffen Holmann Olsen, Rasmus Ritto, Maria Lisberg-Jonasson, Mike Hansen
written by Bastian Brinch Pedersen, Martin Sonntag, music by Rusty Apper, special makeup effects by Bastian Brinch Pedersen, Martin Sonntag, Christine Scheel Kvint

review by
Mike Haberfelner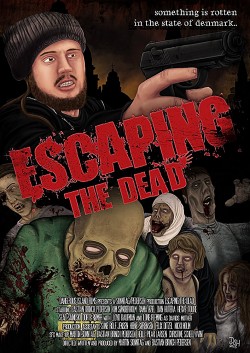 David (Bastian Brinch Pederson) isn't really swimming in money at the moment, and his landlady (Lianne Hattel) also threatens with eviction, but that doesn't bother him much as long as he has got enough cannabis to smoke - and that's where trouble starts as his friend Ahmir (Rama Øzel) has bought a stash from gangster Sablen (Sead Sainoski) that was slightly overpriced ... and now the two owe Sablen quite a bit of money, and Sablen is one who always comes to collect. And after a botched up robbery David and Ahmir come up with the idea to invest in the new party drug Krokodil, to sell for profit at a rave. Thing is, Krokodil has a terrible side effect, it turns its consumers into flesh-eating zombies with dissolving skin. And suddenly, David finds himself on the run from an ever-growing zombie horde, eventually to be accompanied by cop Lars (Kim Sønderholm) who's pretty much as perplexed by what's going on as David, but at least he has a sort-of plan to get out of town - though it stands to reason whether the situation's any better elsewhere ...
Ubiquitous Troma-head plays a hapless tourist who joins our heroes for a bit before being turned into zombie food, veteran Euro-horror actress Lone Fleming can be seen as David's mother.
True, this movie's set-up eats up quite a bit of screentime, and also true, the ironic approach of the first act isn't always sustained in later scenes - but at the same time, this is a zombie fan's delight, with plenty of imaginative gore effects, fun chases, excitement, suspense and jump scares. Sure, it's very probable that if you're not into zombies, this is not a movie that will change your mind - but for friends of the genre, it truly delivers full force!