Your new movie Danny Boy - in a few words, what is it about, and what can you tell us about your character in it?
Danny Boy has a few interesting layers. On the surface, the film is about a robbery gone wrong. But it's also a character piece on two men who are very different sides of the same coin. Two career criminals from very different social and personal backgrounds. But ultimately, they share the same fate.
What did you draw upon to bring your character to life, and how much Jett Jansen can we find in Danny?
For the character of Danny Boy I needed to keep him real and grounded. I needed to stay away from anything too cliché. Just keeping him real was the goal. I also needed to compliment Samuel Evan Horowitz' performance [Samuel Evan Horowitz interview - click here], similar to a dance. You need to be the yin to someone's yang. Sometimes it doesn't work, but Sam is so great and luckily we have great onscreen chemistry which helps.
How did you get involved with the project in the first place?
I think the first time I heard of the project, there was talk of it being a stage play. Which it totally still can be, by the way. But then it evolved into a short film that would be one single shot. Just a 12-minute oner. Then it evolved further to what it became, and we were all very happy with how it turned out.
What were the challenges of bringing Danny Boy to the screen from a producer's point of view?
Because we were originally preparing to shoot the film all in one take, Sam and I were pretty well-rehearsed. Our crew of guys was all dialed in as well. We've all worked together on so many projects that there is a great shorthand. It lets us move pretty quickly. In terms of producing, I feel the most challenging aspects were on the marketing and distribution side of things. The film tackles many sensitive and dark topics which can limit how many places it can go. Luckily, for us the response has been very positive.
What can you tell us about Danny Boy's director Cory DeMeyers [Cory DeMeyers interview - click here], and what was your collaboration like?
Cory and I have a long and wonderful history of working together, which is amazing for me as an actor because I can trust him. I don't have to worry about anything but my performance. I trust Cory's eye and if he says it's good then it's good. Or if we need another one then we need another. He's experienced and knows what needs to happen.
He's got a fantastic mind for directing. It just comes naturally to him. So he's great to work with. I expect big things from him in the future.
Do talk about the shoot as such, and the on-set atmosphere!
The filming of this project was a lot of fun. As I mentioned we were preparing to do this thing in one take. So we get in there. Our amazing director of photography Deangelo Harding (who is a master) lines up the shots and mounts the cameras. He gets it all lit and ready. Sam and I are ready to go. Cory yells "action" and it just starts to click. By the fourth take, we had essentially gotten the whole oner. We got it ahead of schedule. So we're standing out there on the streets of Los Angeles with several fantastic cinematic cameras, an amazing DP, a badass director, actors who had done the whole piece beginning to end in one take several times, and pretty much all the time in the world to keep shooting. So we said to hell with it and started shooting out the rest of the coverage. It was really cool.
The $64-question of course, where can Danny Boy be seen?
We're going to have to wait and see on that one, but after the festival season I'm sure there will be several ways to watch it.
Anything you can tell us about audience and critical reception of Danny Boy yet?
The critical reception has been amazing and positive. We knew we had something cool, but we didn't expect this overwhelmingly positive response. You just never know in this business. But the nominations and awards and positive reviews have all been very heartwarming for us and we really appreciate and enjoy that people liked it.
Any future projects you'd like to share?
We are always working on something, but I would definitely expect an original feature film from us in the near future.
From what I know, you entered the film world as an actor and stunt man - so do talk about your early days, and what made you want to go into making movies in the first place?
I started doing theater in middle school, then in high school I did theater and musical theater. After graduating, I worked in Miami, Florida doing theater professionally before ultimately getting into the wild world of professional wrestling. Which then led down the path of working in stunts, then film production and everything in between. It's been a very fun ride. Blessed is the man that chases his dreams.
What can you tell us about your filmwork prior to Danny Boy, in whatever position?
Prior to Danny Boy I worked on a very wide range of projects. Same as almost everybody that worked on Danny Boy. We've all worked on a lot of great projects in many different capacities. Personally, I've directed, produced, written, or starred in everything from professional wrestling shows to comic books to commercials, feature films and virtual reality projects. But what always stays the same is the desire to tell great and interesting stories.
Actors, filmmakers, whoever else who inspire you?
Acting-wise, I borrow heavily from Al Pacino, and Nicholas Cage as well. Sam Neill and Jeff Goldblum, just in terms of technique and how I approach a character or a performance. I like to be as subtle as I can and naturalistic. From a production standpoint I think the films of Sergio Leone and Kurosawa as well as Spielberg and Tarantino have really left their thumbprint on me.
Your favourite movies?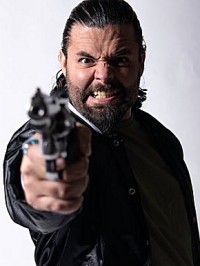 Feeling lucky ?
Want to
search
any of my partnershops yourself
for more, better results ?

The links below
will take you
just there!!!


Well that depends on when you ask me. That can change week to week but right now I'd say Groundhog Day, Back to the Future, The Maltese Falcon, Once Upon a Time in Hollywood, Sanjuro/Yojimbo - I'm counting them as one. And probably Indiana Jones. But who knows, next week I'm sure Pulp Fiction will make it into the list.
... and of course, films you really deplore?
I hate those copycat films. Like when Hunger Games came out and did well, I knew that for the next 6 years I was gonna have to get movies based off of novels for young people. And sure enough, we got Maze Runner and Divergent and Ender's Game and it just went on and on. People do that in every genre. Fast and Furious does well, so now we're doing car movies for the rest of our lives. Any of those late-to-the-party copycat-type films really piss me off. Unless they're good. All bets are off if you make a good movie.
Your/your movie's website, social media, whatever else?
My Instagram is @Jettjansen
">Danny Boy's website is www.dannyboyshortfilm.com
Sam's Instagram is @the_real_russian_concussion
Thanks for the interview!
Thank you very much!