Your new movie Danny Boy - in a few words, what is it about?
It's about not judging a book by its cover.
What were your sources of inspiration when writing Danny Boy?
Quentin Tarantino is a big inspiration for both director Cory DeMeyers [Cory DeMeyers interview - click here] and me. Writing and creating something even remotely comparable is a huge accomplishment, which is something I set out to do.
How did the project fall together in the first place?
Ha, well… a few years ago, Cory and I had just finished doing some boxing training and he told me that he wanted me to write a short narrative-driven story for him to direct. After tossing around a few ideas (namely, everything happening in the car and it only featuring two actors), I got to work!
What were the challenges of bringing Danny Boy to the screen from a producer's point of view?
Getting the right group of people together to make it. Honestly, without Cory none of this would have happened. I had rewritten the script as a play and was getting ready to shoot it in my car on my iPhone, out of sheer boredom. When Cory heard that, he assembled a dream team in less than a day. It was kind of unreal.
You also play one of the leads in Danny Boy - so what can you tell us about your character, what did you draw upon to bring him to life, and have you written him with yourself in mind from the get-go?
I play Francis, who is cut from an 'old school' cloth, so to speak. He's a gangster who doesn't suffer fools. I wrote both Francis and Danny by drawing from myself. In prison (where I spent over 8 years), it was unacceptable to associate with gay men. I drew from that life, one that I knew very well. Although they're both gangsters in the story, both Francis and Danny symbolize the death of my old way of thinking and the birth of another. Today, my best friend and writing partner is a gay man… 15 years ago that would've never happened, it couldn't have. This was in essence a way for me to process that.
What can you tell us about Danny Boy's director Cory DeMeyers [Cory DeMeyers interview - click here], and what was your collaboration like?
Cory is a creative genius. Seriously. I feel incredibly privileged that this was his first narrative-driven feature… to have been able to collaborate with him. Our dynamic is pretty awesome because, not only are we incredibly close as friends, but we have also worked with each other many times in the stunt world. He really gets my writing and I just love working with him.
Do talk about the shoot as such, and the on-set atmosphere!
We put this thing in the can in 4.5 hours! Cory knew exactly what he wanted, and Jett [Jett Jansen interview - click here] and I had gotten "off book" the previous day rehearsing. Everyone worked together pretty seamlessly and was super supportive. Deangelo and George were also amazing to work with.
The $64-question of course, where can Danny Boy be seen?
Right now, all over Europe at different festivals, and right here in Los Angeles at HollyShorts on September 27th at the TCL Chinese 6 Theaters!
Anything you can tell us about audience and critical reception of Danny Boy yet?
We've gotten a lot of great reviews in Europe and Canada. Danny Boy is only starting its festival run here in the states, but we're all really looking forward to hearing from critics and audiences alike. It's a polarizing time here in our country and this piece is - ironically given the subject matter - about honesty and open-mindedness. I hope it is received well, but when it comes down to it, I write what I write to process my own internal struggles and character defects.
Any future projects you'd like to share?
Yes! Cory recently signed on to direct Musket and the Rat, which my partner Adam and I adapted from the play I wrote several years ago, and which was produced before the pandemic. We are getting ready to shoot the teaser for that later this month. Our feature God Shot is also in development with Unified Pictures, which we are very excited about.
From what I know, you entered the filmworld as an actor and stuntman - so do talk about your early days, and what made you want to go into making movies in the first place?
Well, honestly, I used to be a gangster. My entire childhood was spent in different institutions and once I turned 18, I went away to prison for the better part of a decade. The only thing I was good at was robbing and hurting people… myself included. I was in the process of attempting to turn my life around after I turned professional as a boxer. I fell into stunts really out of nowhere, because my boxing promoter Bobby Hitz was consulting on a TV show where it turned out I was a pretty close match for the lead actor. Next thing I knew, I was making a living pretending to do all the things I actually used to do. Then I met my wife Sari who is the most incredible artist on the planet… she taught me how to act. Then, after a couple years of hearing me tell stories, she introduced me to my friend and partner Adam, who taught me everything I know about the craft of writing. That about sums it up.
What made you pick up writing eventually, and how would you describe yourself as a writer?
I've always been good with words, always been able to tell stories… especially my own. It wasn't until a few years ago that I realized I had the ability to create stories that were completely fictional but that also drew from my lived experience at the same time. I've lived through so much pain and bullshit personally that I wanted to work through some of it in other ways than just beating the shit out of my body for money. If I had to describe myself as a writer, I would just say I'm honest. That's it.
What can you tell us about your filmwork prior to Danny Boy, in whatever position?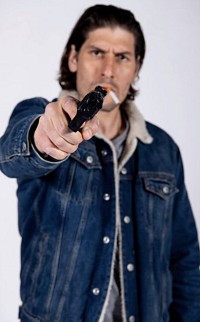 Feeling lucky ?
Want to
search
any of my partnershops yourself
for more, better results ?

The links below
will take you
just there!!!


I've been working as a stuntman and actor in film and television since 2013. I pretty much transitioned from boxing to stunts. As of now, I've probably performed stunts in around 100 various episodes of television and maybe 25 films, and I would say my niche is "action acting", as the majority of my work is usually speaking roles in which I do my own stunts.
Writers, filmmakers, actors, stuntmen, whoever else who inspire you?
Gary Lennon. He's one of my mentors and friends and he inspires me. He came from a worse background than me and he made it out, and he writes and directs stories that really resonate with me. My writing partner Adam who is an endless fountain of brilliance, and Cory DeMeyers [Cory DeMeyers interview - click here] and my friend Christian Litke, who also inspire me to be better because they're incredible. And of course, my wife Sari, because she is the best human I know and has more talent in one thumb than I do in my whole body.
Your favourite movies?
True Romance and Once Upon a Time in America.
... and of course, films you really deplore?
I won't name any because I'm no critic, but I personally dislike watching movies that pander to any specific agenda rather than focusing on story.
Your/your movie's website, social media, whatever else?
@The_real_russian_concussion and @Dannyboyshortfilm on Instagram.
Thanks for the interview!
Thank you so much for the interview!