Your series Malvolia: The Queen of Screams - in a few words, what is the show's premise?
Malvolia is a horror host for the modern day. She does weekly twisted skits and reviews horror short films.
What inspired you to create Malvolia: The Queen of Screams in the first place?
Originally I had written a treatment to be a part of a film series. The director rejected it, but the producer encouraged me to keep going with it. Not being under the restrictions of the film series, I knew I wanted to write about something that no one was really talking about and wanted to make a statement, but hit major writer's block. I went to ScareLA where they were honoring Elvira and I was enthralled by the huge line of people that were waiting for her. I wasn't allowed to watch Elvira when I was younger, so I didn't really realize this incredible following and fan base she has. So, I went with a horror host idea. However, the more I wrote, the more I realized this would be better as a webseries. Malvolia is an Italian name meaning "Ill-Will". It's also categorized on the internet as a "vampire" name. "The Queen of Screams" is just a play on for "Scream Queen".
Let's talk about your character, Malvolia, for a bit: What do you draw upon to bring her to life, and how much Jennifer Nangle can we find in her, actually?
Even though I am compared to her regularly, I really wanted to stay away from being like Elvira. So I went to the heart of the horror hosts: Vampira. I tried to read and watch as much as I could about Vampira, but because the station she worked for didn't back up any of her shows, I then went to one of her inspirations: Morticia Addams. These women were dark and fierce but also have a very dry sense of humor along with an underlining sex appeal. That's what I wanted Malvolia to be. I never said she was a vampire or a witch, because I wanted to make her whatever, whenever. And I have to laugh, because I was thinking the other day what part of Malvolia is of me. She is the darker, horror side that I can't show is real life.
A few words about Malvolia: The Queen of Screams' brand of humour?
Soooooooo, I never really thought of Malvolia as funny, until a fan messaged me and said how funny he thought the series was. I thought to myself: We go to really dark places sometimes... HOW is this funny? I mean, I call my audience my "victims", I talk about eating people, I drink "blood" wine, I poisoned Victor and brought him back to life... So I was explaining this to my associate producer Alex Napiwocki and he thought I was out of my mind! Of course Malvolia is funny! Some of the topics are so out there and the way the script is written and the way I present it has that dark comedy with it. So, I would say it is a very dark, dry humor.
What can you tell us about Malvolia: The Queen of Screams' critical and audience reception so far?
I prepared myself and anticipated a lot of hate when I decided launch the idea at the beginning of 2017. I figured everyone would say I was copying Elvira and that I was a wanna be. I didn't want to say too much about what I was working on, so my boyfriend (G113 Photography) and I took a couple of promo pictures as the queen and I released the one with the bluish green background with both my arms reaching out and braced myself. To my surprise - people LOVED the idea!!! And I was shocked! I am still shocked to this day when people will say they are a fan and love the series. It's a great feeling!
Since it's still Halloween season, let's talk about your Halloween special, Malvolia's Halloween Party - so what's that one about?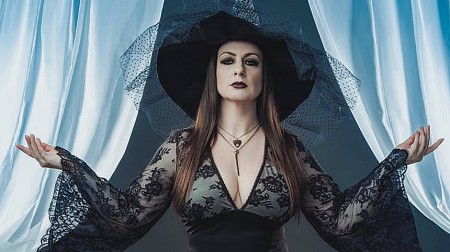 Well, Malvolia is having her annual Halloween party when she receives an unexpected invitation that her friend "Bloody Sheri" finds on her bloody corpse welcome mat. She has been invited to a Halloween party being thrown by filmmakers on "earth's surface" and would like Malvolia to be the guest of honor! Well of course she would because she thinks that this is her ticket to Hollywood, but really, Hunter (filmmaker) hasn't been completely forthcoming with the information and all hell breaks loose once Malvolia finds out what is really going on. It's definitely a dark comedy shot reality show style and everyone got involved (ie the camera guys)! We poke fun at the industry stereotypes and just laugh at ourselves. I thought it was an utter blast and knew it was something we have never presented to Malvolia fans before, so I thought, this is either going to be great or completely fall flat... So far, SO GREAT! We have had such great responses from fans, horror bloggers, film reviewers - I really loved how everyone got it.
Do talk about Malvolia's Halloween Party's director Hunter Johnson (also a frequent director on the series) for a bit, and what's working with him like?
I met Hunter 2 years ago. His film 2 Jennifer was coming out around the same time as my short film Demonic Attachment was out, so we ended up filming We Are Indie Horror's It Came from Candi's Lab right after one another. Fast forward to a week or so before he screened his film, his name came up and a mutual friend had said, "If you want to get things done, you get Hunter Johnson on your side." So right then and there I knew I was going to make this guy my friend whether he liked it or not!!! Shortly afterwards he asked me to be a part of a horror anthology (which is currently on hold) and we've been working together ever since. I ended up asking him to direct a short film I wrote and was going to be acting in called The Deal and it was such an easy collaboration. The film currently has 81,000 views and counting on YouTube. Hunter's mind is the complete opposite of mine, so I feel we creatively balance each other out.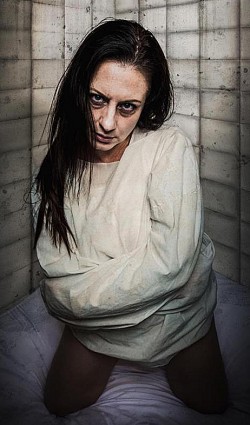 What can you tell us about Malvolia's Halloween Party's cast, and why exactly these people?
I tend to work with the same people. They are the people that show and prove to me that they want it just as much as I do. Doing indie no budget films isn't everyone's cup of tea and I have been on numerous sets where an actor has a diva mentality and just makes the whole atmosphere toxic. I want positivity and drive. As you know, I work with Hunter a lot. We were filming a different segment for Malvolia: The Queen of Screams when ideas started to flow for the Halloween special. A week later I asked Hunter if he was still down and we got on the phone and started hashing out what I wanted, where we wanted to go with it, what kind of actors I was looking for. I immediately went onto Facebook and tried to reach other to the other Malvolia: The Queen of Screams guests to see who would be down to come back for the special. I did an open post in case anyone else wanted to get into the mix. Charles was always going to be in it, he had no choice if he didn't want to. Bria and Baker volunteered for this crazy time! Richard and Alex are associate producers and are always behind the camera but were willing to be themselves in front of the camera (they are naturals!). Garrett Lee came to reprise Victor. Lastly, originally we were trying to have the actress who played "Bloody Mary" in a skit reprise her role, but she was unavailable... So, Hunter said, "Why don't we change it to "Bloody Sheri" her sister! We tossed a couple names around and Sheri Davis' name came up and I just knew I should ask her. She luckily said yes! Once everyone was in place, Hunter wrote these parts specifically for the actors and I think he did a phenomenal job.
A few words about the shoot as such, and the on-set atmosphere?
Because it was shot "reality show" style, there weren't a ton of set ups and/or cuts and, if anyone knows Hunter, he loves to get a lot of "one takes", which made sense for this film (i.e. when I pick up the camera at the end and exit the party - that was all one take and one shot. In fact, that was the only one we did! #onetakewonder). Charles came prepared with that picture he drew so we immediately knew that was a moment in and of itself! Bria nailed her character on the head - you can tell she's around a lot of "actresses" here in LA. And Baker, well, he really was the new guy in the group! Not really sure if he was acting that day or thinking we were all out of our minds! No, Baker is super talented and really embraced everything we threw at him! I naturally flowed with Sheri (Bloody Sheri) very easily and she was cracking me up all day long! Garrett (Victor) and I also easily work off of one another naturally and have done this many times before, so piece of cake with him! And Richard and Alex were such sports jumping in front of the camera and just nailed their scenes and improv! All in all, everyone just naturally flowed and worked off of one another. It was such a fun day creatively!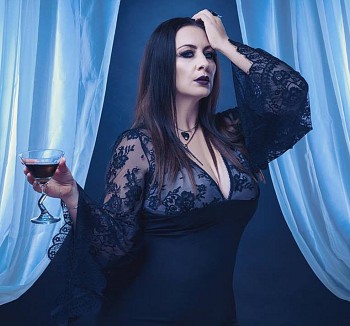 Some (other) of your favourite episodes of Malvolia: The Queen of Screams?
The Ill-Will Incoxicant for sure! I told Garrett (Victor) I wanted a drink named after me and he came up with that concoction. So tasty! Malvolia's Match! I had written it the night before and actor Kevin Caliber (Damien) was SUCH a sport. I kept missing my cue because we had just filmed the "Ill-Will" cocktail episode and I was feeling a little tipsy from it and we kept having to redo a lot of it. He just laughed so I think he had a good time! All the filmmaker's I was able to showcase. Those shorts were great, entertaining, and to the point!
So what are the future plans for Malvolia: The Queen of Screams - and other future projects you'd like to share?
I thought once Halloween had passed, I would take a break. The month of October was INSANE for me! However, I have a few more ideas I'd like to film that I feel will lead up to the Christmas holidays and then break to gather my thoughts for season 2 come 2018. I'm also trying to figure out how I can reach more filmmakers to have me showcase their films. I'd LOVE to do more hosting! I was able to host the Northern Fright Festival in Canada this year along with the 15 Second Horror Short Film Challenge, a segment for the podcast Creature Features, and hosted writer/director Craig Fisher's Halloween horror short Nightmaere... I am going to attend as many conventions as her, so there's no stopping! Just, go go go!
What got you into acting in the first place, and did you receive any formal training on the subject?
I went and saw a play that family friends were in and was just amazed by the performance. How they moved on stage and sang - I was mesmerized. So, I started acting in community theater and musicals when I was 10 years old. I auditioned and acted in every show I could, acting in and rehearsing for 4 shows at once. When I went to college, I majored in theater studies and received my BFA. I waited a couple years before I moved to Los Angeles, but I knew I would be competing against real professionals, so I enrolled at the Laura Henry Acting Studio and studies the Meisner, Linklater, and Alexander technique for 2 years. It was intense, but I learned a lot and became stronger from it. Since then I take classes here and there, but mainly I focus on self-producing.
You also tend to perform behind-the-camera duties on quite a few of your projects - why is that so, and which of those jobs do you enjoy the most, which could you do without?
Honestly, acting is my love. I really only do the other duties because we are in an age of self-production and if you want to get things done your way, to tell the stories you want to tell, then you have to be able to do everything and anything possible to get it all done. If I could pass one position on to someone else it would be editing. It's not something that comes easily to me and I feel it is a time sucker. I'll sit down and maybe sync a couple clips, cut and paste something, and BOOM! It's like 3 hours later and I might have gotten one scene done.
Some of your past projects you'd like to talk about?
Writing and acting in Demonic Attachment really changed my world. The film is based on the haunted house I grew up in and the history around Danvers, MA and the Salem witch trials. It was a huge learning experience and made me stronger. But it also pushed me into the horror community who completely embraced me. I've made great friends, working collaborators, and contacts! Without it, I wouldn't be where I am today!
Last minute I was asked to be a part of the horror anthology 10/31 by William "Rocky" Gray. I felt honored that someone I didn't know was asking me to film a small segment for his feature film! When the trailer was released, I was pleasantly shocked because he used me in the beginning of the trailer! ME! Such an honor and he was so supportive throughout the entire process. Def check out the film when it's released!
Lilith - I got that role after being recommended by my great friend Charles Chudabala. It's great to have friends who look out for you! I loooooooooove my segment and to say it got bloody was an understatement! Filming for it was a blast! This film is coming out next year as well!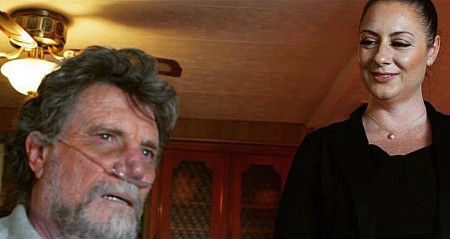 with Vernon Wells in Lilith
How would you describe yourself as an actress, and some of your techniques to bring your characters to life?
I'm a method actress. I do my homework. Learn the script inside and out. Come up with character breakdowns/ideas. But when I arrive to set, I put all my focus on my acting partner and just work off of them. They are the captain of my ship and vice versa. I really love to be in the moment. Crazy, unexpected moments come out of it and it can be really rewarding.
I recently worked with veteran actor Vernon Wells in the upcoming horror anthology Lilith. To say I was challenged was an understatement. He kept pointing his finger at me during one scene and it pissed me off (in the scene of course). He ended up mentioning it in between takes that he kept noticing me looking at his finger and I replied, "I'm restraining myself from not biting it off!" He laughed but I honestly felt that way! I don't think he was expecting that answer and it's just a great moment! So much fun!
Actresses (and indeed actors) who inspire you?
Meryl Streep, Robert DeNiro, Julianne Moore, Brooke Lewis.
Your favourite movies?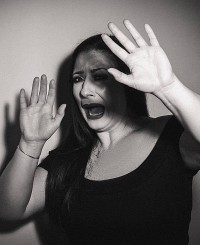 Feeling lucky ?
Want to
search
any of my partnershops yourself
for more, better results ?

The links below
will take you
just there!!!


The Blair Witch Project, Insidious - but pretty much anything by James Wan and Leigh Whannell -, The Gate (terrified me as a kid), Clue, Drop Dead Gorgeous.
... and of course, films you really deplore?
I don't dislike films. I know what it takes to get a film made from idea to script to budget to prepro to casting to filming to editing to post to releasing it out to an audience that has an opinion and a world wide web to tell it to. Every filmmaker deserves a huge pat on the back for getting a film done.
Your/your series' website, Facebook, whatever else?
www.facebook.com/jennifernangle
www.twitter.com/jennifer_nangle
www.instagram.com/jennifer_nangle
Malvolia: The Queen of Screams's sites:
www.facebook.com/queenmalvolia
www.instagram.com/queenmalvolia
Thanks for the interview!
All photos except still from Lilith by G113 Photography