Hot Picks

Stu's Show


USA 2022
produced by
C.J. Wallis, Mallory Kennedy, Arik Kislin for FortyFPS Productions, Margrette Bird Pictures
directed by C.J. Wallis
starring Stuart Shostak, Jeanine Kasun, Edward Asner, Michael Cole, Tony Dow, Lauren Dow, Mark Evanier, Jimmy Garrett, Bob Illes, Geri Jewell, Ken Levine, Stanley Livingston, Paula Livingston, Randal Malone, Wink Martindale, Sandy Martindale, Margaret O'Brien, Butch Patrick, Jon Provost, Jeannie Russell, Beverly Washburn, Sue Brown, Jeff Brown, Jill Howard Ullo, Jerry Jacobious, Arleen Jacobious, Lisa Shostak, Dick Shostack, Lee Valentine, Tom Watson, Randy West, Maureen Williams, & in archive footage: Lucille Ball
music by Fredrik Drønen, Sondre Lerche, C.J. Wallis


documentary

review by
Mike Haberfelner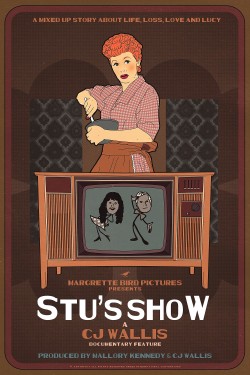 When Stuart Shostak got married to his longtime girlfriend Jeanine Kasun, it felt a little bit like a celebration of yesteryear's (as in 1960s and 70s) television, what with many of the TV-stars, showrunners and whatnot still alive in attendance. And it shouldn't be all that surprising, as for years Stuart has run a wildly popular podcast, aptly titles Stu's Show, inviting showbiz royalty every week, besides being a passionate private archivist of TV programs of old.
It all started way way back though, when as a college kid Stuart, decided he wanted to break into the entertainment industry - at first as a ticket hawker, but eventually he was promoted to warm-up comedian. A decisive moment in his life came when he made the acquaintance of Lucille Ball, whom he'd been a fan of since her I Love Lucy days, and became her personal film archivist, as well as working on her short-lived series Life with Lucy in the 1980s, where he even appeared on camera in one episode. Lucille Ball died in 1989 but remained a strong influence on Stuart's life nevertheless, as he started organizing Lucy-conventions - where he eventually met Jeanine Kasun, a massive Lucy fan herself. Now it stands to argue whether the predilection for a certain TV series is the best foundation for a long relationship as a rule, but it certainly was in Stuart and Jeanine's case as when she became gravely ill and was given up by pretty much everyone, he fought for her and with her, and their "showbiz" wedding that started the movie was really only the happy ending of all they've been going through together ...
Of course, it helps to be a fan of vintage television to enjoy Stu's Show - but while this is of course the framing of the movie and really Stuart Shotak's life as such, the film is about more than just that, isn't just a blind celebration of yesteryear's show business but veers from anecdote-filled picaresque of Stuart's early days into downright drama when it comes to Jeanine's illness and his handling of the situation, to end on a high note that realy finds the movie's way back to its TV theme rather effortlessly - so whether or not any of the series quoted in the movie or the names Lucille Ball, Edward Asner, Butch Patrick and whoever else mean anything much to you, this is just a well-told documentary with a not only for the genre strong narrative arc, and a good sense for storytelling. And the result is, quite unsurprisingly, a very enjoyable watch.