Hot Picks

The Nudels of Nudeland


USA 2022
produced by
Tim Chizmar, Dillion Dilligaf (executive) for SpookyNinjaKitty
directed by Tim Chizmar
starring Tim Chizmar, Juliana Acosta, Al Burke, Joe Filippone, Bill Pacer, LaDonna Allison, Jeremiah Benjamin, Adrienne Pearson, Julie Antti, Stéphane Deschênes, Jeremy Pace, Corky Stanton, Eloise Gordon, Rolf Holbach, Philip Fayne, Michelle Moraveg, Andy Shmuck, Re'Shell Brown, Kelly Helm, Joseph Adams, Katya Jakanov, Kevin Manning, Troy Peterson, Brady Alisauskas, Jasmine Gilmore, Shad Skad, Iggy Soliven, Sarah Jane, Zheryk Badugu, Virginia Lukei, Ted White, Cynthia Holbach, Carol Powel, Melody Munson, Linda Weber
written by Tim Chizmar, music by Kristy Kruger, Julie Antti, Patchouli

review by
Mike Haberfelner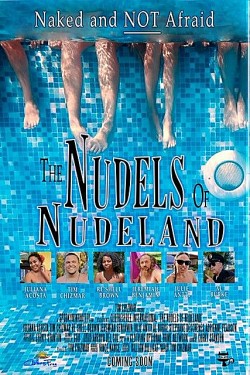 In California, Tim (Chizmar) is dumped by his girlfriend because of his nudist lifestyle. And not long afterwards he's apprehended by Officer D. Mann (Al Burke) for indecent exposure, who offers him an alternative to jailtime: Deportation to Nudeland, a little known island in the Atlantic colonized by nudists.
Over the border in Mexico, Lucz (Juliana Acosta) loses her job for being a nudist, then is reported to the police for her "indecent" lifestyle by her roommate - and Officer D. Mann (who apparently works both sides of the border) promptly deports her to Nudeland.
Nudeland of course is a dream come true for our two heroes, but at the same time it's filled with more than its fair share of eccentrics, from the prime minister (Stéphane Deschênes) who's also a (pretty terrible) wannabe comedian to the one guy (Jeremiah Benjamin) actually born in Nudeland and into the nudist lifestyle who actually dreams of wearning clothes. Also, not everything's easy in Nudeland, as finding a good job isn't any easier when naked, nor is dating when everything's already hanging out - and is reverse strip poker where the players end up dressed a godo substitute for strip poker? Now our heroes Tim and Lucz have to find their way through all of this, and hopefully find each other in the process ...
Now there's a movie that tries to be many things at once, from being an honest promotion of the nudist lifestyle - including a very unspeculative, very natural depiction of both male and female full frontal nudity - to a campy comedy to a cheeky parody of nudist camp movies from the late 1950s/early 60s to a heart-felt romance - and for the most part, this blend works out. Sure, at times the story loses its focus a little and at times actually gets almost preachy, but one can't deny the film's honesty and heart. Plus, it's actually refreshing to see that not all of the nude actors and actresses have "perfect" (as in underwear model) bodies, and also helps the story as such. And while not all the hmour hits the mark, much of the film's pretty funny, making for pretty good slightly unusual entertainment.