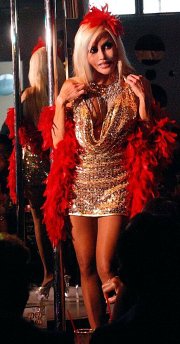 Murder at Thick City
photo by Navis Oliver
Since we've last talked, you've been an amazingly busy actress - so first and foremost, what keeps you going?
Iíve been really fortunate to be able to work with great filmmakers who inspire me to constantly set new goals for myself. I want to become the best actress that I can be and during the last year I have been studying the Uta Hagen method with June Barfield and the Strasberg method with Michael Sewell. In January 2016, I will be studying acting at the prestigious South Coast Repertory Theatre. My husband and I have had season tickets to South Coast Repertory Theatre for the last fifteen years, and it is one of the most highly regarded theatres in the nation.
The play Murder at Thick City - you just have to talk about that one!
Doing the play Murder at Thick City inspired me to start taking acting lessons again. I was with the Friends & Artists Theatre Company early in my career and played Mei Li in Flower Drum Song and Liat in South Pacific, but then I returned to school to get my MBA. I realized how important it is to always try to perfect your craft doing the play. We had rehearsals three times a week for months before the performance, and the actors were wonderful. The lead character was played by Patrick Faucette, who is a regular on Tyler Perryís The Haves and Have Nots and the play was written by Gary Hardwick. It was an awesome murder/comedy and my character of Layla was a showgirl. We performed the play at the LMAO Dinner Theatre, and I even got to do a pole dance during the intermission!
What can you tell us about Murder at Thick City's showrunner Nina Womack, and what was it like working with her?
Nina Womack is a wonderful actress, director and producer. Nina was raised in the industry and her ex-husband is Cecil Womack jr, son to legendary Motown singer Mary Wells and nephew to R&B legend Bobby Womack. Nina has a Theatre Arts degree from Cal State Northridge and is incredibly multi-talented. The cast of Murder at Thick City included
Patrick Faucette (www.imdb.com/
name/nm2056721/) as Detective Monroe,
Rico McClinton (www.imdb.com/
name/nm0565880/) as Damien, Angel Aviles (www.imdb.com/name/
nm0043170/) as Gina, Nina Womack (www.imdb.com/name/nm0938829/) as Angela, Shaun Gerardo (www.imdb.com/
name/nm2200349/) as Taylor, Richie Lillard (www.imdb.com/name/nm4361585/) as Cinique, NeiCe Knight-Preuitt (www.imdb.com/name/nm3949716/) as Gertie, and I played Layla. I was blessed to work with such talented actors!
Tell us about your role in award-winning filmmaker Gregory Hatanaka's Samurai Cop 2: Deadly Vengeance!
Being involved in Gregory Hatanakaís Samurai Cop 2: Deadly Vengeance has been an incredible experience! Samurai Cop 2: Deadly Vengeance is the sequel to the legendary cult classic Samurai Cop (1991), and features the dynamic duo of Detective Frank Washington (Mark Frazier) and Joe Marshall (Mathew Karedas). This time their mission is to solve a series of assassinations being committed by a secret group of sexy female vigilante killers. Alongside the original cast, the film also stars iconic actors such as Mel Novak; Bai Ling; Tommy Wiseau; Laurene Landon; Thomas J. Churchill; Joe Estevez; and Kristine De Bell and Joycelyne Lew, who were both leads in Jackie Chan's The Big Brawl.
I was fortunate enough to be featured in a scene with the legendary Tommy Wiseau, who is famous for the cult classic The Room. Tommy has a dynamic presence and he was so nice on the set. He showed me how to hold my sword and how to use it. Our scene was shot in 35mm film, which is very rare these days. Quentin Tarantinoís next film and the next Bond film are going to use film. Samurai Cop 2: Deadly Vengeance premiered in Hollywood at the Laemmle NoHo 7 in October 2015 and sold out all screenings. The film is now traveling to other cities, including New York, Austin, Denver, Portland, Chicago, Winchester, Ashburn, with more cities to follow! Itís gotten rave reviews and has been sold out everywhere. Iím so proud to be a part of it!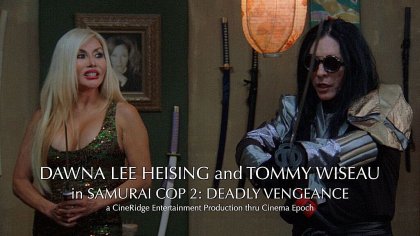 photo by Gregory Hatanaka
Samurai Cop 2: Deadly Vengeance was screened at the American Film Market on November 4, 2015 to a sold-out crowd. There was the AFM standing room only screening, with a meet and greet with the filmís stars afterwards. There was also an epic, star-studded party at 31TEN Lounge in Santa Monica. The film was a major success at AFM!
You've also just finished filming Garden Party Massacre - so what can you tell us about that one and your character?
The professionalism of the shoot was amazing! I already knew that it would be an awesome film because of the great script, which won Gregory Blair [Gregory Blair interview - click here] a Best Screenplay award at the FANtastic Horror Film Festival, and because Gregory is a perfectionist, but everything exceeded my expectations. Roxy Shih was the producer on the film, along with Gregory, and the eleven day shoot was perfectly planned out. Even the catering was spectacular. Jeff Robinson was an amazing first assistant director and kept everything moving. Golie Yazdy was the highly professional second assistant director and Nate Cornett was an excellent director of photography.
How did you approach a character as ditzy as Melanie, and how much of yourself can you find in her?
Gregory says that he wrote the character with me in mind. Iím hoping that Iím not as crazy as Melanie, but she turned out to be my best role yet. I rehearsed my scenes with my Strasberg method acting teacher Michael Sewell and in an acting class at Golden West College with Tom Amen so I was very prepared. Armee Jacob did an incredible job on my hair and makeup for the film. I wonít give anything away, but I ended up looking like Ursula in The Little Mermaid Ė LOL!
Do talk about your director Gregory Blair [Gregory Blair interview - click here] for a bit, and what was your collaboration like?
This is the third time that I have worked with Gregory and he is an amazing actor, as well as being an excellent screenwriter and director. I canít say enough about his talent in all areas, but especially acting. His characterization of Linc was wonderful to play off of. Gregory works very fast as a director and knows exactly what he wants so everything gets done in two or three takes. I love working with him as he knows the characters inside and out and can demonstrate exactly how the blocking should go. The film is so hilarious that everyone was cracking up on the set. I canít wait to see the finished version and I hope it wins as many awards as Gregoryís first film Deadly Revisions!
You'll also be in Ted V. Mikels' upcoming Ten Violent Women: Part 2 - anything you can tell us about that one yet?
Ten Violent Women: Part Two is the sequel to one of his most successful films, Ten Violent Women, and has empowering women as the motive of the action. I play Joanna, one of the ten violent women. Ted gave me the greatest compliment on the set of this film. He told me that I looked great, better than in Paranormal Extremes: Text Messages from the Dead, and asked if I lost weight. A woman always loves to hear that! He actually asked me twice and I was happy that he remembered me from the first film.
How did you first get involved with the project, and were you aware of the first Ten Violent Women?
I played a reporter named Tara Turner in Tedís latest feature Paranormal Extremes: Text Messages from the Dead. My good friend Luc Bernier [Luc Bernier interview - click here] introduced me to Ted and to the lead of Ten Violent Women: Part Two Donna Hamblin [Donna Hamblin interview - click here]. Donna was the lead actress in Tedís Astro Zombies M3 Cloned and also was the lead in Len Kabasinskiís Angel of Reckoning [Len Kabasinski interview - click here]. I got to be great friends with Donna and her wonderful family during my week of filming in Las Vegas, NV. She had just recently gotten the role and had tons of lines to learn, but she is such a talented actress that she made it look easy. Her character of Gloria in the drama is very intense and empowering to women. Ted was so happy with her performance and mentioned it numerous times during filming.
I have seen the first Ten Violent Women and also The Doll Squad, which was the predecessor to Charlieís Angels. I love both of those movies and they are now released on digitally re-mastered Blu-ray, and are also now being shown on Turner Entertainment Channels.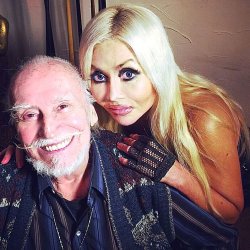 Dawna with Ted V. Mikels
Anything you can tell us about legendary filmmaker Ted V. Mikels?
Ted is the nicest man in the world and also one of the most talented and creative. I have learned so much about filmmaking from his direction and just watching him work, and I am honored to have appeared in two of his films. He has created over 50 films, which cover every known genre in the film world. He has over 60 years of experience in making movies. Paranormal Extremes: Text Messages from the Dead was about paranormal activity and Ten Violent Women: Part Two is about female empowerment.
Ted founded TVM Studios, a Las Vegas-based film and video production studio, in 1993, and is the recipient of numerous awards, including a Certificate of Recognition by Nevada Lieutenant Governor Lorraine T. Hunt for his contributions to the filmmaking industry. Ted was the subject of a book, Film Alchemy: The Independent Cinema of Ted V. Mikels by Christopher Wayne Curry, and was the subject of a documentary film, The Wild World of Ted V. Mikels. Released in 2010, the film was narrated by internationally known director John Waters and directed by Kevin Sean Michaels.
What's Natural Born Filmmakers about, and what can you tell us about your character in it?
Natural Born Filmmakers is from Grunder-Oakley Productions and was directed by Steve Oakley. The film is both a cautionary tale as well as a spoof, and puts a searing magnifying glass on the workings of Hollywood as it reveals what happens when you mix naive producers, shady investors and carefully calculated contracts. My character of Donna is the ex-wife of Gregory Blairís [Gregory Blair interview - click here] character of filmmaker Frank Lee Payne, and is the current wife of Domiziano Arcangeliís [Domiziano Arcangeli interview - click here] character of mob boss Giovanni Ė how lucky can you get?
How did that project come into being in the first place, and how did you end up on the production side of things as well?
Steve Oakley worked for MTV for many years, and Domiziano Arcangeli and I are doing a reality series with him called Body Beautiful. Steve and Domi have done six films together, and this shoot was a lot of fun because so many of my friends are in it. I learned so much working with Steve on the production of this film, and line producing is a lot harder than I ever imagined. There are so many details to take care of on every day of the shoot. Iím very happy that Natural Born Filmmakers was nominated for Best Comedy at the 2015 Action on Film International Film Festival, and congratulations to Steve!
Any other future projects you'd like to talk about?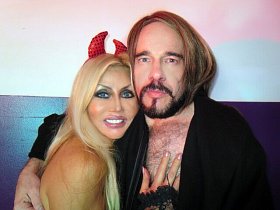 Dawna with Domiziano Arcangeli
photo by John Cox
I am very excited to be playing a Marilyn Monroe-like character in Aki Aleongís The Final Chance. I am honored to be the vice president of publicity for Akiís film company Mustard Seed Media Group. I will also be playing the outlaw Crego in Damien Danteís Jezebeth 3: The Guns of El Diablo [Damien Dante interview - click here], which will be shot in Wyoming, where the series Longmire is filmed. I canít wait to learn how to ride horses and shoot guns and to be in a true Western film. I will also be playing an evil madam with a Dutch accent, but I canít talk about that one yet. I played Harmonia in Jared Mastersí Ballet of Blood [Jared Masters interview - click here] and Honora Turner in Chandra Gersonís Salvation of One, which will be shown at the Marche du Cannes Film Festival 2016.
Iíd like to announce that Joe Williamson of the Williamson Management Group is now my manager, which gives me great hope for the future. Joe is very selective and most of his clients are much more accomplished than I am. He was an associate producer on Samurai Cop 2: Deadly Vengeance and is the vice president of publicity for Cinema Epoch. Joe and I both agree that I need to aim for bigger and better roles and projects, and I canít wait to see what the future brings with such a great manager in my corner! One of my goals for the coming year is also to broaden my range of roles.
Your website, Facebook, whatever else?

Feeling lucky ?
Want to
search
any of my partnershops yourself
for more, better results ?

The links below
will take you
just there!!!

Find Dawna Lee Heising
at the amazons ...

amazon.com

amazon.co.uk

amazon.de
Looking for imports ?
Find Dawna Lee Heising here ...
Something naughty ?
(Must be over 18 to go there !)

http://www.imdb.me/dawnaleeheising
http://www.eyeonentertainment.tv
http://www.facebook.com/dawnaleeheising
http://www.youtube.com/eyeonentertainment
http://www.linkedin.com/dawnaleeheising
@dawnaleeheising
Anything else you're dying to mention and I have merely forgotten to ask?
Thank you so much for this interview and for all of your support!
Thanks for the interview!