A few years back, you scored the movie The Dissection Table - and before we go into your music, could you tell us what that movie is actually about?
The Dissection Table is a psychological horror movie about a disturbed man who thinks by kidnapping people and forcing them to confess their sins on a sort of video confessional show he'll get to the bottom of what's wrong with himself... but as things get more and more violent he spirals out of control and starts to lose his grip on reality.
Now how did you get involved with the project in the first place?
I had worked with Max Gideon, the star and writer of the project on a few projects previously. It's been so long since we did this that I honestly can't remember the order of everything we worked on... but we definitely had done my music video If Only Tonight I Could Sleep which he starred in along with Victoria Viveiros, the other lead of The Dissection Table. We'd also worked on a bunch of short films, and on the set of one of them, he asked me if I'd score the feature he was developing. At the time I think it was only my 2nd or 3rd feature length film.
So what can you tell us about your score for The Dissection Table, from composition to style to instrumentation?
My main goal with the score was to capture Cadmun's deteriorating mental state. It's pretty clear that when we first meet him he's NOT OK at all... And so to start from there and go from bad to worse was key. As for the actual style, a big inspiration for me was the score to Ex-Machina from Ben Salisbury and Geoff Barrow. It's mostly electronic in nature but so full and lush that it feels much more musical and organic. Things build and build until they can't build anymore... and then they keep getting bigger from there. Of course, Trent Reznor & Atticus Ross' The Social Network score was another big inspiration as it was to pretty much every movie in the few years following that score.
Scoring a genre movie, is one automacitally influenced by music for similar movies, and/or other sources of inspiration?
I think it's inevitable that some things are going to be present in almost any genre movie score. Of course hopefully you find new ways to do those things and make them your own... A big thing for me with this score was Max was totally cool with me taking an almost song-like approach to the score, which was really key to it being such a perfect score for me to release as an album. I've released all these albums of instrumental electronica music over the last decade, and really, half of the tracks in this score could have been tracks on my albums. They have beats, they have rhythm, they build and fall in almost song-like structure. It really allowed me to kind of go all in on the music and worry a little less about hitting specific beats in the film the way a more traditional score does (although of course that was still necessary in places).
What can you tell us about your collaboration with the film's director Douglas Binford and/or the creative team, and how mush input did they give in terms of the score?
Really all of my interaction was with Max. Along with writing and starring in The Dissection Table, he was also the producer, and as I detailed in the blog post on my website about the background of the project, when the team ran out of money, time and resources to finish the film, Max kind of took the reins to finish it himself. He became the editor on top of everything else and it all pretty much was left in his hands. Unfortunately he then got busy as a working actor and writer in Hollywood, and the movie continues to be unfinished and unreleased to this day. But during my time working with Max on the score, he pretty much gave me total artistic freedom on the film. He had a few ideas for how the emotion and vibe of certain scenes should be, but once it was time for me to actually start working, it was just me, alone in my room, soundtracking this character's mental decline - my favorite way to work.
Now it should be noted, The Dissection Table has been shot in 2014 but still not yet been released - care to elaborate on that?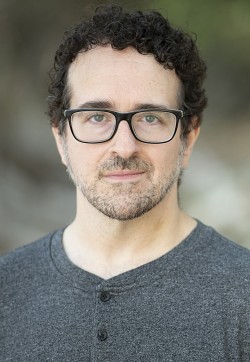 So as does happen with a lot of independent films, there's just a lot that can go wrong in the process of making a movie. Max has explained some of what happened (he says a good long conversation over a coffee would be necessary to go down the whole rabbit hole), but basically the original editor left, leaving him to take over as editor, a skill he didn't even have yet at the time. Reshoots were necessary as well as some additional scenes to flesh things out, plus ADR, foley, post production, special effects... all with an exhausted budget, and all after everyone else had moved on to other projects including Max himself (he is a working actor in Hollywood now). So he's just been slowly but surely piecing together all the little things that need to be done all this time. He is still hopeful to finish the film soon as he's recently been able to get the budget and some of the other pieces needed to actually finish everything. Now it's just a matter of time.
So what inspired you to release the score for The Dissection Table despite the film being caught in post production hell?
So I'd always had on my "career to-do list" (which is like a mile long): "Release the score for The Dissection Table." I figured that I'd of course wait for the film to come out to do that. But then I recently released the score to another feature Beater in 2020. I also readied the score to another feature in 2021 called Inexistent, which I'll be releasing in 2022, but will be posting early on my Produced by David Rosen Patreon for Patrons exclusively. While putting the album version of the Inexistent score together I thought to myself, "what if I do the same thing with The Dissection Table?" So I went through my hard drive looking for the old Dissection Table folder from 2015, and to my great surprise... I had already readied the soundtrack album! I literally forgot I ever did it! It even had a notes file in the folder with an intended release date of June 2016 listed and names for all the tracks and a note to finish an unfinished song as a bonus track (which I did and it's the only actually newly made music for this project). And it was all just ready to go! So I messaged Max and asked him about releasing it and he basically told me to just go for it whenever I want. So I decided that since it's been a year since my last album, the self-titled David Rosen, and Halloween was coming up, why not just put it out now?
Do talk about the actual recording sessions for a bit!
This is the hardest question here for me to answer because it was so long ago! Sometimes when I'm listening to my music I can remember every detail of making it. Coming up with melodies and beats and ideas and how I felt making them... but listening to The Dissection Table almost feels like someone else made it. I was in such a different place 6 years ago, musically, career-wise, life-wise. It feels like a different time. But I do remember getting goosebumps from some of the biggest, creepiest, most off-putting moments in the score, and I knew I was on the right track when that happened.
So where can your soundtrack for The Dissection Table be obtained from?
The Dissection Table is now available on iTunes, Bandcamp and all digital music stores. It can of course be streamed on Spotify and Pandora and all of those streaming services as well. I also have a special Halloween playlist on Spotify of some of my darkest, creepiest music, and it of course includes a few tracks from The Dissection Table.
Any future projects you'd like to share?
I've got a lot of music in the works for my next regular song based instrumental albums. During the pandemic I finished my last album David Rosen but had also started another 20 or so more tracks, and I've started more since. I really want to just blaze my way through finishing everything I've started so I can plan out a couple years worth of releases including the Inexistent score and a compilation album of score pieces from various short films that I've worked on over the years. And aside from music, I also have my Piecing It Together Podcast that keeps me busy (too busy really since it takes me away from finishing all this music, but I do love doing it).

Feeling lucky ?
Want to
search
any of my partnershops yourself
for more, better results ?

The links below
will take you
just there!!!


Your website, social media, whatever else?
https://www.bydavidrosen.com is my website.
https://www.facebook.com/bydavidrosen and https://www.twitter.com/bydavidrosen for social media.
Anything else you're dying to mention and I have merely forgotten to ask?
I just want to thank you for checking out the album and interviewing me! Also, I'm planning on digging up some extra bonus and extended tracks from the overall The Dissection Table score to post on that previously mentioned Produced by David Rosen Patreon, so that's even more content that's coming soon!
Thanks for the interview!