Hot Picks

Vengeance
Acceptance / The Air That I Breathe / Hazell


UK 2021
produced by
Richard Watts-Joyce, Rhian Watts-Joyce, Mal Robinson, Tony Quinlan, Mark Butler for Hello Princess, Altis International
directed by Richard John Taylor
starring Billy Murray, Leslie Grantham, Crissy Rock, Chris Langham, Lucy-Jane Quinlan, Lilly Driscoll
written by Richard John Taylor

review by
Mike Haberfelner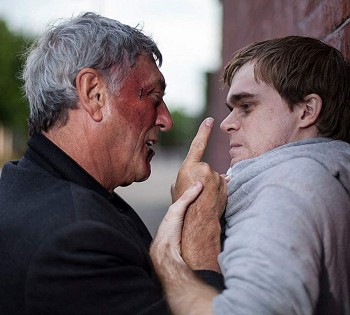 Eric (Billy Murray), an old school gangster, hasn't set foot on British soil in 27 years - 18 of which he has spent in a foreign prison - always on the run from British law enforcement. These days though he leads a comfortable life in Turkey - until he learns his daughter Madison (Freya Finnerty), whom he never knew but always cared for, has been brutally raped, and in her own neighbourhood, too. So he has his gangster-turned-legit friend Ronnie (Leslie Grantham) smuggle him back into the country, to teach the hoods who brutalized his daughter a lesson, but Ronnie warns him as the times have changed, it's no longer the gangsters of old who run the street, but young riffraff, and while there was once a code of honour between gangsters, now the knife's always ready, and today's youngsters prefer stabbing to talking. Still, Eric gets the name of one of his daughter's rapists out of Ronnie, and he figures he'll just hit the streets the next day, and scare the punk, named Toby (Jayson Wheatley) shitless. Thing is, in the company of his friends, Toby doesn't scare easily, and he and his gang proceed to give Eric a sound beating. And as a result of Eric's threats, they even decide to harrass Madison a little more.
Eric meets Madison for the first time ever, but she has nothing but contempt for him, contempt not only for the 27 years he hasn't made the slightest effort of being a father, but also for the fact that his meddling now has only made things worse. Later that day, Eric catches Ronnie alone, and he gives him a sound beating, accompanied by wild threats. It's only later when he meets with his best friend Crissy (Lin Clifton), who has been looking after Madison during his absence, that she talks some sense into him and tells him flat out to apologize to Madison for everything. But in the meantime, Toby has already been at Madison's house and set it aflame, and when Eric arrives there, the only thing he can do is save his daughter and granddaughter from the flames. And this is where father and daughter finally bond - yet all too briefly as the place is about to be swarming with police which means Eric has to make a hasty escape.
At Ronnie's, Eric and Ronnie have a final drink before Ronnie is to smuggle Eric out of the country again - when Eric makes a horrible discovery that puts everything into perspective ...
Genre-wise, Vengeance is many things at once, without fully belonging to any category, it's a bit of gangster, a bit of rape-and-revenge, there's the search for redemption in there as well as the old dog in a new world, but what Vengeance really is is a strong character piece, that shows a broken man making wrong decisions in a world he struggles to understand and trying to come out on top of things (with varying success) - it's not a hero's tale, as this movie's protagonists actions are often less than noble and even his code of honour is questionable ... and for that the film is very relateable, as there's a little bit of him in all of us, and of course a strong central performance by Billy Murray, flanked by a solid cast, doesn't hurt one bit either. And on a directorial level, the film finds the right balance between the necessary action and more emotional sequences to keep the audience interested and engaged, to make this one a very cool and rather unusual movie!