Hot Picks

The Spirit Gallery


USA 1995
produced by
John Strysik
directed by John Strysik
starring Holly Riddle Zuniga, Jim Burkhart, Leonard Parnell, Nell Schwartz, Gilbert Pickett, Michelle Dobrov, David Bessenhoffer, Frank Garvey, Plongo Fid
written by John Strysik, music by Andre Caporaso, special makeup effects by Rodd Matsui, paintings by Frank Garvey

review by
Mike Haberfelner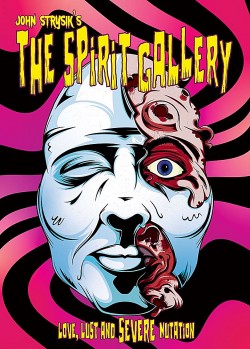 Gwendolyn (Holly Riddle Zuniga) is a devout Christian who believes in the good in people - so when she learns about artist Catch (Jim Burkhart) and his "art of goodness" that's supposed to actually make its audience better people, she's nothing short of fascinated and will stop at nothing to make his acquaintance. There's only a tiny problem, Catch is a total recluse and has made it a point to hide from the public eye - so successfully so that nobody knows what he looks like, despite his arts selling for small fortunes. So Gwendolyn gets a job as Catch's agent Haul's (Leonard Parnell) assistant in hopes of getting on Catch's trail that way. And even if Haul discourages her from the get-go, eventually she gets hold of Catch - and apparently impresses him enough that he asks her to be the model for his next work of art. She seems to have achieved all her goals - but there's a catch to being Catch's model (and sorry for the pun), as his artwork steal his model's souls and have them develop severe, bulbonic plague-like rashes, that only get worse every time somebody looks at the respective artwork. And Catch isn't even the bad guy here, he just has this ability to steal souls via his art without having asked for it - but Haul has grown addicted to Catch's creations as they take him to parallel planes of existance. Ultimately, Catch promises to help Gwendolyn - but it's questionable at best if he can do anything that doesn't make things worse ...
Not only compared to other horror movies of the S.O.V. era in the 1990s, The Spirit Gallery is quite an unusual and actually pretty remarkable movie, mainly because it doesn't give a heed about genre conventions and doesn't follow any formula, instead tells a highly original story about art gone mad, but without drowning the audience in detailed explanations, instead going for an allegorical and associative approach full of fittingly weird metaphors, allusions to religion as well as drug addiction, and how the two might relate, all wrapped into an odd package and told in a rich (and often blood-drenched) cinematic language that at times seems almost too big for the S.O.V. format.
A wild trip to be sure, and one that's not quickly forgotten!
... and if this review has at all sparked your interest, feel free to order the movie from S.O.V. Horror: https://www.sovhorror.com/2019/10/the-spirit-gallery.html