Hot Picks

- Nox 2019
Spiral


USA 2018
produced by
Roby Miller, Tom Clarke, Aaron Ekland, Tim Nash, Matt Sheridan, Paul Ruffman (executive), Charles Tobias (executive) for Backrow Studios
directed by Joe Clarke
starring Anthony Stratton, Hays McEachern, Michael Vlamis, Mitch Westphal, TJ Morris, Tyler Thirnbeck, Shara McGlinn, Angela Billman, Barrington Vaxter, Jamie Newell, Tom Garland, Nicole Hargrove, Don Tjernagel, Bruce Jay, Carly Babington, Thomas Ely Sage, Jo Jordan, Cecilee Von Rhea, Lance Mack, Jg Tunis
written by Joe Clarke, music by Alex Kachingwe, Killglare Riley, visual effects by Fernando Castillo, Matt Sheridan

review by
Mike Haberfelner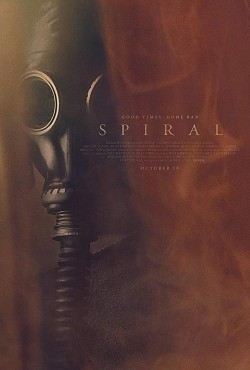 As Corey's (Tyler Thirnbeck) is going to get married, his best friends (Anthony Stratton, Hays McEachern, Michael Vlamis, Mitch Westphal, TJ Morris) take him to a cabin in the middle of nowhere with a stripclub nearby, for a night of drugs, booze and sex with strippers ... and the next morning, Corey's gone. And unfortunately, his friends are way too occupied with their own squabbles to properly go search for him. In fact, only Ellis (Stratton) even makes an attempt - and he gets scared shitless when back at the stripclub. And when he tells his weird story to his friends, they are less than likely to believe him, plus everything is soon overshadowed by a fall-out between him and Will (McEachern) over a woman - and eventually, the whole party disperses, and that's when things really start getting weird ...
Now this is one weird movie for sure, but deliciously weird at that, and weird more in the way of a David Lynch than a run-of-the-mill horror movie, as this is a film that keeps you guessing till the end and deliberately refuses to give all the answers, putting an emphasis on atmosphere instead. And a slick yet subtle directorial effort really helps to really bring the whole thing in all of its oddness to life.
Very interesting and rather unusual, to say the least.