Hot Picks

Sons of Steel
Nightmare / Black Alice


Australia 1988
produced by
James M. Vernon, Klaus Sellinger (executive), Charles Waterstreet (executive) for Big Island Pictures
directed by Gary L. Keady
starring Rob Hartley, Roz Wason, Jeff Duff, Dagmar Bláhová, Ralph Cotterill, Elizabeth Richmond, Wayne Snell, Machs Colombani, Mark Hembrow, Sharlie Wetherill, Gordon Wood, Wendy Dys, Raquel Suarstzman, Michele Vaughan, Jos O'Neill, Beth Child, Jodie Andrews, Teraza Green, Nicholas Huxley, Doug Mealing, Gayle-Ann, Karl Webster, Tony Blanchini, Allen Cohen, Mark Saunders, 'Cowboy' Bob Purtell, Richard Hogan, Bruce Venables, Philip Denison, Jerry Austin, Richard Barakat, Dennis Harney, Michael Mahoney, Danny Baldwin, Luke Hanlon, Rocky McDonald, Wally, Bruce Brown, Russell Dunlop, Nick Andrews, Rod Keady, Scott Johnson
written by Gary L. Keady, music by Gary L. Keady, Rod Keady, John Vallins

review by
Mike Haberfelner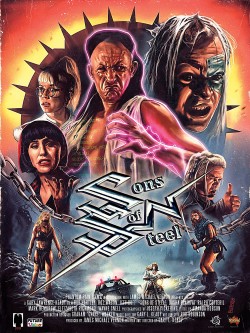 In a dystopian future, Oceania has turned into a totalitarian state, run by ruthless and power-hungry individuals like Honor (Dagmar Bláhová) and Karzoff (Ralph Cotterill). So far, Oceania has been a nuclear-free zone, but that's to change with the arrival of the first nuclear submarine in Sydney Harbour. However, there's a peace-movement opposing this, led by rock star Black Alice (Rob Hartley), and they want to block the harbour with a ferry. But Honor and Karzoff have long figured a way to stop Black Alice, by turning him into a hologram. One of the scientists working on this program, Hope (Roz Wason), strongly opposes turning people into holograms, but she's overruled by her mad scientist partner Secta (Jeff Duff), and made a political prisoner - and thus, the process of turning Black Alice into a hologram begins and ...
It's many years into the future when two barbarians (Elizabeth Richmond, Wayne Snell) finally turn on Black Alice's hologram, and he has to learn he has woken up into a post-apocalyptic world because back when the peace movement's ferry has collided with the nuclear sub, triggering the apocalypse. Fortunately, Black Alice bumps into Secta, who has learned from his mistakes and now sends Black Alice back in time to save Hope and stop the ferry from crashing into the sub. But both is easier said than done, also because Honor and Karzoff still have their say in things ...
Sons of Steel is a pretty insane film, a mix of loud comedy and heavy metal musical, dystopian science fiction and 1980s action flick, all with definite traces of high camp, supported by an anarchic feel and a fittingly respect-less directorial effort, and carried by some over-the-top performances. And though admittedly sometimes the film tries a little bit too hard to be crass and crude, overall it's pretty enjoyable as a piece of utter weirdness with a pleasant 1980s touch to it.
If this has gotten you at all interested, Sons of Steel can be ordered on Blu-ray or (fittintly) VHS from https://future-video.tv/