Hot Picks

Silhouette


USA 2019
produced by
Mitch McLeod, Timothy Talbott (executive) for Absentia Pictures, Skeleton Kreek Films, Film Conspiracy Group
directed by Mitch McLeod
starring April Hartman, Tom Zembrod, Jessica Dawn Willis, Savannah Solsbery, Kim Foster, Suzanne Racz, Natalie Jones, Deward Lynn Lawrence
written by Mitch McLeod, music by Michael Vignola

review by
Mike Haberfelner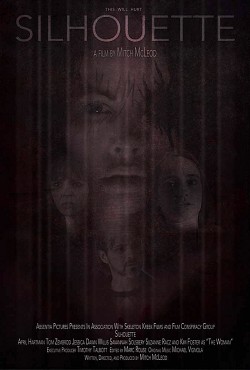 Amanda (April Hartman) and Jack (Tom Zembrod) once had a happy life, and a family - but then their daughter Sarah (Savannah Solsbery) died from pneumonia, and their world was shattered. With time, Jack got back on track again, but Amanda kept suffering from the loss on a daily basis, also because it was her who actually witnessed the girl die while Jack was out, who knows where - Amanda has all kinds of theories without being able to prove any. So eventually, Jack takes things into his own hands and moves them both to a different city, a small town as opposed to their inner city home, to have a fresh start without being reminded of Sarah all the time. Unfortunately, and somewhat inexplicably, this plan backfires, as Amanda doesn't only see Sarah everywhere, before long she's even convinced their house is haunted by Sarah's ghost. Jack, experiencing nothing of Sarah's presence, tries to keep up with Amanda's slowly growing lack of touch with reality, but eventually he of course needs to vent, so he goes to town, gets drunk, gets friendly with a girl, Dawn (Jessica Dawn Willis), who just happens to be their neighbour, and spends the night with her, to then return home to - a totally changed Amanda, and changed for the better - but can this last?
A very interesting little horror movie that manages to tell a congruent and stringent story and at the same time leave large chunks of it open to interpretation (with the key question of course, are the ghosts Amanda is seeing real or just a figment of her imagination). And this is achieved by a narrative build-up that really takes its time to establish things (also on an emotional level) without submitting to the temptation to just spell things out, by a directorial effort heavy on atmosphere and especially on mirroring Amanda's emotional turmoil, and of course a very solid cast who all bring something to their characters that makes them likeable and relateable despite their flaws or even for them.
A bit of a slowburn for sure, but all the better for it!