Hot Picks

Room for Rent


USA 2019
produced by
Marc S. Sterling, Tommy Stovall, Lin Shaye (co) for Pasidg Productions
directed by Tommy Stovall
starring Lin Shaye, Oliver Rayon, Valeska Miller, Ryan Ochoa, Linda Cushma, Casey Nicholas Price, Tonya June Moore, Michael Harrelson, Jose Rosete, Justin Roberts, Trevor Stovall, Jule Johnson, Shondra Jepperson, Michael Lopez, Greg Joseph, Robert Burson, Susan Obijiski, Madison Ottinger, Cathy Ransom, Patricia Wheat, Kent Adams, Wade Adams, Evan Favorite, Adrian Patel-Delaloye, Marc S. Sterling, Morgan Chamberlain
written by Stuart Flack, music by Joseph Bishara

review by
Mike Haberfelner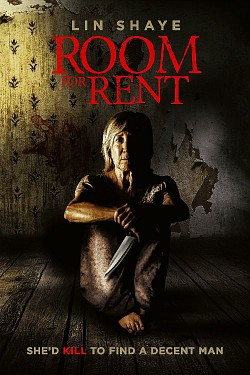 Joyce's (Lin Shaye) husband has just died, which doesn't give her too much grief as their marriage was anything but happy - but then she finds out he has left her in debt, and that really brings her mood down ... until she finds out she can rent out a room in her house to tourists via an AirBnB style organisation - which sure gets her mighty excited, even if she has only a remote clue how to run such a thing, which really shows with the first couple she hosts, Sarah (Valeska Miller) and Edward (Casey Nicholas Price), who actually break up while staying at Joyce's. And while Edward never saw eye to eye with Joyce, Sarah, a writer, took quite a liking to her ...
Joyce is determined to do better with her next guest, Bob (Oliver Rayon), who has booked for a whole month - and he is really everything she could have asked for, everything the romance novels she tends to read describe the perfect man as: A tall dark stranger, manly and still a gentleman, and with a hint of mystery about him. So she does everything to please him, she cooks for him, sees to it that there's always beer in the fridge, and she orders the sports channel for him so he can always watch football in her living room - all things he has never asked for or expected, but of course he's happy about the attention. And in her mind, he's more than just her house guest. Also, he seems so perfect to her that she doesn't even see the weird things going on, like he doesn't work, but often heads to town late at night, and never seems short on money.
Then Sarah the writer asks if she can come by for a visit, and while Joyce at first is excited, her perfect life soon starts to crumble, as Sarah asks some questions threateningwhatever it is Joyce thinks she's having. Even worse, Sarah eventually has sex with Bob. And she has a long talk with Gladys (Linda Cushma), Joyce's next-door neighbour and former best friend, and Gladys lets Sarah in on some quite disturbing news about Joyce.
Sarah hightails it, and Joyce kills Gladys as a consequence - but by now even Bob, not exactly the brightest, has grown suspicious. And now Joyce knows she has to take care of him as well to maintain her status quo ...
Room for Rent is a slowburn thriller - that really draws its creepiness from its laid back pace. So don't expect an effects spectacle here, as the film takes its time to grow its basic threat to full bloom, but does so masterfully, as much care is taken to develop its main character from the slighty clumsy widow into a full-blown psychopath without just falling back on stereotypes or narrative shortcuts - with the deliberately open ending almost guaranteed to freak one out. And of course, Lin Shaye giving a great performance and leading a very solid cast totally helps to make this one extremely worthwhile.