Hot Picks

Revenge of the First Wives


USA 1997
produced by
David S. Sterling for Micro-Budget Video Features, Sterling Entertainment
directed by Doug Demarco
starring Carolyn Renee Smith, Joy Stanton, Marie Gutierrez, Doug Demarco, Elena Olanson, David Williams, Shawn Petri, Steven Halcum, Eric Hawkins, Bill Klien, John Rappazzini, Chris Felicijan, Ron Medeiros, Randy Roberts
written by Doug Demarco, music by Jay Woelfel

review by
Mike Haberfelner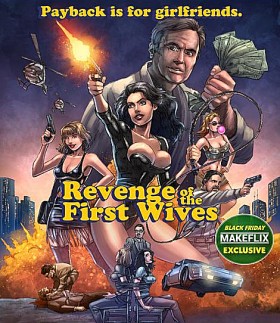 Of late, the city has been crippled by mob violence, with the mighty Don Carlo at the center of it all, and even police officers have died in the line of duty - which is why the police tries a new strategy, hiring three widows (Carolyn Renee Smith, Joy Stanton, Marie Gutierrez) of recently killed undercover cops to infiltrate Don Carlo's organisation and pick up where their husbands have left off. And thus the ladies start working for the Don, one as drug pusher, one as prostitute, one as Don Carlo's personal dominatrix. And they're doing a good job, too - too good perhaps, as they're seriously stepping on the toes of Trixie (Elena Olanson), so far Don Carlo's favourite girl, who now feels sidelined, so now she and two of Don Carlo's men plan to steal a ledger containing evidence against Don Carlo and hand it over to the police so Trixie can step in. The undercover widows meanwhile team up with the Don's son Vinnie (Doug Demarco), promising him his father's organisation if he helps them to get their hands on the ledger. But with two parties with conflicting interests going after the same thing, things are bound to blow up ...
A film of the original shot-on-(analog-)video era, one can't help but notice the many shortcomings that came with that way of filmmaking, from inferior picture quality to at times bad sound and the like, so one has to be forgiving of these factors to actually enjoy this movie - but if one can, this is not at all a bad flick, its plot might follow genre formula with traces of sleaze, but also features some nice twists and even bits of irony where needed, the cast is up to the task, and the whole thing moves along at a fast enough pace to keep one entertained. Now I'm not saying this is a cinematic masterpiece, but it's good enough shot-on-video entertainment for sure, and a rather nice time capsule harking back to this now-gone era of filmmaking.
If this has at all gotten you interested, this movie can be exclusively found at https://makeflix.com/products/revenge-of-the-first-wives on DVD, Blu-ray, or, rather fittingly, VHS.