Hot Picks

- MIB 2021
- Ivy 2017
Parallax


USA 2020
produced by
Michael Bachochin, Brooke Lorraine, Yusef Baig, Joseph Waligora (executive), Regi Bachochin (executive) for The Primal Group, Landwirth Legacy Productions, Blackstone Entertainment, Koed Films
directed by Michael Bachochin
starring Naomi Prentice, Nelson Ritthaler, Hattie Smith, Ted Gianopulos, Taylor Flowers, Brooke Lorraine, Bette Smith, Keith Kelly (voice), Larry Jones (voice), Ash Duckworth (voice)
written by Michael Bachochin, music by Aaron Gilhuis, Öurs Mange

review by
Mike Haberfelner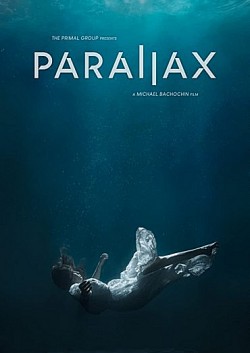 Naomi (Naomi Prentice) and Lucas (Nelson Ritthaler) have always been such a happy couple, even if they hadn't known each other long before their marriage and know little of each other's past - and then, one day, without forewarning and without any apparent cause, Naomi has no memory of their life together anymore, and while Lucas tries everything to restore her memory, she mostly walks around the house apathetic, and while she accepts his assistance, she also makes it clear she doesn't really care about him. Lucas soon suspects it might be a case of dementia or early Alzheimer's, but all results are negative. The only thing that gets Naomi out of her apathy is painting, and while she paints she pretty much literally dives into her pictures and wakes up in another world - a world of beautiful landscapes that she seems to inhabit of her own ... until one day, in that world, she meets Mikayla (Hattie Smith), and somehow that triggers memories, like as if she had been in a relationship with her. But when back in the real world, she mentions Mikayla to Lucas, he claims to never have heard the name, and in such an innocent way that she believes him - and is confused all the more.
There is one weird thing about the house Naomi and Lucas live in, and that's one room that Lucas forbids Naomi to enter and keeps locked up at all times - and eventually Naomi grows suspicious and breaks into the room while Lucas is out - and finds all kinds of equipment that suggests experiments on the human mind. When Lucas finds out finds out she has broken into the room, he reacts in the most surprising way, and that is he's honestly surprised himself what's actually in the room and why he has ever forbidden her to go in there, as if it was some unwritten law. And when he insists he had nothing to do with the experiments conducted in the room, she believes him, especially since he admits all the notes found in the room are in his handwriting he just has no recollection of them - which is too poor an excuse not to be true. But what's more, he promises to help her find out what's going on, and how to use the newly found equipment that might be a means to travel between different dimensions or mindscapes - which might be exactly what Naomi needs to become whole again. Thing is, if you travel between dimensions, how do you know or even anticipate what to expect ...
Like its story that actively questions reality, the more so the longer it goes, this is a movie that manages to deceive, and in a very clever way, too: For the longest time, it just seems to be about a couple trying to come to terms with the fact that one of them is suffering from dementia, with the added attraction that it gives us the points of view of both of them, to only eventually drift further and further off into science fiction territory to very gradually turn from a deliberately slow-moving mystery into a very tight thriller. And thanks to a very sure directorial effort that doesn't give into spectacle and instead keeps the film's underlying mood throughout, this all still seems like a homogenous whole that's carried rather beautifully by the ensemble's understated performances, all of which makes up for a very unusual genre experience.