Hot Picks

Mystic - Pilot

pilot episode


USA 2017
produced by
Victor Franko, Rand Alan Sabatini for Rand Alan Studios
directed by Victor Franko
starring Rachael Perry, Tara Dion Machado, Mitchell Cardone, Stephen O'Neil Martin, Jamie Dufault, Victor Franko, Ariel Dreyer, David Letendre, Anthony Goes, Greg Chopoorian, Gia Dill, Hannah Yun, Leonoia Kravitz, Mackenzie Sagun, Mary Dillon, Darya Zabinski (as Darya Kravitz), Rand Alan Sabatini, Emma Gruttadauria, Bailey Duarte, Jaquelyn Fabian, John Duke Logan
written by Victor Franko, music by Paul Doogan, visual effects by Justin Mashuta


review by
Mike Haberfelner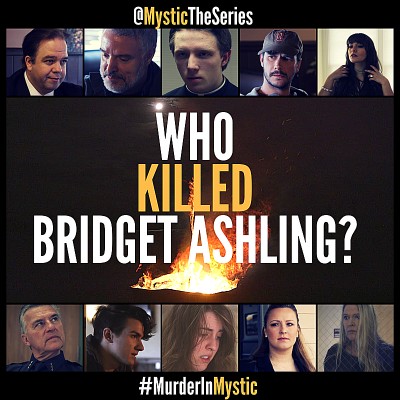 A very bizarre murder has happened in the sleepy Connecticut fishing village Mystic: A woman, Bridget Ashling (Tara Dion Machado) has been burnt to death in a boat out on the sea - and the police, rather unused to violent crimes, doesn't really know where to start as whichever stone they try to turn somebody seems to have a secret, from the local tycoon (David Letendre) to the common fisherman (Anthony goes), from clergy (Mitchell Cardone) to congressman (Victor Franko). There's one person who probably knows what has been going on, and that's Bridget's daughter Aidan (Rachael Perry), but she's in a state of shock, and her aunt and now guardian Flanna (Darya Kravitz) comes to collect her before she can snap out of it, so all law enforcement's left with is the knowledge that things are very strange - and maybe supernatural even ...
Watching this pilot of Mystic, one can't help being reminded of Twin Peaks, as both series are about murder cases that veer into the supernatural and over the course of the story promise to get things more muddled before they get clearer, and both series blend murder mystery with elements of soap opera. But that said, narratively or stylistically, Mystic doesn't at all try to mimic Twin Peaks, instead it relies on an original central story that really leaves one wanting more after the pilot, interesting subplots, and strong and colourful characters to populate them, too. And the direction is elegant yet subtle enough to get things across just fine.
So basically, really hope I can see more of this soon!