Hot Picks

My Friend Max


USA 2017
produced by
Mikeal Burgin, Luke Schuetzle, Megan Fleming (executive) for Okapi Pictures
directed by Mikeal Burgin
starring Doug Jones, Kaylynn Burgin, Madison R. Wells, Cooper Pierce, Jim Von Dolteren, Lou Bolster, Deidra Mohr
written by Mikeal Burgin, Chuck Mittan, music by Eros Cartechini


short

review by
Mike Haberfelner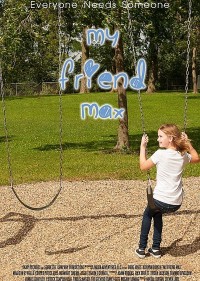 After her father has died, young Thea (Kaylynn Burgin) has pretty much gone into inner emigration, shutting herself off to the world at large, including her mother (Madison R. Wells), and the only one who she's able to properly communicate with these days is Max (Doug Jones), a convict judging from his clothes, but also a very warm-hearted guy who knows how to get through to Thea and makes her laugh again, and who's the only one who seems to understand what she's going through. The only problem here is ... Max is not real, he's just her imaginary friend she has had for way too long, and seeing he's the only person Thea seems to respond to these days, her mother, who's out of her league when it comes to the situation at hand and who hasn't got the time she ought to have for her daughter, starts to worry more than a bit, so much so that she pays one of Thea's fellow students, Billy (Cooper Pierce), to spend some time with her - which makes Thea furious when she finds out - and understandably so. Thing is, she starts to like Billy ...
My Friend Max is in essence a bittersweet film for the whole family - but not one that sugarcoats things but gives its seemingly simple story emotional depth, second-guesses the decisions made by everyone, and ultimately let's the audience decide if the ending is a happy one or not. This is all made possible by a very subtle and kitsch-free directorial effort, solid performances, and of course a script that doesn't try to drive its message home with a sledgehammer.
Totally worth a watch!