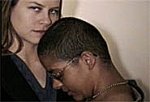 After their relationship has entered an almost-normal stage at the end of last episode (click here), dominant Robin (Robin Joy) and Ann (Ann Ampar) go out on a date with each other - a date during which Robin can't help but play another of her sexual cat-and-mouse games when she lures Ann onto a restaurant's toilet only to let her catch her with another woman, Marie, whom she undresses and gets passionate with right there on the spot and right before Ann's very eyes - which immediately as good as breaks Ann's heart ... before she realizes Robin is only playing with her. And thus, with Robin's back turned, she moves in on Marie. But this of course is also part of Robin's game, and Marie is nothing but her willing loveslave, who time and again proves her sexual submission to Robin to Ann's greatest dismay ... and eventually, Ann leaves the toilet slightly humiliated, but nevertheless she gets into a car with Robin and Marie to wherever they want to take her. In the car, during their drive, Ann finally becomes the center of Robin's attention - and eventually, after they have dropped off Marie, this leads to lovemaking at the side of the road ...
As mentioned above, this film is essentially an erotic game of cat-and-mouse, and true to the directing style of Div For'e, much of the story of this dialogue-less film takes place in the actresses' gazes, their facial expressions, and even the position of their legs. And through all of this, Div manages to properly create sexual tension and suspense, and make his film's plot, that seems to be nothing too interesting in writing, worthwhile on film (but of course, three hot girls who all get naked to some degree don't hurt either) ...
If this has made you curious, you can download this movie from http://www.twilightwomen.com.