Hot Picks

Joe


USA 2018
produced by
Shara Ashley Zeiger for The Platform Group
directed by Kaye Tuckerman
starring Bethany Nicole Taylor, Sean MacLaughlin, Shara Ashley Zeiger, Amanda Bruton, Amanda Damron, J.J. Phillips, Eve Austin, Jim O'Hare, Michael Huntsman, Kelly Kozakevich, Vin Scialla
written by Shara Ashley Zeiger, music by Leeran Raphaely


short

review by
Mike Haberfelner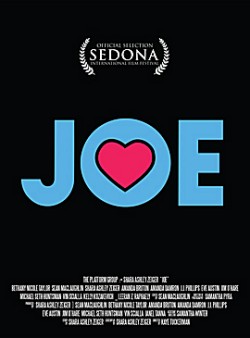 After being fired from her corporate job, Jillian (Bethany Nicole Taylor) accepts the position of a barista in a run-down coffee shop to keep her head above water - and her boss (Amanda Bruton) makes every effort in the world to make her feel less than welcome even there. Then though, Jillian meets the man of her dreams, Joe (Sean MacLaughlin), who's good-looking, has a good job, is funny, intelligent, has a romantic side to him, and he's more than a bit fond of Jillian, who he sees as a person much more genuine and honest than anybody he's met in corporate America. Now of course she falls for him, and their fledging relationship hits high after high, really - but there's one thing: She doesn't dare to tell him she's nothing more than a little barista ...
Shara Ashley Zeiger, writer and producer of this movie, also appears in front of the camera as Jillian's witty co-barista.
Now romantic comedies are not everyone's thing, and they're surely not mine - but this one gets it right, as it simmers the romance down to its essentials and enriches the basic concept with just the right amount to not tire the subject out. And also thanks to a very laid back directorial effort and a solid cast, this actually works out quite beautifully. So no matter whether or not you like romantic comedies, you might want to give this one a watch.