Hot Picks

- Nox 2019
Georgy


USA 2017
produced by
Nancy Oeswein, Mary Lou Morey (executive), Charles Purtill (executive), Bryce Crook (executive) for Auburn Moon Productions
directed by Bryce Crook
starring Mark Boyd, Jason Bowen, Harley Wallen, Aphrodite Nikolovski, Kathi J. Moore, Matt Szakal, Joe Piazza, Kris Reilly, Jimmie Chiappelli, Ammar Nemo, Heather Fairbanks, Kim Harris, Chris Banks
written by Bryce Crook, music by Bon Lucas


short

review by
Mike Haberfelner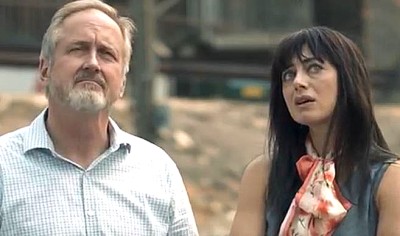 George (Mark Boyd) sure has seen better days - but of late, he has lost his job, and his wife has run off with the very man, Mark (Kris Reilly) he lost his job to - and suddenly he finds hanging himself a viable option - even if that guy (Joe Piazza) in the YouTube tutorial about how to make a noose seems less than reliable. And then, his head already in the noose, he receives a call from Josh (Jason Bowen), his former colleague and a rather annoying guy, who tells him that above Mark is going to commit suicide by jumping from their office building - and George is invited to watch. As a matter of fact, it seems like a lot of people have come to watch, all former colleagues of George and his ex-boss (Harley Wallen), but nobody makes the slightest attempt to save Mark - and gradually, George finds life worth living again after all ...
Sure, the subject matter of Georgy is a dark one, but somehow writer/director Bryce Crook managed to make a rather light-footed comedy out of it that manages to stay away from the moronic as well as the gross-out ends of the genre but brings its story across via poignant dialogue, a relateable loser character in the center of things, a fun set of supporting characters, and of course a very solid ensemble cast.
A film that's almost sure to make everyone chuckle quite a few times.