Hot Picks

Gehenna: Where Death Lives


USA / Japan 2016
produced by
Albert Avramovic (executive), Kee Saik Meng (executive), Nathan Lindgren (executive), Jana Marie Preiss (executive), Shaun Smith (executive)
directed by Hiroshi Katagiri
starring Eva Swan, Justin Gordon, Simon Phillips, Sean Sprawling, Matthew Edward Hegstrom, Doug Jones, Lance Henriksen, Masashi Odate, Tom Miyano, Patrick Gorman, Katherine Taylor, Mauricio Gomez Amoretti, Maxie Santillan jr, Robert Mojica, T. Jack Williams, David Lansky, Richika Urasoko, George Kamea, Nori Uchida, Keisuke Akizawa, Yasunari Akita
written by Hiroshi Katagiri, Nathan Long, Brad Palmer, special effects by Spectral Motion, creature effects by Hiroshi Katagiri

review by
Mike Haberfelner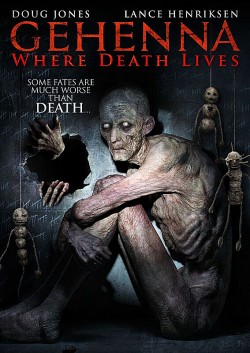 Wanting to debelop a new tourist resort on a "taboo" section of Saipan Island, Paulina (Eva Swan) and her team - love interest Tyler (Justin Gordon), scumball Alan (Simon Phillips), cam-guy Dave (Matthew Edward Hegstrom) and driver/comic relief Pepe (Sean Sprawling) - examine the area and stumble across Japanese World War 2 bunker that's supposed to be haunted. Of course, they decide to investigate, only to find it littered with well-decayed corpses - and a creepy old man (Doug Jones), who seems to be starved to the bones and yet tries to attack them, then curses them ... and then he along with the corpses is gone, and the place is in a much better shape - and they stumble upon a Japanese Officer (Masashi Odate) who commits harakiri in before very eyes. Thing is, when they want to escape, the door they left open is blocked. Of course none of this makes sense, nor does the only one logical explanation, that they have been thrown back in time some 70 years - and it might have to do with the fact that the bunker has been built on a native burial place. What's worse, they are each confronted by their greatest guilt, which is supposed to drive them to suicide or worse. And soon everyone's at each others throats - but death might not be the worst way out ...
Fan fave Lance Henriksen as Paulina's boss doesn't get a lot of screentime here, but his post credit punchline is well worth the wait!
Gehenna: Where Death Lives is a quite creepy piece of horror that really understands how to get the most out of its limited locations, how to drive a story via atmosphere and tension, and even though the ending might telegraph itself to at least die hard horror fans a bit too early on, it still keeps one guessing throughout, putting more emphasis on story than solution. And a solid cast doesn't hurt one bit either of course.
Well worth a look, but might give you nightmares ...