Hot Picks

Dead Hooker in a Trunk


Canada 2009
produced by
Jen Soska, Sylvia Soska, Agnes Soska (co), Marius Soska (co), Mary Ann Van Graven (co), Loyd Bateman (co), Donald Charge (co) for Twisted Twins Productions
directed by Jen Soska, Sylvia Soska
starring Rikki Gagne, Jen Soska, Sylvia Soska, CJ Wallis, John Tench, Loyd Bateman, Tasha Moth, John J.Gulayets, Carlos Gallardo, Jamie Bell, David Barkes, Hugo Steele
written by Jen Soska, Sylvia Soska, music by CJ Wallis, songs by Fake Shark-Real Zombie!, Incura, the Awkward Stage, the Stalls, Ione Sky, the Titan Go-Kings, the Belle Game, special effects by David Barkes, visual effects by CJ Wallis, Loyd Bateman, special effects makeup by Mary Ann Van Graven, Alyssa Satow, Kate Satow

review by
Mike Haberfelner




Available on DVD !
To buy, click on link(s) below and help keep this site afloat
Always make sure of DVD-compatibility !!!


Junkie (Rikki Gagne), Badass (Sylvia Soska), Badass's shy twin sister Geek (Jen Soska) and Geek's church-going, Jesus-loving almost-boyfriend Gody Two-Shoes (CJ Wallis) for some reasons go on a roadtrip together - and find a dead hooker (Tasha moth) in their trunk. Now this is bad, since Junkie and Badass can't really remember if they are responsible for this after a night of very heavy partying, so calling the police is out of the question, and getting rid of the body is mandatory - and from here on it only gets worse, because the uneven quartet soon finds itself on the run from everybody, like drugdealers, the hooker's pimp (John Tench), the police, and the hooker's hooded killer. This whole affair doesn't leave our four heroes unharmed, either, as Junkie loses one of her arms, Geek one of her eyes, and they all become murderers when they kill first the hooker, who after all hasn't been properly dead yet, then the guy they think was her killer (or almost killer) - which he wasn't.
In the end, the real killer aka the man you least expect (played by Loyd Bateman), a guy who has been suffering from sexual frustration since his penis was slit during circumcision, retrieves the dead hooker and kidnaps Badass, to follow the hooker to the netherworld - but need I mention this one's got a happy ending, and the hooker ultimately gets a sea burial ...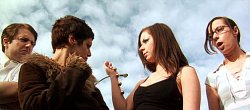 CJ Wallis, Rkki Gagne, Sylvia and Jen Soska
Dead Hooker in a Trunk is one of these all too rare cases where a promising title actually leads to a good movie - and the movie is everything the title suggests, a self-consciously trashy low budget exploitation flick with horror and road movie undercurrents - though while the movie is everything you'd expect it to be, it's still full of unexpected plottwists.
The main selling point of Dead Hooker in a Trunk though is that it is fun from start to finish: It doesn't take itself very seriously but is well-paced , and it never shies away from gore and dismemberment, but mostly puts a macabre to hilarious twist to it.
Essentially, the film is above all great entertainment. Recommended.