Hot Picks

- Pop 2018
Cannibal Fog


Sweden 2014
produced by
Jonas Wolcher for Dino Publishing
directed by Jonas Wolcher
starring Linus Karlgren, Malte Aronsson, Kim Sønderholm, Lars Lundgren, Ida Karolin Johansson, Anders Dahlberg, Caroline Stråle Svensson, Gustav Magnarsson, Kjell Häll Eriksson, Anoshirvan Parvazi, Duana Svensen-Quispe, Vargman Bjärsborn, Johanna Valero, Tor-Björn Amilon, Juznur Siuleymanova, Christer Blomgren, Marie Yeeni Abrahamsson, Cassandra Rehm-Blomquist, Marie Louise Sjögren (voice), Donald Stenklyft, Aleksandra Kawecka Mårtensson, Cissi Liljemalm, Loke Liljemalm, Lita Nevalainen, Janne Aarnseth, Helen Larsson, Carola Kastell, Pia Schmidtbauer (voice)
written by Jonas Wolcher

review by
Mike Haberfelner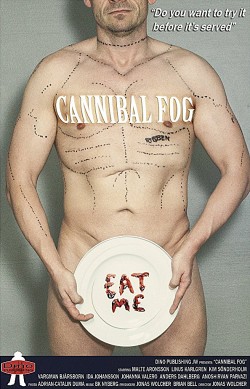 Young Michael (Linus Karlgren) is a disgrace to his religious family as he's addicted to porn and baked beans, has no ambitions whatsoever and doesn't seem to get anywhere in life. And then somebody is assassinated next to him without him even noticing, but blood and human remains of the victim spill into his chips - and he really likes them that way.
Soon enough, Michael finds more and more open fleshwounds on his leg, and the pain becomes more and more unbearable - and yet, Michael has no idea how he got them ... until his sex interest Lotta (Ida Karolin Johansson) witnesses Michael tearing flesh out of his own leg and eating it. She's shocked and pulls a knife on the obviously cannibalistic Michael - but in the struggle that ensues, she eventually gets killed.
Not knowing what to do, Michael calls Albin (Malte Aronsson), a food blogger with cannibalistic tendencies, and Albin doesn't only tell Michael how to treat the body for feeding purposes, but also takes him under his wing for future endeavours - and that's where things really get out of hand ...
Danish genre star Kim Sonderholm plays Albin's willing victim at a gruesome dinner.
Now Cannibal Fog is most certainly not a movie that goes with a weak stomach, and it's not so much for what it does show (for a cannibal flick this one's by no means very bloody) but what it suggests - and maybe even more so how it suggests it, as this is a mix of horror, dark comedy and biting social satire that often quite cleverly wraps its most gruesome bits in jokes and combines its mean-spiritness with empathy, to a point where one's really rooting for the cannibals ...
And if this has gotten you at all interested, Cannibal Fog can be watched on V.O.D. here: http://www.indielane.tv/cannibal-fog/