Hot Picks

- Nox 2019
Book of Monsters


UK 2018
produced by
Paul Butler, Stewart Sparke, Alex Joyner (executive), Greg Orsi (executive) for Dark Rift Films
directed by Stewart Sparke
starring Lyndsey Craine, Michaela Longden, Lizzie Aaryn-Stanton, Daniel Thrace, Rose Muirhead, Anna Dawson, Steph Mossman, Arron Dennis, Julian Alexander, Nicholas Vince, Samantha Mesagno, Johnny Vivash, Jessica Fay, Julia Munder, Dave Jameson, Cal O'Connell, Paul Toy, Taavi Peelo, Elizabeth-Mae Starbuck, Jamie McKeller, Joe Armstrong, Jae Macpherson, Josie Connor, Ben Hartley
story by Paul Butler, Stewart Sparke, screenplay by Paul Butler, music by Dave S. Walker a.k.a. Kyoto Dragon, creature and makeup effects by DDFX Studio

review by
Mike Haberfelner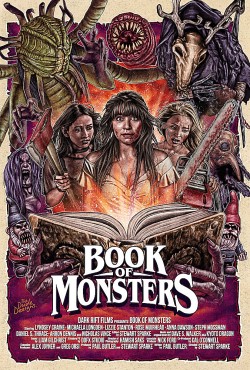 Sophie (Lyndsey Craine) is a bit of a wallflower, but nevertheless her best friend Mona (Michaela Longden) throws a big party for her 18th birthday - a party that's even crashed by their school's biggest bitch Arya (Anna Dawson), who has decided to bring a male stripper, Carl (Arron Dawson), for Sophie - to make it uncomfortable for her as she's exclusively into girls. But as if that was bad enough, soon a bunch of monsters show up to slaughter all the guests, and only eventually it's found out that this has to do with a book of monsters that belonged to Sophie's deceased mother (Samantha Mesagno) - she was actually killed before Sophie's very eyes ten years ago. Soon, the survivors of the party are down to Sophie, Mona, Arya, Carl, Sophie's main squeeze Jess (Rose Muirhead), her goth friend Beth (Lizzie Aaryn-Stanton), and the party's only decent guy, Gary (Daniel Thrace), and only slowly they find out what this monster invasion's all about and why Sophie is at the center of it, but they also find out one of the monster's a shapeshifter and might be one of them. What they have problems with finding out though is how to properly fight them. And so, our heroes continue being killed one by one ...
Genre fave Nicholas Vince plays Sophie's father.
Now Book of Monsters isn't exactly the re-invention of the wheel - but it's really good at what it's doing, combining elements of the slasher, monster and even old dark house movie, peppered with some Buffy the Vampire Slayer-vibe and elements of trash and gore cinema, rolled into a tongue-in-cheek approach that nevertheless never forgets to drive its story forward and create tension and suspense. And the outcome truly is one hell of a ride that's sure to please every self-respecting genre fan, and then some!