Hot Picks

Ayla


USA 2017
produced by
Matt Medisch, John Portanova, Elias, Jeremy Berg, Sean Patrick Burke, Elias Savada (executive), David Lowe (executive), Pam Longston (executive), Chris Longston (executive), Raphael J.H. Hickman (executive), Jill Pritchard (executive), Giles Daoust (executive), Richard Southard (executive) for Clayface Pictures, The October People, Title Media
directed by Elias
starring Nicholas Wilder, Tristan Risk, Dee Wallace, Sarah Schoofs, D'Angelo Midili, Bill Oberst jr, Andrew Sensenig, Darlene Sellers, Gary Lee Vincent
written by Elias music by Chvad Sb, special makeup effects by Christina Kortum, Sarah Prevo, cinematography by Jeremy Berg

review by
Mike Haberfelner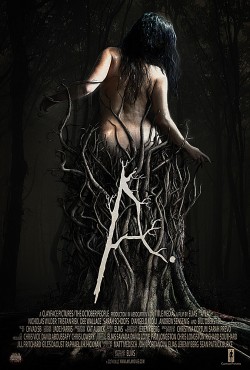 Elton's (Nicholas Wilder) sister Ayla has died some 30 years ago now, when she was a mere 4 years old and he not much older - but he hasn't come over her death to this day. And he keeps seeing her - which worries even his mother (Dee Wallace), even if she's very much into the occult and esoteric. Then one day when he wanders the woods near his childhood home, he finds some kind of pod, which he takes home for inexplicable reasons, and the next day, a grown up Ayla (Tristan Risk) hatches from the pod. She lacks the ability to speak, and she doesn't understand the first thing about the ways of humankind, but she does understand that Elton means well and lets him guide her. For some reason, Elton doesn't feel his dead sister coming back at all odd, and finally being able to bond with her makes him feel like in 7th heaven, and soon, they also have sex - but not everybody among Elton's friends and famly shares his enthusiasm, least of all his girlfriend (Sarah Schoofs) and his brother (D'Angelo Midili). But what's worse, Elton soon suffers from rashes, his blood pressure drops, pretty much his lifeforce seems to be waning - and this just might have to do with Ayla ...
Horror fave Bill Oberst jr plays two very different motel clerks.
Ayla is a quite unusual movie to say the least: Its premise sounds like a straight monster flick (even if Tristan Risk is a very attractive monster for sure) but its approach mixes fairy tale with verité cinema, psycho horror and even glimpses of comedy, to result in a story that's really one of a kind and keeps one guessing to the end, also carried by a subtle direction that often proves that less is indeed more, and a very solid cast.
Rather unique and maybe not for everyone, but if you're into the macabre and unusual, then this is a must-see.