Your new movie Gordon Finn - in a few words, what is it about?
The best way to describe it is tense.
How did you get hooked up with the project in the first place, and what made you choose exactly this movie as your directorial debut?
I was chatting with Willy Adkins [Willy Adkins interview - click here] about the script and how the original director couldn't do it because of a huge work load, so I had the bright idea to take on the project myself. Never having any training in filmmaking whatsoever, I figured I'd give it a try and see what would happen. I read the script, I had a vision as to what it should look like, and most of all how the mood would carry the story.
Do talk about Gordon Finn's look and feel for a bit - and why did you choose to shoot it in black and white?
I've always loved black and white films. I'm fan of silent movies and the mood those films created. Crime dramas like those early James Cagney flicks. And even those old horror movies. It's big reason a lot films when shot in color lose the effect of something might be creeping up behind them.
A huge credit goes to Dragon Alexander for having the experience and the know how to bring the noir idea to reality. Something simple like a small LED light makes a huge difference believe it or not. He understood the mood was a huge factor in making this film into monster in that sense. I wanted shadows and very little light and I got that.
It translates not just for the audience I think, but the actors as well. I mean, every art form created needs some kind motivating factor. And when you have five people in one room and you're dealing with a dangerous character like Gordon Finn, flooding the room with stadium lights aren't going to make you feel the rising tension. All it's going to do is give you a migraine headache.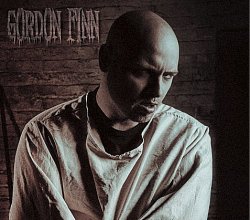 Willy Adkins
With Gordon Finn being (among other things) a horror movie, is that a genre at all dear to you, and how would you describe your approach to the genre?
To be quite honest, I'm not much of a fan of horror movies these days. Call me old fashioned, I much rather have the experience of a mental trip of suggestion rather than total graphic gore. Not disrespecting other filmmakers, but sometimes over abundance of blood and guts is too much in a sense. I guess the idea of making the audience want to see what's behind the door and seeing a small part of the bodies hanging by a hook is far more fun than showing the whole blood bath beforehand. I like a story where you're teased and teased and teased some more before the demon is exposed. For me, I loved those twists and turns, rather than a splatter fest.
What can you tell us about your cast and crew, and why exactly these people?
Hmmmm, Ann Sheehan was someone who wanted to take a chance and act in a different role rather than the usual stuff she's done in the past. Sort of the mom figure, or the straight laced conservative type. Right then I knew she'd take the part seriously and go the whole ten yards.
Stewart Ogilvie, he was the logical choice for Dr. Odd. I met him a year previous while shooting another movie and seeing how he approaches his work, I immediately became a fan. He's a veteran actor who knows how to bring the goods.
Willy Adkins [Willy Adkins interview - click here] - let's just say, I knew he would kill, so to speak. Knowing how sometimes confidence will wane a bit in most actors, he took to my ideas to heart and made the character a thousand times more sinister than I orginally imagined.
Chase and Kylie were troopers. They knew what to do and how to do it and needed very little direction from me. I think the one thing that stands out in my mind is the kids. They made all of us look like tools. HAHAHAHAHA!
The rest of the cast and crew all together, and there are too many to name, but collectively, gave this project the proverbial blood, sweat, and tears. I got pretty damn lucky. Couldn't have done better without them. If anyone can deal with me for ten or fifteen hours and not want to walk away with one finger in the air, says a lot.
A few words about the shoot as such, and the on-set atmosphere?
The shooting schedule was long. The scenes that needed a lot of attention was the interview. And I felt every angle needed to be filmed and perfected to create what you see now. And when you're in a small room for that long with not only the cast, but the crew, you get the feeling the walls are closing in. Keeping a sense of humor makes the time seem less dreadful. My only hope was to keep a clear head for myself so everyone else can feel at ease around a rookie director. I mean, my head was filled with a thousand and one bouncing balls, trying to juggle every thought without losing my mind in the process. Jokes, pranks, whatever needed to be done to keep everyone laughing, I encouraged.
One thing we did in particular, this sweet kid named Colin, he helped with just about everything. He means well and I couldn't have asked for a better production assistant. But we pranked his ass on more than one occasion by sending him out to look for a fictitious PA named "Larry". After two days of him looking for this cat, I had to give him the low down and told there was no such person. I sometimes am rough with people I like. And I admit, I do go overboard, but in the end, I hope he knows I do care about him and hope to work with him on any other project down the line.
The $64-question of course, when and where will the film be released onto the general public?
Ummm, it will be available on Breaking Fate TV. And any other independent online movie network. As for copies of the movie, we just need to find a company to distribute it. And from what I know, we'll have something out by the end of the year.
Any future project you'd like to share?
My favorite author is Edgar Allan Poe. And I've always wanted to do a modern version of The Tell-Tale Heart. This past spring, I wrote the first draft of a script of this story. And right now, we're putting a few touches on it here and there so we can plan on producing it. I think that would be my next major directing gig. Like Gordon Finn, I have a deep vision of what I want. And I hope to start production before the year is up.
What got you into the filmworld in the first place, and did you receive any formal education on the subject?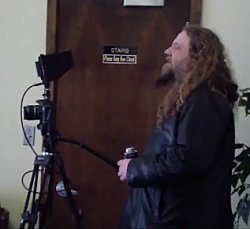 Wolf McKinney on set
You know, I never really had aspirations to be a actor, much less, a director. But what they say is true. There is an acting bug. And it tore a hole on my ass when it bit me. About five years ago, I had a speaking role in a vampire movie. As I reflect back, I knew I had to do more in movie, at first, as an actor. Since then, I've played small parts in independent movies. Had to two bit roles in two TV shows. And had a lead role in a movie yet to be released called Spilt Blood. And next year, I'll be playing the lead role in a movie called Sister of the Wolf. Once the lead role of Sister of the Wolf was given to me, I asked myself, "Do I have the knowledge to pull something like this off?" I said, "NO!!!" So, I signed up for acting classes for a year. And I'm happy to say, I'm glad I did. Not only did it help me learn the ins and outs of the craft, it gave me the confidence to actually bring out the actor I can be. The directing thing is a bonus.
What can you tell us about your filmwork prior to Gordon Finn (in whatever function)?
I guess I answered that already. Like anyone who starts out in this kind of field, you need to pay your dues. And I accept that. I've been very lucky in a sense I've been given chances by some incredible people. Namely Willy Adkins [Willy Adkins interview - click here], Jason Sullivan, and Dragon Alexander. I mean, if I didn't act in any of their projects, I try and help in any other way. So, I owe a lot to them. Thanks guys!!!
How would you describe yourself as a director?
Very green. HAHAHAHAHA!!!! I have a lot to learn. And the first thing I need to perfect in myself is being more of a leader, rather than a moody boss. My life has been devoted to entertainment in some form or fashion. Whether it was music, radio, or movies, I had my hand in something creative. And within that creativity, sometimes I'll get moody and cranky. So, green is the best way to describe myself.
Filmmakers who inspire you?
Scorsese, Spielberg, Tarantino, Stone. I love wordplay in movies. For me, the acting is just secondary if you have a great script and actors who know how to make a simple conversation enthralling. The four names I mentioned, yes, tons of action, but there are those moments where I feel if they just recited the phone book, I'd be captivated. Tarantino especially. If I could pattern my movies in some form or fashion like his classic films, I'd die a happy man.
Your favourite movies?
Too many to say. All three Godfather movies. All the Tarantino movies. Goodfellas, Raging Bull, Taxi Driver, Schindler's List, Saving Private Ryan, Mean Streets, JFK, Natural Born Killers, All the Saw movies, The Exorcist, and many, many more.
... and of course, films you really deplore?

Feeling lucky ?
Want to
search
any of my partnershops yourself
for more, better results ?

The links below
will take you
just there!!!

Find Wolf McKinney
at the amazons ...

amazon.com

amazon.co.uk

amazon.de
Looking for imports ?
Find Wolf McKinney here ...
Something naughty ?
(Must be over 18 to go there !)

Musicals!!! There has been a resurgence of the musical lately and I hate it. Oh, and Disney.
Your/your movie's website, Facebook, whatever else?
You can find anything on Facebook these days. Just look Gordon Finn. Also go to Breakingfate.com for any info on all the films we produce.
Anything else you are dying to mention and I have merely forgotten to ask?
I just wanna thank you and many others who took the time to see my film. Sincerely, it means quite a bit. And I wanna thank the cast and crew again for making the whole Gordon Finn experience a very special time of my life. God willing, I'll get the chance to make more films down the line. I can't wait to see what the future brings.
Thank you.
Thanks for the interview!