We have talked about your upcoming film Bloom before [click here], but do bring us up to speed, what is it about?
Bloom is basically the story of a young woman, Lily, played by the incredible Deann Baker [Deann Baker interview - click here], who wakes up in a hotel bathroom, covered in blood, with missing memories of the previous night. As she tries to piece together what happened, she begins undergoing physical and emotional changes. Her humanity begins to fade as she transforms into an inhuman creature.
You are taking quite an original route of distribution for Bloom - care to explain?
We are using our IndieGoGo campaign as the primary method of distribution for Bloom, offering pre-orders of digital copies, DVDs and special collector's items such as a VHS version and a numbered, limited edition DVD with extra features. With the help of DriveThruRPG, who I have a long standing relationship with, we will be delivering the digital downloads directly to backers at the end of the campaign. We are also using the campaign as a launching point for a sort of growing universe including a role-playing game, and if we exceed our base goal, additional video products such as short films or a sequel.
Why not relying on more traditional distribution methods, what were your experiences with those?
Terrible. I suffer from a terrible condition in which I love making movies, but loathe a good portion of the film business. With my first feature film, Raymond Did It, I signed an awful deal with an incompetent distributor. With my second film, Dry Spell, I signed a slightly less awful deal with a slightly more competent digital content aggregator. I was very unhappy with the results. I felt that my films were opened up to a host of problems (such as piracy, poor marketing decisions and bad deals made on behalf of the films) that could have been avoided or addressed differently. After those experiences I knew I had to try something new.
One of the perks that can be ordered via your IndieGoGo campaign is a Bloom role playing game - you just have to talk about that one for a bit? And what can you tell us about some of your other perks?
Absolutely! The Bloom role-playing game is just one way we intend on expanding the world of Bloom and allowing the audience to really take a proactive and creative role in the world we explore in Bloom. I am a filmmaker because I am a storyteller, and film is one way to present a story. I have a great love for role-playing games and have been a gamer for a good portion of my life. For over a decade, I've been publishing my own role-playing games through Aegis Studios (http://rpg.drivethrustuff.com/browse/pub/338/Aegis-Studios) so I'm experienced with game design. When I started thinking of unique ways to bring the audience into the world of Bloom, the idea of making an RPG just sort of made sense.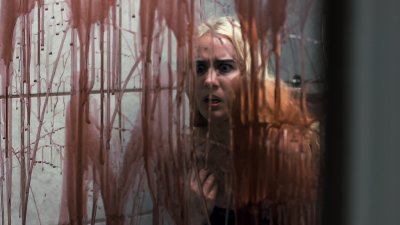 The Bloom role-playing game will allow players to create a character within this world we are crafting and explore the themes we examine in Bloom, such as the darker aspects of human nature, the importance of family, friendships and morality, and the dangers of abandonment, isolation and social disconnect. The basic mechanics of the game will be similar to those used in Contagion Second Edition (http://rpg.drivethrustuff.com/
browse/pub/338/Aegis-Studios), but the system will be stripped down in terms of complexity and a greater emphasis will be placed on the choices characters make in terms of their overall story. It's a pretty exciting prospect to me to be developing this game.
In terms of other perks, we are offering backers the chance to be directly involved with the creation of the game by working directly with me to create a character that will appear in the final book. We are also offering signed posters, scripts, headshots, soundtrack downloads, collectors edition hardcopies of the film in various formats and digital desktop art.
Ok, do a sales pitch, why should anyone go and buy Bloom, what makes it special?
Bloom examines the descent from humanity to monstrosity from a fly-on the wall perspective. When crafting the film, I really wanted to nail the camera down to Lily's perspective and focus entirely on what she is going through. There is no mentor who walks her through the horrific, dehumanizing process of her transformation and she is left to sort things out on her own. I think that perspective is unique and interesting.
Bloom is also a world with the capacity to grow. The role-playing game offers incredible potential for exploring the themes the film introduces. Furthermore, if the campaign is a success, we have stretch goals planned to further expand the world.
I have heard somewhere that you might be planning a sequel to Bloom - so what might that one hold in store?
If we reach our basic goal, I do intend to place a sequel out there as a potential stretch goal. Where Bloom focuses its attention on Lily's transformation from human to monster, the sequel would focus on the aftermath of that transformation. Bloom is slowly paced as the layers of Lily are peeled away. If we are able to get to a sequel, we will begin with Lily through that process, and we will be able to cut loose and take things to a much more extreme, much more brutal level. In Bloom, Lily is becoming a monster. In the sequel we would be able to explore the ramifications of that transformation and see what it means to BE a monster.
Any other future projects you'd like to share?

Feeling lucky ?
Want to
search
any of my partnershops yourself
for more, better results ?

The links below
will take you
just there!!!

Find Travis Legge
at the amazons ...

amazon.com

amazon.co.uk

amazon.de
Looking for imports ?
Find Travis Legge here ...
Something naughty ?
(Must be over 18 to go there !)

As of right now my attention is on expanding the world of Bloom and growing the other worlds I publish through Aegis Studios. I've just done three films essentially back to back, and I think I could benefit from taking a few months of downtime before hopping onto a new project. If we get to the sequel place in the Bloom campaign, that will almost certainly be my next film.
Your/your movie's website, Facebook, IndieGoGo, whatever else?
Bloom can be found on IndieGoGo at https://www.indiegogo.com/projects/bloom-a-feature-length-horror-film/x/10274 and on Facebook at http://www.facebook.com/bloomthefilm. You can find out more about my oth role-playing games at http://rpg.drivethrustuff.com/browse/pub/338/Aegis-Studios and hit me up on twitter at @Travislegge
Thanks for the interview!
Of course! Always a pleasure. Thanks for the chance to come talk about my story.