Your new movie Bailiwick - in a few words, what is it about?
Bailiwick is the story of John, a loner who wishes he could fit in with his co-workers. He is given a gift that changes his life. Dare I say it spans several genres, fantasy, comedy and a bit of horror/suspense.
To what extent could you actually identify with Bailiwick's John, and the situation he's in, and is any of this actually based on personal experience?
I think if we're being honest we can admit there's a John in all of us! What I REALLY love about it though is that John goes through a transformation (under the influence of the book) and is able to realize that the people he THOUGHT were so cool are actually kind of annoying and vapid. In the end, one of the things I hope people realize is to be happy the way they are and that everyone puts on a front to who they really are. Be good with yourself! There's nothing wrong with John after all.
(Other) sources of inspiration when writing Bailiwick?
Though I haven't seen it in sooo long, Something Wicked This Way Comes and The Lost Boys were my inspiration for the carnival scene. I have always thought of carnivals and kind of mysterious and creepy so I really liked that. And one of my favorite scenes is when John is chasing the kids from the carnival off to the barn where the gypsy show is. I love seeing them run out of the dark, leaving the carnival behind.
What can you tell us about your co-writers Roni Jonah, Amy Austin and Cyndi Moore, and what was your collaboration like?
Roni and I worked on our other feature together called Selling Stupid, also available on Amazon and YouTube! For that one, Amy Austin, my bestie and I wrote the majority of it and then gave it to Roni to tweak and fill in with a bunch of scenes. For Bailiwick, I wrote this in a crazy way. I had the plot in my head but we shot it really sporadically and at no time did the lead actor ever have a complete script to work with. There are huge parts of the film where John doesn't actually speak so we had to just talk about the story. He really trusted me and I love him for that! As long as I could direct him as far as where John was in his journey he obviously performed wonderfully! Regarding Roni, she is a fantastic writer!!!! She has a great gift of dialogue, and I definitely am weaker there. I would send her all of the scenes with the rants of the boss character and she killed those. For Bailiwick, Amy and Cyndi as well as my sister Starla, the production manager, were more like sounding boards for me to talk out my ideas and they helped that way. That's why they got writing credit. They helped a lot! But Roni actually wrote a ton of the dialogue parts.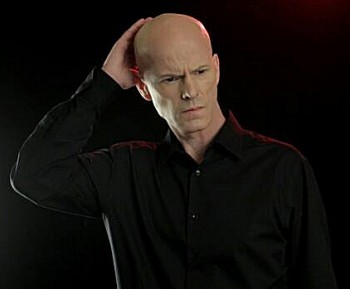 Do talk about your movie's approach to horror for a bit, and is this a genre at all dear to you?
I never set out to make any particular genre of film but honestly, I'm happy with the mystery/fantasy/horror/comedy way it turned out. I knew it was fantasy for sure but the rest happened organically. I do really like horror! Though I've acted in a few horror films and want to do more I haven't delved into that specific part of my personality too far yet. I feel like there's something in my brain starting to grow though! One thing I love about horror is the fans! I love when people are passionate about something and horror fans are the best!
What can you tell us about your directorial approach to your story at hand?
I've certainly been growing in my knowledge of how to direct and I feel like I got to learn a lot during Bailiwick. One thing I'm so thankful for is my camera man, Rick Moreau. He has always been so supportive and encouraging. He's always up for an adventure and he has let me learn over the years which is really amazing and has been really helpful.
You also appear in front of the camera in Bailiwick - so what can you tell us about your character, and have you written her with yourself in mind from the get-go?
Yes, I wanted to be in it because I love the rest of the cast and have been trying to grow as an actor as well. the funny thing with my character, as well as all of John's co-workers is that none of have anything of value to say through the entire film. We're purposely vapid and chatty and hardly pay attention to anything but COME ON! we all know those people! It's just to push the part of the story where the audience at first sees John as a "loser" but then that shifts to the co-workers being that. Spoiler alert - from the start I told Roni that I wanted our characters to end up by each other covered in blood. That's our relationship. haha. I love that girl.
What can you tell us about the rest of your cast, and why exactly these people?
Oh wow. I love them. I started out in film doing hair and makeup on various sets in the Chicago, Detroit and Michigan area. Through a few years I'd meet a person and just find something great about them so when I sat down to write both Selling Stupid and Bailiwick it was just really natural to write a role for a specific person I knew. I met Nick Mackey a few years ago on a set and he told me and showed me he believed in me by investing in the films. He's a really passionate actor and I love working with him! My friend Suzy Brack is one of my best friends and she and I have worked together about 9 times now! I literally could write about 8 paragraphs on my friends in the film but I guess I'll just say I've collected them and hope to work with them again and again.
A few words about the shoot as such, and the on-set atmosphere?
We have a low budget but I like to think professional feel to the sets. I am a very organized person so I try to get a lot of pre-production done so when we all get there we can be as efficient as possible. Of course, delays happen, but for the most part we get a lot done. Last summer on a shoot for a comedy written by Isiah Barnes, that I directed, we had well-known actor Daniel Roebuck on set and he said he never shot so many pages in one day.
I like and now insist on the atmosphere being respectful for everyone there, but we have a very small amount of money to work with, so one thing I do is make sure everyone knows that if you're on set, you're expected to help with everything. It's just the way it is at the point I'm at now. If you want to act, you have to pitch in. I realize that isn't the way it is on most well-funded sets but I can either try to make films with what I have to work with now or not be able to accomplish anything. Everyone has been really great about it and I really appreciate the teamwork. We definitely still have fun but it HAS to be about the movie first.
The $64-question of course, where can your movie be seen?
It's available on Amazon as well as YouTube. We also have DVDs for sale on our Facebook pages.
Anything you can tell us about audience and critical reception of Bailiwick?
I have heard so many differing opinions about Bailiwick! When I hear something not great I have to remember that even the biggest budgeted films have haters. It does hurt but I really do realize that the pacing and quirky nature of the film isn't for everyone and I guess, most importantly, I can tell you it is the film I set out to make. It FEELS like what I had in my mind so I am very happy with what it is. There are things I wish I knew more about, like getting any kind of even small distribution deals, just to make a little money off of it to be honest, but there are a lot of scammers out there so that is something I need to continue to work on. But honestly, if anyone out there likes it it makes me so happy and is such a thrill!
Any future projects you'd like to share?
I play a lead role in director Nic White's short film Blood On The Lens which will be premiering in March and I'm editing the comedy That Wasn't Supposed To Happen. That movie is going to be crazy! Editing is certainly a tedious, high concentration-type job but it's helping that the film is so bonkers! You can check out the Facebook page for that one for updates but it will definitely be done in the spring.
What got you into the filmworld in the first place, and did you receive any formal education on the subject?
I started in hair and makeup and still do projects when they come my way. My "day job" is as a hairstylist and I have always loved it! My clients are great about letting me schedule around shoots and stuff! My first film was a comedy and from there I just met people and started acting and it's just lead to more things. I love it all! No formal education.
When it comes to filmmaking, you've worked in numerous positions, both in front of and behind the camera - so how come? And which jobs do you enjoy the most, which could you actually do without?
I love acting and, well, I love it all. I actually love the variety but I definitely approach things in a different way. If someone brings me on for a hair and makeup artist, they're not needing a director or actor so it's not about what I want, It's about trying to come up with looks that help THEM. As an actor I want to bring a role to life but I still get nervous. My job as an actor is to try to figure out what the director has in mind and why I got cast and then give it to them. As a director it's really fun to see it all come to life! I know being a director has helped my acting and vice versa. I don't want to give any of those jobs up. Please don't make me! Hehe.
What can you tell us about your filmwork prior to Bailiwick, in whatever position?
I've enjoyed everything. I love heading to a set and literally not knowing what I'm going to find. Are the people going to be nice? Is it going to be a bunch of really new people (I don't mind at all!) Will they be organized? I've been on such a variety of sets that I feel like I can truly say I have a lot of "experience". Not too many things are shocking to me! I really don't judge sets either. I get ultra low budgets, I get people doing multiple jobs, etc. I just like the creativity and I am lucky to be a part of it. If someone lets me be a part of their project I'm very thankful!
How would you describe yourself as a director?
Hmmm, oh wow. I'm trying to put myself in my actor's shoes from last summer. I want the actors and crew to have fun. Like I said before, there has to be a respectful environment on set. I want everyone to know their work is appreciated, and yes, I know that sounds like a director of ultra-low budget films, but it's just the truth! Sometimes on a big budget thing people are just doing "their job" but some of the magic of it can be lost. On a small film people are there because they want to be. I think as a director I'd like the actors to feel like they were a part of making their characters come to life even better than they were written. That's a great feeling and I'd hope the people in this new film would agree.
Your favourite movies?

Feeling lucky ?
Want to
search
any of my partnershops yourself
for more, better results ?

The links below
will take you
just there!!!


If I go to the movies now I really try to enjoy myself. I figure I'm not getting paid to review something so why not try to find something to like in it? Some of my favorites of all time are The Lost Boys, The Neverending Story, Terminator 2, Jaws, I love sci-fi and horror.
Your/your movie's website, Facebook, whatever else?
https://www.youtube.com/watch?v=2sOiZiLQ_Lc
https://www.facebook.com/bailiwickthemovie/
https://www.youtube.com/watch?v=70wkVbYDZ3Q
https://www.facebook.com/SellingStupidTheMovie/
https://www.facebook.com/TWSTH/
Anything else you're dying to mention and I have merely forgotten to ask?
I just wanted to say thank you for enjoying the film and the interview! I really appreciate your work of helping people live their dreams of indie film life!!
Thanks for the interview!