Your new movie Almost Mercy - in a few words, what is it about?
Revenge. The bond between two high-schoolers, looking for payback in their own, very different ways.
What were your inspirations when writing Almost Mercy - and to what extent can you identify with your main characters, actually?
B Dolan and I sat down and had a conversation about the type of movie we were gonna write. It turns out the world we're living in was scarier than most of the shit you see in the movies. So we decided to write about that. I think we've all been pushed around at one time or another. I think we've all wanted to lash out at one time or another. I don't think I'm the only one who can identify with that.
What can you tell us about your co-writer Bernard Dolan, and what was your collaboration like?
When I was working as an intern a while back, one of my jobs was to read scripts and give notes and coverage. A couple of those screenplays were B Dolan's.
I always remembered liking his stuff and him being very easy going in to work with in the writing room.
His writing had a unique voice that really stood out from the other scripts I was reading at the time.
We went in different directions for a few years and then linked up on Almost Mercy. It was great to work with him again. It was a nice reunion and we got the work done pretty fast.
B's also a talented songwriter/recording artist, so his mind is always in this mode to create which gives him the ability to crank out drafts quickly.
We're actually getting started on the our next project so I'm stoked to be working with him again.
With Almost Mercy offering a very fresh and unusual approach to school shootings - do talk about that approach for a bit, and do you expect to face controversy on that (or have you already)?
I'd prefer to take the fifth on this one, just to not give away too much in the movie. Happy to revisit the conversation once the movie comes out.
Almost Mercy does feature quite a few scenes of violence and gore - so what can you tell us about them, how were they achieved, and was there ever any line you refused to cross?
The gore was brought to you by Ben Bornstein. Chris Dooly also came in to help out on some of the bigger effects towords the end of the show. These two guys are about as good as it gets in the world of practical special effects. I was really fortunate to have both of them.
Ben designed all of the effects. He's always willing to devote a lot of his time into making the show look as big as can be while working within a tight budget. He's the best. We didn't want the gore to become a distraction. We felt as thought the scenes were strong enough without a bunch of crazy over emphasized gags drawing attention away from the story.
So we ultimately we went for realism.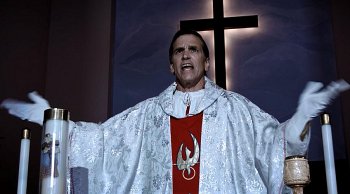 Bill Moseley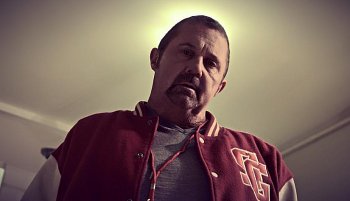 Kane Hodder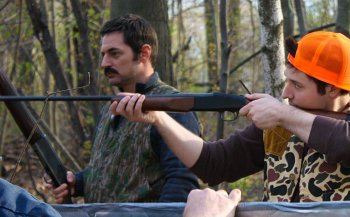 David Gere, Jesse Dufault
Do talk about your overall directorial approach to your story at hand for a bit?
I knew the movie was going to be very dark. We were dealing with some really sensitive subject mater. So for that reason, I threw a few curveballs in there with the tone of the film, trying to always keep the viewer off balance. I've always been one of those people who laughs uncomfortably when horrible things happen in my life. I think this movie, laughs uncomfortably through some of the delicate moments seen throughout the film. You get that feeling through Emily's narration.
Almost Mercy features horror legends Bill Moseley and Kane Hodder - so why them, what can you tell us about your collaboration with them, and how did you get them even?
Producer Chad A. Verdi has always been able to wrangle in high level talent.
I've always wanted to work with Bill and Kane. Of course, I started off as a fan of their work growing up. Chad and I had worked with Michael Berryman in the past, and they have the same manager, so he reached out and we got the ball rolling.
It kind of seemed like a lay up for Bill to play a fiery preacher with questionable morals and plenty of skeletons in his closet. Bill is just a consummate pro. He was able to walk on set, embody the character, and not only nail his scenes, but take them up to a level I never even imagined. He also was very patient, spending a lot of time in the make up chair, especially when we laid facial hair on him for his 1892 Mercy Brown flashback.
Kane plays a testosterone pumping, drill sergeant of a gym teacher. It's such a great character for him and he plays it flawlessly. Kane really shows off his acting chops with one of my favorite monologues in the whole movie. I think his fans are really gonna like what he brings to the "Coach" character.
Almost Mercy also has quite a few professional wrestlers among its cast - so do talk about them for a bit, and what did they bring to the table?
I always look forward to working with pro wrestlers. They're really talented people, can handle a performance and they come with an extra skill set you don't get from ordinary actors - they're tough as nails, natural stunt performers.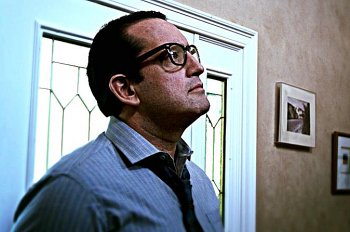 Tommy Dreamer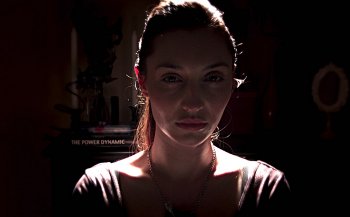 Danielle Guldin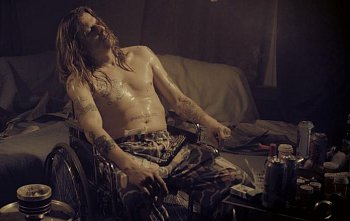 Eric Nyenhuis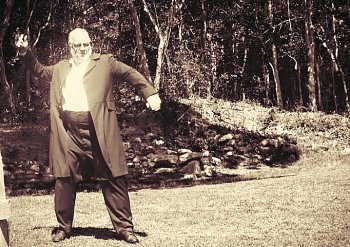 Fred Sullivan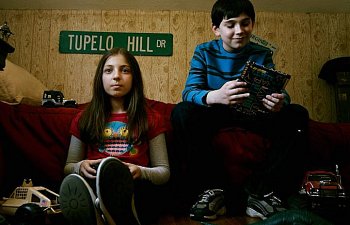 Eva Senerchia, Jonah Coppolelli
I was lucky enough to work with Tommy Dreamer again on Almost Mercy. I wanted to do something really different with him, so I asked him to shave his signature goatee. He trusted me and jumped into the role with both feet. We threw a pair of eye glasses on him, a necktie with a part in his hair, and suddenly he transformed into a really interesting character. Still very much Tommy Dreamer, in his intensity, but a whole new version, we've never seen.
Mike Bennett, who's quickly rising the ranks as a top guy in the pro wrestling world, made his feature film debut in Almost Mercy. He preformed one of the best stunts in the film. He really seized the opportunity and I can see us working together again down the road.
I also got the chance to work with William Decoff, who wrestled back in the territory days as Sean O'Reilly. William still has the stone cold look of a grizzled ring veteran, which he uses quite well playing a crooked hardass sheriff in the movie. Funny part is, in actuality he's one of the nicest guys on the planet.
David Gere has a great cameo in this film as a creepy social worker, who gives horrible advice to troubled kids. His character exudes slime, much like his pro wrestling character, DG Haven.
It was a blast working with these guys. I could go on and on about how great they are have on your set.
What can you tell us about the rest of your cast, and why exactly these people?
Danielle Guldin is the quarterback of this cast. She really set the tone, kept the pace and delivered. She dealt with some really tricky materiel and had to go to some very dark places to preform. She's also one of the toughest people I've ever met. She keeps herself in peak physical condition which really payed off because this was a very physical role, so she showed her tenacity and really was a leader on set.
Jesse Dufault played her counterpart, Jackson. A lot of guys from all around the country auditioned for this role, but Jesse, a local guy, just kept sticking out in the auditions. There was something about his on screen ability that makes you feel compassionate about him and you find yourself pulling for him in some of the strangest circumstances. He really stepped up and showed he's got the chops be a leading man.
Fred Sullivan played Principal Elwood. I've been dying to work with this guy for many years, so when the schedules came together and worked out, I was thrilled. He's so talented that I found myself forgetting to say cut when I was behind the monitor because I was just in a trance watching his performance. That's usually a good sign.
Eric Nyenhuis plays Jackson's father, Carl. It's a sweaty, nasty, shameless performance. One of those characters people are gonna' love to hate.
Watch for Alexander Cook as well. He drives the train on what's by far my favorite scene in the movie, in probably the most unpredictable turn the story takes.
Tanja Lynch plays a very difficult role as Emily's drug addled mother. She showed off a lot of courage as an actress, in having to work through some very difficult scenes.
Our two child actors, playing young Emily and young Jackson, Eva Senerchia and Jonah Coppolelli, were unbelievable and so much fun to work with. I never worked with kids before, so it was really rewarding to see them take direction and add their own little nuances to the characters.
Overall I couldn't be more thrilled with the cast and a lot of that credit goes to our casting director, Anne Mulhall, who was able to bring in a stockpile of talent for this cast.
Do talk about the shoot as such, and the on-set atmosphere!
The atmosphere was really great. I've worked with a lot of these people before so we all know what to expect and we all gel really nicely.
I think there's always a little extra sense of fun on a movie with lots of practical effects too. It's like every other day, you know you're gonna have front row seats to a messy show.
A few words about audience and critical reception of Almost Mercy so far?
To be honest, not many people have seen it yet, so it's all still very fresh. I'm excited to see the response.
Any future projects you'd like to share?
B. Dolan and I are back at it again. We look to have another film in production sometime in '16.
You first entered the filmworld as an actor - so what can you tell us about your acting career and about Tom DeNucci the actor? And did you receive any formal training on the subject?
I think coming up as an actor gives you a little edge because when it comes time to direct, you can relate to your actors on set. You know what their thinking about, you speak their language, you can envision any concerns they might have. I trained at the Gamm Theater, right after college. It was a great chance to build a foundation and work with some talented people right from the start.
What inspired you to step behind the camera eventually, and what can you tell us about your work as a director prior to Almost Mercy?
I actually started off directing music videos and short movies in high school, so it wasn't really that big of a stretch for me. Directing was always something I wanted to do.
I directed a movie called Self Storage, with Eric Roberts, Michael Berryman and Jonathan Silverman. My second feature was Army of the Damned starring Sully Erna, Michael Berryman, Tony Todd and Joey Fatone.
I got a chance to mix it up with some heavy hitters in the industry and learn a lot. Those movies were all light horror comedies, campy fun, that sort of thing. Almost Mercy is something totally different. It was an opportunity for me to tell a much more complete, much darker, story.
How would you describe yourself as a director?
I try to keep things positive on set. I don't think anyone benefits from some power tripping guy, perched up in a chair screaming at everyone. I try to keep everyone motivated. Make everyone feel like they're a part of what's going on, because the truth is, they are. It can't be done without every single person on that set doing what they're supposed to do at all times.
Filmmakers who inspire you?
Martin Scorsese, Quentin Tarantino, David Lynch, the Coen Brothers, Abel Ferrara, John Waters.
Your favourite movies?
The Big Lebowski, Casino, Rocky, From Dusk till Dawn, Dumb & Dumber, Star Wars The Empire Strikes Back.
... and of course, films you really deplore?
I don't knock any other films. I know how hard it is to make one. To me just getting across the finish-line is an accomplishment. That been said, Dunston Checks In sucked.
Your/your movie's website, Facebook, whatever else?
https://www.facebook.com/AlmostMercy?fref=ts
@tomdenucci on Twitter.
@Woodhavenprodco on Twitter.
Anything else you are dying to mention and I have merely forgotten to ask?

Feeling lucky ?
Want to
search
any of my partnershops yourself
for more, better results ?

The links below
will take you
just there!!!

Find Tom DeNucci
at the amazons ...

amazon.com

amazon.co.uk

amazon.de
Looking for imports ?
Find Tom DeNucci here ...
Something naughty ?
(Must be over 18 to go there !)

Almost Mercy will be released worldwide on VOD May 26th.
The following platforms will carry Almost Mercy: iTunes, Amazon Instant, Google Play store, Vudu, Xbox, Sony Network, M-Go and Blockbuster On Demand.
In addition, it will be up on the following Cable provider's VOD platforms: Verizon FiOS, Cablevision, Charter, MediaCom, and a number of smaller regional cable providers.
Thanks for the interview!
Thank you! It's been a blast!