To kick this off, could you introduce yourself to those of us who don't already know you?
My name is Laura Ellen Wilson and I am an actress and black belt martial artist based in Lancashire, UK. I work mainly in the horror genre between the UK & US! You may have seen me on your screen either ugly crying or covered in blood :P
How would you describe yourself as an actress, and some of your techniques to bring your characters to life?
Those who I have worked with are very aware that I use method as my main technique. Many actors consider it a dangerous practice as there have been many who have gone so deep into the method for a prolonged period of time and ultimately, had trouble distinguishing between reality and non-reality. For me, it is one of the main ways how I connect with my character and I consider it a mix of other techniques such as the teachings by Stanislavski and Lee Strasberg, which I also draw upon.
Do talk about some of your current and future projects for a bit!
There are many current projects right now due to Covid pushing everything back!
Imminent projects are Survivor Girls shooting in Alabama next month (April '21) in which I play the role of Ariel and am also the stunt coordinator. At the end of May, I will be making my directorial debut on my personally penned short film In Bluebell Wood featuring 32 incredible child actors and 5 top adult actors from around the UK, shooting here in Lancashire. In July '21 I will be in Hungary shooting the role of Lily in I Hear The Tress Whispering and in the summer leading roles in British TV pilots Day One and Swords of Scavelia. In 2022, I will be back stateside to shoot the lead role of Abigail Scott in Barry the Hatchet and the role of Tara in Reflecting the Void. There are a couple of projects which are currently unannounced, which I am unable to mention just yet, but I am sure you'll hear all about them very soon!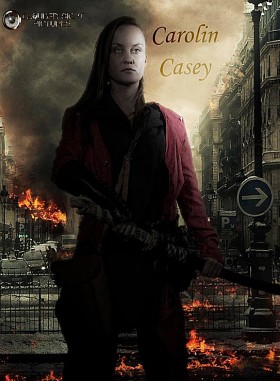 promotional art for Day One
Let's go back to your beginnings: I've read somewhere that you started out as a dancer and singer, among other places also on cruise ships - so what can you tell us about that part of your career, and in what way did it prepare you for being an actress?
That's correct! I knew that I wanted to be a performer aged around 12/13 and this was also when I developed a love for musical theatre. At 16, I went to college to study Musical Theatre Performance for 2 years and during this time, I made the decision that whilst I was young, I would travel and work first and when my body was no longer able to sustain the hectic lifestyle of 18 hour days, performing 2x 90 minute shows every evening, including running poolside activities throughout the daytime, I would transition to screen acting. In late 2016, I was working as a choreographer for a 5* Resort in Lanzarote when I sustained a serious back injury, and this ultimately put a stop to the career.
I would certainly have continued my overseas work for another few years had I not had the injury but then again, I believe I would not have had the same opportunities as an actor if that was the case. I am a huge believer in fate and everything that happens for a reason. At the time, such a quick end to a career I had worked so long and so hard for was an incredibly difficult blow, but now I know that it was meant to be.
What got you into acting eventually, and did you receive any formal training on the subject?
Back in 2013, I attended an intensive camera acting course for 4 weeks at The American Academy of Dramatic Arts (AADA) in LA, and this really ignited my love of the art, as well as my love for the US.
I made the decision to start acting fulltime around 4 months after my injury, early 2017. It was based on how I had mapped out my career prior to embarking on the Musical Theatre course, and screen acting was always an ambition of mine. I started training as an actor with Laurence Olivier Award winning playwright and actor Jim Cartwright and gained a lot of knowledge from him and his teachings. Since then, I have attended one-off training sessions with industry professionals, but I am extremely fortunate to say that a lot of my training has been 'on the job'.
Monster
Can you still remember your first time in front of a movie or TV camera, and what was that experience like?
My first time on camera was aged 12, and I remember that when travelling to set on my first day, I was terrified. I remember it being my first ever experience of feeling physically sick with nerves – definitely something I am used to by now though :P I had absolutely no idea what to expect, if I was going to be good enough. I was so scared of getting there, starting to perform, and then being fired for being rubbish!! Within the first hour, I felt so at home and at ease on camera and I really knew during this first time on set, this is what I want to do with my life.
From what I know, you're also a black belt in Kung Fu - so in what way (if any) has that helped you in your acting career?
I am indeed and yes; I believe it ignited the initial spark and definitely the confidence. It was through my Kung Fu club that I had my first AND second experiences on camera, both as a lead role in short films. Both films were created to raise awareness of the martial art and the importance of knowing how to defend yourself.
So what can you tell us about your past filmwork, and career highlights so far?
Career highlights have been shooting Monster, my first leading role in a feature film since making the decision to start acting full time. Leading role in feature length anthology Surprise, which has also seen me win 4 Best Actress awards and numerous nominations worldwide. A massive highlight has been both movies I worked on in the US – Washington and Alabama. There have been many other highlights along the way, but these are the main ones which come to mind.
Going through your filmography, it seems you return to the horror genre time and again - mere coincidence, or is this a genre you're at all fond of, and why (not)?
Honestly, I never set out the have a career in the horror genre, but I am certainly not sorry about it!! I think horror is the most commonly produced indie film genre, so I think it has just been coincidence that I have naturally fallen into the 'horror-sphere'. I absolutely love horror and have done for as long as I can remember!
Actresses (and indeed actors) who inspire you?
This is always a tricky one for me because I have so many inspirations and I am sure my answers change each time!!! Leonardo Di Caprio, Rose Byrne, Sandra Bullock and Cameron Diaz are the main ones right now. British actress Keeley Hawes is also a huge inspiration!
Your favourite movies?
My absolute favourite is Matilda, which is weird because everyone always expects me to say a horror movie! I also love Murder By Numbers with Sandra Bullock and The Others with Nicole Kidman.
... and of course, films you really deplore?
Noooo I hate this question!!! Okay, I didn't deplore it, but I was super disappointed with Us.

Feeling lucky ?
Want to
search
any of my partnershops yourself
for more, better results ?

The links below
will take you
just there!!!


Your website, social media, whatever else?
Facebook: www.facebook.com/LauraEllenWilson
Instagram: www.instagram.com/laura_ellen_wilson
Twitter: www.twitter.com/Lauraa_E_Wilson
Anything else you're dying to mention and I have merely forgotten to ask?
As always, I would like to thank you for this opportunity to express myself via an interview. It is very much appreciated!!
I would also like to thank my followers for constantly inspiring me to work on fantastic projects and bring some great action to the screen – here's to 2021 and may it be a fantastic year for everyone.
Thanks for the interview!