Your upcoming movie Morning After - in a few words, what is it going to be about?
Morning After is a provocative comedy about sexual identity, friendship, and love, that takes place over one eventful night with a group of five close friends.
What prompted you to make Morning After your screenwriting debut, and is any of it based on personal experience?
Iíve been writing for a few years now, but never produced any of my stories. So one day (at the time I was living in Toronto) I really wanted to have the experience of having something of mine be produced. So it was one of the first days of spring, one of the first hot days, and I was feeling nostalgic about Montreal. And so I sat at my computer and put on some music and within a couple of hours Morning After kind of poured out of me. Morning After is not based on personal experience, however it is a reflection of some experiences in my life but most of it is fiction. The essence of it is based in real experience that grew into what the story is. The characters are all fictional except for the character of Dana who is based on a real person, a very dear friend of mine, she has her own line of perfumes called Jazmin Sarai.
Other sources of inspiration when writing Morning After?
I think my general fascination and curiosity about the human experience and particularly human sexuality and sexual identity, and how that influences who we are, how we act, and what we believe (about ourselves and others). I wanted to write something that showed people freeing themselves of those chains, feeling that exhilaration and confusion, a kind of identity crisis if you will, but that ends on a positive note.
Morning After is described as a "funny and provocative drama" - so could you at all elaborate regarding the tone of your movie?
In terms of tone, what I see in my head when I think of the movie, of this world, is a very layered and textured film that you could almost taste, itís so specific that when you watch it's almost like you're in that room, that you could almost taste the chocolate, smell the incense, the smokeÖ itís very smoky; itís some kind of a four-dimensional film experience in a way, and itís very kind of warm and inviting and sensual and earthy.
You also play one of the leads in Morning After - so do talk about your character for a bit!
I play the role of Edward, he is Michaelís childhood friend. Edward is sort of a grounding force in the film, the voice of reason. Heís the one Michael goes to for advice and solace in the midst of his identity crisis. Heís also best friends with the rest of the characters. From all of the characters I wrote, Edward is, in a lot of ways, most like me, like an extension of certain parts of me. Itís a pattern in my writing; thereís usually one character that I identify with the most and I use that character as a vehicle to sense the world and feel the relationships with the rest of the characters.
What do you draw upon to bring Edward to life, and have you written him with yourself in mind?
I did not write Edward with myself in mind. In fact initially I did not want to act in the film, but when it came time to shoot, I just couldnít find the right Edward, so I stepped in to play the part. Itís an interesting dynamic, to be the writer and actor. Because I created Edward, and he was that character in the story that was sort of an extension of certain parts of me, it was strange to play him, when he came from meÖ Rationalizing it doesnít make much sense, but in the moment, when we are shooting, Edward is suddenly there, heís effortless to play, all I had to do was just be there, and listen to the rest of the actors. Itís weird and really cool, to not try to act or perform, or produce a result, but have it all happen as a reaction to whatís going on around me.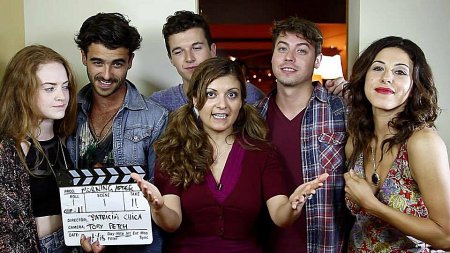 Zoe de Grand-Maison, Luca Asselin, Thomas …ric ValliŤres, Patricia Chica, Kristian, Cristina Rosato
What can you tell us about your director Patricia Chica [Patricia Chica interview - click here], and what's your collaboration with her like? And how did you two first meet even?
Patricia Chica is a powerhouse. Iíve never met anyone so dedicated, committed, fearless, and driven in my life. Combine those qualities with exquisite talent, kindness, and intelligenceÖ sheís unstoppable. The first I ever heard of Patricia was through my agent, for an audition I sent to her. Never heard back, but apparently, thatís when she took notice of me. I remember receiving a phone call from her, offering me my first lead role in a feature. It was insane. Weíd never even met in person. From that point on, we started attending festivals together, from the Oaxaca FilmFest in Mexico, to Cannes. Itís been a crazy ride. Anyone whoís fortunate enough to share their journey with Patricia will be transformed. Sheís the next Tarantino, at least.
As both writer and star of Morning After, how much creative control do you have over your project?
TOTALLY, COMPLETE, DICTATORIAL CONTROL. Iím kidding. Itís super natural and smooth. I write the script, the world is in my head, and Patricia is the bridge, the facilitator, she helps take whatís on paper and put it onto a screen. The creative balance is super natural, and organic. I send her new drafts, she gives me notes, I send it back, and so forth. We have the same vision of this movie, and I knew that from the moment I stepped onto the set for the filming of the teaser. The way she had the living room decorated, which is the central space of the film, was to the tee, exactly what Iíd imagine, and we never had a production meeting about set design. I trust her utterly, completely, itís been an incredible process, collaborating with Patricia.
Do talk about your co-stars, and were you at all involved in the casting process?
I would love to! Thomas …ric ValliŤres, Cristina Rosato, Zoe de Grand-Maison, and Luca Asselin. Iím in love with all of them! I feel so blessed to have found these four incredible actors. Patricia and I decided that I would take care of the casting process, and, since we didnít have a lot of time before shooting, I had to hand pick my actors instead of holding auditions. The process was so easy, and incredibly synchronistic.
I first found Thomas Vallieres for the role of Michael. Michael was tough to cast because he could be anybody, heís kind of the every-man character, the boy-next-door if you will, which is a very broad spectrum. Meeting with Thomas was like ďHeís Michael, itís a no-brainerĒ. Thomasí work is so natural, simple, and cleanóreally rare qualities if you ask me, and heís adorable, and so likeable, heís the perfect Michael.
Next was Luca Asselin, for the role of Alex. Alex was the most challenging part to cast because heís incredibly specific. Firstly, heís the only character that speaks both French and English in the film, which narrows down the talent pool considerably, plus I didnít know that many bilingual actors to begin with. Next, he had to be striking, the kind of beauty that takes your breath away. Thereís a lot of beautiful actors out there, but we needed a very strong actor, who didnít play his beauty, but whoís inner beauty made him as beautiful as he was. When I met up with Luca, I was enthralled by him. He was so free and comfortable in his own skin, unaware of how beautiful he is; charming, and so unique. Iím glad he accepted the role, because I couldnít see anyone else playing Alex.
Next was Cristina Rosato in the role of Dana. Dana is the only character in the script based on a real person, a dear friend of mine. I fell in the trap of trying to find Danaís ďdoppelgangerĒ, and it soon became clear to me that person didnít exist. I met Cristina at a table read of Morning After in Toronto, which was being produced by a wonderful organization called Queer Ideas, created by director, producer, and casting director Ron Leach, where Cristina read for the role of Dana, and was spot on in her interpretation. We were honored that Cristina accepted to play the role of Dana, and has done a pristine job in doing so.
Last, but not least, is Zoe de Grand-Maison, for the role of Teegan. When it came to casting Teegan, I was out of ideas, I had all of my cast ready except for Teegan, and we really needed someone who blended naturally with the group. I met Zoe in Toronto, who was referred to me by Patricia who had seen her in an audition for her feature Montreal Girls. Zoe was adorable, quirky, and understood the Montreal Ďfeelí we were going for. She booked the role right there, on the spot, it was a super easy decision.
As far as I know, only a teaser for Morning After has been shot so far - so what can you tell us about that shoot?
It was intense! We didnít have a lot of time: one over-night shoot, where we tried to capture essential pieces of the script, moments, and chemistry between the actors. You have to understand, none of actors had worked together before, they all met for the first time the day of the shoot, we didnít have time for rehearsal, only a brief table read. Chemistry was instant! The moment the cast spoke my words out loud, it was like magic. They just Ďgot ití, there was nothing to change or adjust. We got on set, got into character, and Patricia captained the ship all through the night and into the dawn. One moment youíre in it, the next, itís all over. We were exhausted, but high on adrenaline. I knew we were creating something special. And it wasnít only me, Patricia and the cast, the passion they had about this film mirrored my own. It was one of the most amazing experiences of my life. Zoe and I decided weíd try to stay awake until the evening, we lasted 35 hours with no sleep. It was hilarious, and a lot of fun. A great way to celebrate the end of our first milestone with Morning After.
You're currently running a fundraiser for Morning After - so do talk about your campaign for a bit!
I feel so blessed by the amount of support we have received so far. Weíre on board with executive producer Marc Carle and co-executive producer Tariq Rahman and a whole bunch of people donating whatever they can to make this movie happen. I think weíre at almost 40% of our goal and we still have 20 days left of our campaign. Itís been incredible. People have reached out to us from around the world to show their support for this film.
https://www.indiegogo.com/projects/morning-after-the-movie#/
Once your funds are raised, what's the schedule ... and any idea when and where the film might be released yet?
Great question. No idea. This oneís for Patricia. I believe she wants it to premiere at Sundance. Iíve never been to Sundance, and itís kind of the perfect festival for Morning After. SundanceÖSun Ė Dance, has a sweet ring to it.
Any future projects beyond Morning After you'd like to share?
Well, at the moment, as we say in the industry, itís too early to announce. Thereís a few projects I have on the horizon, acting wise, and as for writing, Iím developing the Morning After feature script, as well as another feature film which I should be announcing shortly.
What got you into acting in the first place, and did you receive any formal training on the subject?
I had a sort of Ďexistential crisisí when I was 13. It had dawned on me that Iíd never thought about my future, and I had to, it was primordial, I had to figure out what I was gonna do with the rest of my lifeÖ at 13Ö totally makes sense, right? So I kinda did, that day, out of sheer willpower I kinda made myself decide, and I got a vision of me, in the future, being actor, and it felt right. I went to theatre school, at Concordia University in Montreal, and Iíve trained with John Strasberg over the years, and one of my mentors Gilles Plouffe.
What can you tell us about your filmwork prior to Morning After?
I think Iíve had a pretty successful career so far, of course, we always want more work, steadier work. Everything Iíve done so far has taught me so much about being an actor, being on set, and being professional. Iím always growing as an actor, but I think Iím finally finding a stable footing in a very unstable and unpredictable career.
How would you describe yourself as an actor and as a writer?
Weird. (laughs) I donít knowÖ Iím always trying to stay who I am, and always go deeper in my understanding of who that is. Iím just me. People that know me would probably be better in describing me than me. I love what I do, so Iím usually in a pretty good mood, and pleasant to be around. In acting, as in writing, Iím always seeking for truth, to be in the moment, live in the moment, and express whatever comes to me in the most human, and real way possible. I love people, and love connecting and collaborating with others.
Actors, writers, filmmakers, whoever else who inspire you?
Everyone! Athletes, the cute old lady at my local fruit stand, President Obama, Serena Williams, Anthony Hopkins, my family, my dog, nature, loveÖ Life inspires me. Everything inspires me, even the bad stuff. Weíre all just learning to play more freely in this game called ĎLifeí.
Your favourite movies?
Last Summer by Mark Thiedeman, anything Alejandro G. Inarritu touches, everything Pedro Amoldovar, every Meryl Streep movie, Aaron Sorkinís The NewsroomÖ my all time favourite film, donít laugh, is The Lion King. There isnít enough space or time for me to tell you why.
... and of course, films you really deplore?

Feeling lucky ?
Want to
search
any of my partnershops yourself
for more, better results ?

The links below
will take you
just there!!!

Find Kristian Hodko
at the amazons ...

amazon.com

amazon.co.uk

amazon.de
Looking for imports ?
Find Kristian Hodko here ...
Something naughty ?
(Must be over 18 to go there !)

Wouldnít be able to tell you because I never finish a film I donít like, if I donít like the first 10 minutes, Iím out.
Your/your movie's website, Facebook, IndieGoGo, whatever else?
Kristian Hodko is my handle for everything social media.
The link to the IndieGoGo campaign is https://www.indiegogo.com/projects/morning-after-the-movie#/
My IMDb is imdb.me/kristianhodko
Anything else you're dying to mention and I have merely forgotten to ask?
You guys are awesome. Iím so grateful for the opportunity to talk about Morning After. Please help us out. Weíre almost at our goal. This is a project I really believe in, and I think itís a story that needs to be told. Also, Iím looking for an LA manager, so Iím up for grabs!
Thanks for the interview!