Your new film is called Crazy Animal. Can you tell us in a few phrases what that film's about?
The film is about three frat boys that are invited down the coast to party at a beach house with some hot girls. When they arrive, however, they find a weird cheesy metal guitarist who lives in a shack in the woods. Things get crazy...

John Birmingham as Ricky
Cheesy 1980's heavy metal seems to play crucial role in Crazy Animal. Would you like to elaborate on that, and who are some of the best and worst protagonists of that genre?
Yes, the character Ricky in the film decided to use his cheesy metal getup to entice and allure in the frat boys. Some of the best protagonists I have seen in the past of the cheesy 80's metal genre I guess would be, if you count their characters in music videos, Twisted Sister's Dee Snyder and David Lee Roth, maybe, in their music videos... or Spinal Tap in the Spinal Tap movie.
A question directly linked to the above: What can you tell us about your movie's soundtrack?
It features the critically acclaimed Army Navy (sounds like a very mello, new wave Pixies meets The Violent Femmes sort of sound) and also France's and the world's only Gore n' Roll band Banane Metalik. And other bands like Monsters From Mars play. Additionally, I, John Birmingham, the director/Ricky in the movie, play my own original songs in the movie.
For Crazy Animal, you struck a distribution deal with Troma. Have you at all been influenced by their house style?
They were one of the influences to me in making this film, in the nudity that is in the film, lol. It's there for a reason!
Troma-head Lloyd Kaufman also makes a cameo appearance in the film. How easy/difficult was he to work with?
He was very easy to work with because he was paid very well. At the time I didn't know he sometimes worked for free or very little on the right projects, so I paid him something nice, and he was in a great mood the whole shoot.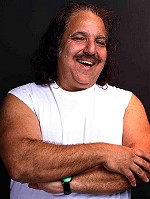 Ron Jeremy
Another guest star in Crazy Animal is porn legend Ron Jeremy, who seems to be in a lot of indie horror-films these days. A few words about your collaboration with him?
It was a great on set experience. He is a super professional and easy to get along with, a truly great actor, but unfortunately his reputation as the most famous porn star may hold him back a bit in the non-X rated arena. But he is a great person. He just doesn't believe in monogamy, which is fine and very normal for most guys out there who are not married... but Ron takes it to an immense level, which is his preference and fine. Really, it is not like he is married and a swinger or something too far fetched, he is unmarried, and everything he does is legal and legit. He is a great guy, just underrated because of his rep.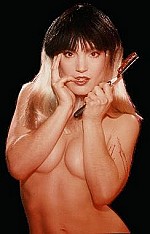 Brinke Sevens
Another prominent cast member is Brinke Stevens ...
Yes, she was very professional and easy to work with. Before becoming a scream queen she actually received a master's degree. A truly interesting, intense and nice woman.
The lead character in Crazy Animal is played by yourself though. A few word about John Birmingham, the actor?
Haha, thank you for asking. I am relatively new to acting, have only been doing it about 5-6 years. I plan to really take off in the near future. My wife and I are developing a new feautre film, my third starring feature, where I can finally just concentrate on acting, instead of having to physically produce and hold everything together in between acting. It will allow me to truly concentrate on my craft as an actor, and I plan to do a LOT more of this in the future, or hire out a lot more on future films as opposed to me bearing the brunt of having to do a lot of the editing and post production and physical producing sort of stuff. So, its gonna be a great load of fun the way I have it planned!...
Your main influences for the film?
My main influences for the film were, from the start old 80's cheese metal videos really. I wanted to truly become one of those guys. I guess I became my own version of it somehow. And then, the great filmmakers, Peter Medak, Peter Jackson, and even a little Lloyd Kaufman.
My main influences: Perry Farrell, Dave Navarro, Steven Perkins, Red Hot Chili Peppers, Danzig, Peter Jackson, Ben Stiller, Jack Black.
When and where will Crazy Animal be released on DVD?
March 31, 2009. I am not sure which stores, but they are planning on Walmart, Best Buy, Netflix and beyond.
The film's website, mySpace, whatever else?
www.myspace.com/crazyanimalmovie
On Crazy Animal, you perform multiple duties, director, writer, actor, producer, you even wrote some of the film's score - which do you enjoy the most?
I enjoy acting as a comical character, not as myself, and I enjoy singing/making the music and directing the most. The rest of the stuff I learned out of necessity, editing, which I am very good at now, I only did so that I could make my own films. I guess it is a good skill to know, but I really like acting as a comical character the best and directing and I may have failed to mention writing. I love writing, because I am a philosophical person and I am trying to better the world through my filmmaking...
Crazy Animal wasn't your first movie though. How did you break into the film industry, and some words about your previous films?
Umm, well, Crazy Animal was my first feature film, but I had made award winning short films before and done production design with Full Moon Pictures in Hollywood, building sets and props and stuff. You have to start somewhere, and I just was always meant to be a filmmaker it seems. All the writing I learned in high school and college and art I did when younger and music I did all growing up and desire to make the world better, it all points toward filmmaking for me, so I just got started any way I could. When I was 19 I moved to L.A. and started working on sets of movies and learning it and doing it. It took me over ten years to finally release my first feature film, but I already have my second feature in the can, The Vampires of Zanzibar. So you just do it, really. The more you push for what you want, the earlier the better, is the advice I would give to anyone out there.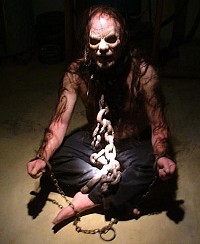 Still from Vampires of Zanzibar
Your next film after Crazy Animal is tentatively titled Vampires of Zanzibar. You just have to tell us a little bit about that film because of the wonderful title alone!
Hahaa, thank you! It is about a little town in Virginia called Zanzibar, and the whole town starts converting to vampires overnight, and it will spread the world over in a matter of days... so Paul, an 18 year old half breed vampire, gets together with his girlfriend and dad and starts trying to kill all the vampires in the town trying to save the world. It was a great experience to work with everyone on the movie, I made some realy life friends on this movie, people I will always work with. A ton of fun, a cast/crew of 150 people, some as far as Iceland and Sweden. And it's really, really funny. A really hilarious, and dramatic good movie. Not sure when it will release, I am finishing the post production right now actually...
Any other future projects?
Yes, but it is top secret so no one will steal the idea. We are developing it right now. It is a gay comedy of sorts, funny for gay and straight audiences.
Directors, writers, actors, musicians who have really inspired you?
Well, just any real auteur who has made their original mark on the world, made people see their perspective, truly gotten their ideas across and changed things for the better somehow. Real genius types I like, lol.

Feeling lucky ?
Want to
search
any of my partnershops yourself
for more, better results ?

The links below
will take you
just there!!!

Find John Birmingham
at the amazons ...

amazon.com

amazon.co.uk

amazon.de
Looking for imports ?
Find John Birmingham here ...
Something naughty ?
(Must be over 18 to go there !)

What kind of films do you watch privately, and your favourite movies?
Well, anything new comedy, because my wife and I are on a comedy kick now, we're on a roll with these comedy feature films, so we try to get movtivated by that... however, my true dream is to be able to make an Oscar-worthy type of dramatic film that also has funny elements intertwined. I don't think it has been fully done before.
... and some movies you really deplored?
I loved, loved loved the marketing behind the Blair Witch Project, but artistically, it was really a bad movie, made me feel bad to watch. I love the filmmakers though, true geniuses at what they do. But I just don't like movies that make me feel bad, including the Saw movies. I mean, the guy who directs those is a genius and all, but I don't like to feel bad when I watch a movie, I like to feel good as much as possible during the movie.
Anything else you are dying to tell us and I have simply forgotten to ask?
That covers it!!
Thanks for the interview!