Your new movie Night of the Sea Monkey - in a few words, what is it about, and what can you tell us about your character in it?
First, thank you for granting me this interview, Michael. I appreciate your time and interest. Night of the Sea Monkey: A Disturbing Tale is an original, offbeat, and darkly funny independent horror short that tells the tale of one of THE most dysfunctional suburban families EVER! The Sea Monkey is the manifestation of the frustration and loneliness experienced by the little boy (played beautifully by Sean Laguna) due to the negligence and indifference of his entire family towards him. That is MY take! On a simpler note, it is a campy and hilarious send-up of retro horror flicks of the 1970s as written and directed by Michael S. Rodriguez. It also offers a brilliant star performance that also serves as an homage to the legendary Lynn Lowry!
I play a bumbling and oblivious father who neglects his son and family, because he is too wrapped up in his own crap.
What did you draw upon to bring your character to life, and how much Joe Mannetti is there in Don O'Conner?
I sincerely hope that there is not a whole lot of Joe Mannetti in the identity that I created with Michael S. Rodriguez [Michael S. Rodriguez interview - click here]! A performance has to be real. So, I hope that I was able to project the frustration and lack of hope this character had as a result of his failed sense of a real connection to any of his family. I can relate to that part of it. There was a bit of my own father in my performance.
How did you get hooked up with Night of the Sea Monkey in the first place?
We met via the internet and networking! Michael S. Rodriguez and I had talked at length about films we loved, story lines, and our mutually shared penchant for exploring the offbeat and crazy aspects of life through film. We had conversations for HOURS about directors like William Castle and film noir like The Naked Kiss! We shared cult classics with each other that we LOVED like Screaming Mimi and What's the Matter with Helen? I grew very fond of Michael, and we clearly shared similar tastes in movie themes and styles. He is wacky, funny, and original as a writer! He has a wonderful sense of the absurd! I wanted to work with him immediately after those conversations! I sensed that working with him would offer me a chance to really let loose as an actor in the type of way out role and production that I enjoy so much! He graciously offered me the lead in this wonderful and totally original horror/comedy short titled Night of the Sea Monkey: A Disturbing Tale! It was a great opportunity with a fun lead role in the type of work that I love doing as an actor. Thanks, Michael!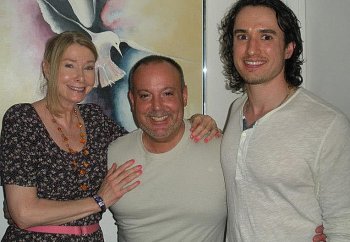 Lynn Lowry, Joe, Tyler Gallant
Do talk about your director Michael S. Rodriguez [Michael S. Rodriguez interview - click here] for a bit, and what was your collaboration like?
It was a fast and furious wild ride! We knocked Night of the Sea Monkey: A Disturbing Tale out in like FOUR DAYS! So, we hit the ground running from day one! Michael gave us a lot of creative freedom to explore and interpret our characters. That was generous of him. Honestly, I was a bit nervous about my scenes with Lynn Lowry since she is such a legend and so very talented as an actress in the industry. I felt that I would really have to step up my game in order to hold my own in my scenes with her. Well, she could not have been more warm and gracious on the set. Lynn is known for her work in horror. But, she truly has a keen sense of comedy and the absurd. She has us rolling on the set with her performance! I loved working with her! The entire cast was so talented and wonderful to work with that it made the experience very positive. Remember these names! Tyler Gallant, Rob Edwards, Caitlin Herst, Stacie Stocker, Patrick Giglio, Sean Laguna, Richard "RJ" Markham, Gora Chand Saha, and the legendary Lynn Lowry round up the awesome cast. Thanks to our associate producers Victoria Reece and Larry Valenzuela as well as our producer Rick Vasquez! Luis Javier Obregon created the creepy and cool musical score! Colten Curry gets cinematography honors! Our editor, Michael Burciaga, did an incredible job! Sound department honors go to Kevin Ashton, Jaymison Broyles, and Brandon T. Hickey! The actual creature design was by Matthew Wriston! I have no doubt that you will be hearing more from these talented people in the future!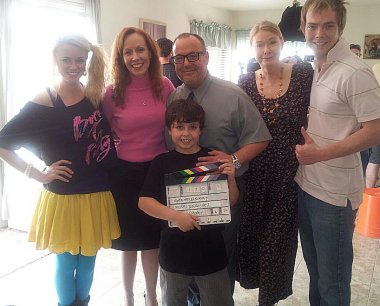 What can you tell us about the actual shoot, and the on-set atmosphere?
Well, we were fortunate to have a group of talented and very cooperative people on the set. Rob Edwards helped Michael with selecting the Arizona actors, and he could not have assembled a finer cast of actors. Of course, whipping together a film in FOUR days is bound to create tensions! It is not easy to create something that quickly! But, we did it! It was mostly thanks to the cooperative cast and crew. We had a few funny mishaps. We had a scene in which my robe gets ripped off revealing me bare chested as the monster attacks me. Well, we rehearsed it. Rehearsal went fine. Two crew members hid behind the bar, and they pulled the robe that was designed to break apart on cue. Unfortunately, when the cameras rolled, they pulled the robe AND my pajama bottoms off leaving me butt naked on the set for all to see! I am hoping that outtake does not end up on some "deleted scenes" version of the DVD.
Any future projects you'd like to share?
YES! I auditioned, and I was told that I would be cast in two New York based productions coming soon! More information to come as they both get rolling!
What got you into acting in the first place, and what can you tell us about your formal education on the subject?
I think most actors have their own journey, and it is very personal and individual. I have always been fascinated by people. My other work and volunteer work involving counseling is connected to that interest in human nature. I enjoy exploring characters, and getting to reveal things through portraying them. I think good acting should always be real. So, how do you project a reality that has not been a part of your actual experience without it coming across as forced or phony? For example, I have never murdered anyone. But, I have to make it real if I portray a murderer. One of my acting coaches once told me that you have to experience as much as can in order to be an effective actor. If you have to act out something you have not actually experienced, you have to draw on feelings that make it real. I haven't killed anyone. But, I can remember feelings in which I wanted to kill someone. I suppose we all get those from time to time. So, as an actor, I get this amazing opportunity to actually experience the act of killing someone in a scene via the dramatization of it. But, I have to make it real by feeling it and drawing on those feelings in the moment. It was a desire to explore experiences as interpreted through different characters and tell a story in my own individual way that drew me to acting.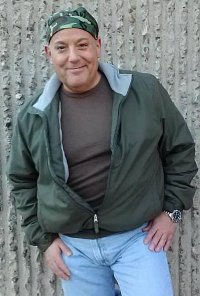 I studied acting and psychology in college. I started acting in plays as early as age fourteen. I graduated from school productions to New York shows and summer stock. Then, while I was studying at H.B. Studios in New York City, I did work on low-budget film shot in Brooklyn. That led me to taking a chance on Hollywood. It's been a fun journey. I do not think that I will have a predictable or "typical" path in acting because of who I am and the quirky independent projects I like doing. But, that is cool.
Before you broke into TV and films, you did quite a bit of theatre, right? So what can you tell us about that part of your career, and how does performing on stage compare to acting in front of a camera? And which do you prefer, actually?
Film work is quite different from stage work. You get more preparation and rehearsal time with stage work. So, the difference with film work, for me, is the amount of independent work and preparation I feel that I have to do as an actor before arriving on the set. In movies, you shoot out of sequence, and there is a lot of down time between shooting scenes on the set. So, I feel like there is an entirely different energy that I have to create in order to stay in character and keep my performance connected from scene to scene. A good film director will assist you with this process. But, without one, you have to build on your own technique as actor and hope for the best. I have not acted on stage in a long time. So, I have become more comfortable with film acting. But, who knows? I might get back to stage work again someday.
Do you still remember your first time in front of a movie or TV camera, and what was that experience like?
Yes! I was so nervous, and I really wanted to make good. I had a small role. But I got some good camera time. The film never went anywhere, and when I saw the cut of my reel that I was given it was just totally disappointing. The film was a complete mess - just awful. I couldn't really tell if I was good or bad since my acting was in this pile of crazy, nonsensical, and disconnected scenes. The director/writer wound up dying in a scuffle with the cops over some drug business in the LA area. Sad.
What can you tell us about your filmwork prior to Night of the Sea Monkey?
Well, in answer to your question, I had worked in some featured roles in some very offbeat and campy independent films prior to Night of the Sea Monkey: A Disturbing Tale. I like original work that is different and leans towards what some might describe as movies that have cult or "camp" status with most audiences. That type of cinema has always attracted my interest, and I always gravitated towards seeking work as an actor in those types of projects. Most of my work was in offbeat comedies like the web series Bad Porn (Bonzai Studios). That is the type of work that I love doing! Amber Price wrote me a crazy funny guest role in it, and her husband Troy Price directed the cast and I beautifully in the episode that I appeared in thanks to my LA acting friend Mike Pfaff recruiting me for the role. We had worked in a very over-the-top comedy spoof of a Taco Bell commercial back in Los Angeles, and he thought that I would be good in this equally over-the-top role. It was a lot of fun. I had not worked in much horror type acting projects save for one slasher gore-fest flick. As a rule, the real violent gory horror stuff never piqued my interest unless it had a weird dark funny side to it. If it has a good scene worth performing in with a chance to ham it up and do some real acting in the midst of all the mayhem, I will always consider it.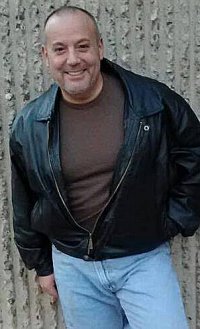 How would you describe yourself as an actor, and some of your techniques to bring your characters to life?
Well, I am always concerned about understanding the big picture in any production. By that, I mean that I like to really get a handle on what the writer and director are trying to say with any production. If they cannot tell me the objective of my character in connection to the theme of the story, I usually feel that I have to create a means to an end with them so that my performance makes sense. In other words, I try to craft an identity based on the environment that exists in the work. Once I get to a mutual understanding of what that is with the creators, I bring my own experience to the role to make their vision real. It has to be real. So, I have to know what I am doing based on where we decide to go to create a performance. There are always surprises, That is good, I think. I hope that makes sense.
Actors (and indeed actresses) who inspire you?
Oh! Two of my favorites are Jack Nicholson and Johnny Depp! Nicholson started in low-budget horror flicks playing a diverse variety of roles in way-out movies that have become cult classics! Look at his hilarious scene in the original The Little Shop Of Horrors! He went on to perform with quirky perfection in other very original and offbeat films. He is obviously a brilliant actor. But, I think his flair for offbeat and dark comedy comes across in just about everything that he does - even today. Johnny Depp is so dedicated to NOT getting stuck in mainstream work or typical leading man roles. I love his acting choices, and the career that he has built as a result of them.
Actresses include Susan Hayward because she is so compulsively watchable in ANYTHING that she does on screen! Of course, I love the always unique and offbeat subtly of beautiful Lynn Lowry!
Your favourite movies?
Horror: Peeping Tom (1960)
Film noir: The Naked Kiss (1964)
Dark comedy: To Die For (1995)
Musical: Gentlemen Prefer Blondes (1953), The Girl Can't Help It (1956)
Cult: Screaming Mimi (1958), Homicidal (1961), Straight Jacket (1964), Picture Mommy Dead (1966), What's the Matter with Helen? (1971)
Comedy: Lord Love a Duck (1966)
... and of course, films you really deplore?

Feeling lucky ?
Want to
search
any of my partnershops yourself
for more, better results ?

The links below
will take you
just there!!!

Find Joe Mannetti
at the amazons ...

amazon.com

amazon.co.uk

amazon.de
Looking for imports ?
Find Joe Mannetti here ...
Something naughty ?
(Must be over 18 to go there !)

Anything that is violent for the sake of violence or shouts the glory of provincial values as the norm in a typically pedestrian and mainstream style. Yuck!
Your website, Facebook, whatever else?
This is the link to my IMDB page: http://www.imdb.com/name/nm2361696/
Anything else you are dying to mention and I have merely forgotten to ask?
I am a work in progress. My life matches my career in that it is unpredictable, offbeat, and fiercely independent. I like it that way.
Thank you for talking with me!
Thanks for the interview!