Your upcoming movie Eyes Upon Waking - in a few words, what is it going to be about?
Eyes Upon Waking is a passion project, told from my heart, about the disease of suicide and how it is misunderstood by society. This film uncovers the darkness in the minds of those who suffer from their emotions, yet shows how light can be found with the right kind of help. Those who are lost to us cannot be returned - I want to bring awareness of what they went through to those they've left behind. It is for any person with a friend or family member who has taken their own life, and is left asking why.
Eyes Upon Waking visits some pretty dark places, especially in the beginning. Now I don't want to get too personal, but is any of this based on your own life/experience? And how much research did you put into writing your movie? And what inspired you to write the film to begin with?
Eyes Upon Waking is inspired by a true story about one womanís struggle to come to terms with her own existence. This film has garnered a great deal of interest from a wide range of people - not only those who identify with the main characterís search for understanding within herself, but others who have lost people close to them and want to understand why. The story is told with a surprising amount of humor, which keeps it entertaining while giving the audience a break from the drama.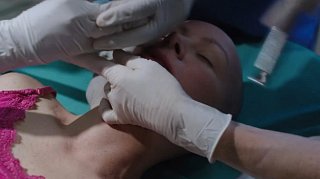 The target audience includes artistic-minded individuals as well as straightforward-thinking, everyday people who donít know what itís like to suffer their emotions. The appeal of the story is that it exposes psychological issues still mostly hidden throughout society - yet everyone in the world either knows someone whoís experienced these things, or felt this way themselves. When simply being alive is a life-or-death struggle, people are drawn to that conflict, and want to know what will happen with these characters.
What can you tell us about your writing partner Andy Golub, and what was your collaboration like? And how did you two meet up in the first place?
I started writing this story as a short to help showcase my acting ability, but when I showed it to others the majority said that I basically wrote their words and they could relate so I decided to make this a feature. I realized around the time Marie Osmond's son took his life that society was ready to hear this true side. So instead of making this a piece that would showcase me I decided it should be a piece to help speak for others.
Andy and I met when he was casting some films back in 2007 and we instantly connected. He has a way with taking words and bringing them to magic. This being my first collaboration was both wonderful and a pain in the ass, mainly because I wanted the story to be as true as possible, and Andy and I did argue about certain scenes, but in the end we came up with a wonderful compromise. Andy helped to strengthen the characters and take some scenes to the next level. He is a brilliant writer and I bring him on as many projects that have come my way to produce as I can.
As far as I know, Eyes Upon Waking's script alone has already turned quite a few heads at festivals and readings. Would you care to elaborate?
Eyes Upon Waking has been entered into different readings, one being the Table Read my Screen Play through Sundance, and we have been a finalist. Even though we did not win the end all, just by placing in the top percent meant that people are open to this kind of film. We had a professional reading a month ago and I was afraid only 5 people would show up. We had 50 people in total attendance. One of the attendees was a representative from distribution and we are in talks now.
You have chosen to play the lead character of Eyes Upon Waking yourself, right? Why, and what do you draw upon to bring the character to life?
Because this story is based on my life I was not planning on playing the role, but then after auditioning several actresses I realized that no one could really bring in the truth like I can. My challenge right now is to bring in that sadness that I went through because it has been 12 years since my last two attempts and I am so much stronger now. So now I am approaching it as an actor and not making it personal.
Anything you can tell us about the rest of your cast yet, and why these people?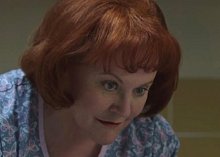 Edie McClurg
Yes, I have been so fortunate to get attached so many stellar actors that have been in the industry for some time. Edie McClurg (Ferris Bueller's Day Off) filmed with us in April and once we achieve full funding I have the following lined up: Tom Hodges (Revenge of the Nerds, Michael), Jeremy Jordan (Never Been Kissed, 90's pop star The Right Kind of Love), Becky Thyre (Weeds, Parks and Recreation, Flintstones), Zoey Diaz (Katy Perry's music video Wide Awake, NCIS) and much more. With full funding we're hoping to get attached Kathy Bates and Luis Guzman.
http://www.imdb.com/title/tt2586228/reference
You are co-directing Eyes Upon Waking with Bennie Woodell [Bennie Woodell interview - click here] - why did you decide to pick up directorial duties for the movie, and what makes Bennie your ideal partner of choice?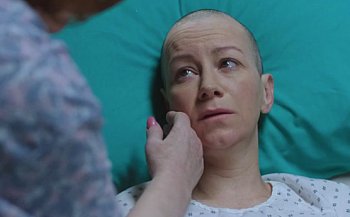 I realized that while I was interviewing directors, they were all asking me if I thought about directing my story. I do have a certain vision that I keep expressing to them, so the more I thought about it, the more it made sense for me to direct. I'm also playing the lead and I have never directed before so I realized to make sure the film is not compromised, I needed to bring on a co-director. Bennie and I both watch about 30 - 50 new films a month and share similar views on the type of projects we want to bring to the audience. A few years back, Bennie introduced me to Wong Kar-wai films and I have had the wonderful opportunity to work with him up close on Je T'aime, Au Revoir. I was really impressed on how he prepped his shoot and how much thought he put into the vision. I need to know that when I am not on set preparing for acting, that he will have my back. Also Bennie is able to bring in a certain style I felt Eyes Upon Waking was missing.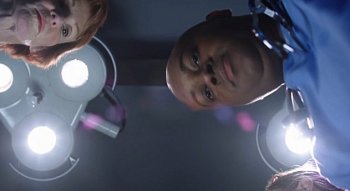 Eyes Upon Waking demands a very specific location for the majority of the plot. So what can you tell us about your projected location and location scouting and the like?
The true story takes place in Tucson so I wanted to do the filming there for reality. We recently filmed the 1st 5 pages on a sound stage in Los Angeles, CA and Tucson, AZ to help raise funding. We were so fortunate to have the community in Tucson pulling for us. The following have all donated to this project: Richard Hernandez of Crane Medical Transportation, Brittney Wilson of Rural/Metro Tucson Ambulance, Lisa, Gibby, Angle of Casa Molina, Pati & Luke of Lukeís and Mike Cummings of Rosatiís Pizza.
You are currently running a fundraiser for Eyes Upon Waking, right? So what can you tell us about your fundraising campaign?
Basically I put all my savings into the filming we did in April and I am still short on funds to get it finished and move forward. We still need the VFX to be added and bring in our entertainment lawyer so we can move forward on offers and finalizing contracts for investors to help get the feature into production. The Booster Campaign helps give an incentive by having people purchase a T-shirt for $20 with the name of the film and website. The T-shirt will also be some extra publicity to help get new visitors to the website and bring out the awareness of how many people are really suffering from depression.
https://www.booster.com/eyesuponwaking
Eyes Upon Waking was in pre-production in April. So how far along is it before it goes into full production ... and any idea yet when it might be released onto the general public?
If all goes well and we can achieve full funding we will be in full production by the end of 2014. There is a great tax incentive Section 181 which gives all investors 100% tax break. I was able to achieve this and grandfather it in for my financiers on the feature by financing part of the film through my savings and help from friends and family. So if all goes well, Eyes Upon Waking will be released to the general public in 2015.
Only very recently, you have produced the short The Stray, right? You just have to talk about that one for a bit!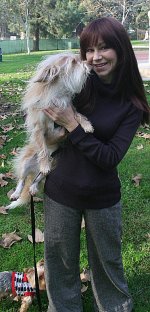 on the set of The Stray
The Stray is a great story about a little girl who saves a stray, who in return saves her. This films showcases Zoey Diaz (Katy Perry's Wide Awake video) and Xihuaru Kilcher Kung Foo Panda. I had a wonderful opportunity to work with a great team of producers and the amazing director Ryo Rex [Ryo Rex interview - click here]. Ryo also put me in this film to play Sasha's mom. Ryo also edited what we had shot so far.
What got you into producing to begin with?
I realized if I was going to get Eyes Upon Waking made, then I needed to not just sit back and hope someone would want to take on this project for me. I figured I'd start learning about producing and the opportunity came for me to produce my first feature film High on the Hog. I only had a budget of 30k to start out with and was able to bring in Sid Haig, Joe Estevez and Robert Z'Dar.
Initially though, you entered the filmworld as an actress. So how did you get into acting, and did you receive any formal education on the subject?
I've been acting since a young age, and like most starting out on stage and in commercials. Once I discovered film I was hooked. I attended the Chicago Academy for the Arts (CAA) and had some formal training but most of my ability comes from watching films. I would say I watch about 20 new films a week.
Do you still remember your first time in front of a camera, and what was that experience like?
My first professional experience with film was in Sixteen Candles. I was only an extra but boy was I hooked! Prior to that I mostly did stage, commercials and industrials. But there was something magical about being on a true film set, I felt that this is where I belonged.
You have been in both independent and major studio pictures - so how do respective filmsets compare? And which do you find more challenging, more fun, more whatever?
Working on major studio films is great because there are a whole lot more people working, and getting paid a fair amount is great, but I have to admit that I love working on independent films because I feel more connected to the audience through the type of roles I get to play. They both have their own challenges so it's hard to say which is more fun. I think it comes down to the cast and crew I am working with. The best is being on set with filmmakers that want to be there not for the pay check but for the love of the project.
Any past films of yours you specifically want to talk about?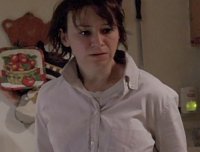 When Skies are Blue
When Skies are Blue was a real opener for me. I guess it was the first time I really had a director challenge and push me. I am proud of my performance and my dad was able to watch this film at Sundance 2012.
Any future projects past Eyes Upon Waking you want to share?
I just finished playing the lead in a feature called The Other Side of the Door and am attached as the lead actor in a thriller called Sin Verite. Basically it's Fight Club meets The Game. The writer Tommy "Lomai" Sigmon [Tommy "Lomai" Sigmon interview - click here] wrote this feature with me in mind and it is a very tight, unique script that brings on another challenge as an actor. I'm also producing a feature called 3rd & Goal about the first female football player to make it in the NFL and producing a love story called Je T'aime, Au Revoir, directed by Bennie Woodell [Bennie Woodell interview - click here].
You have also done quite a bit of theatre over the years. So how does performing on stage compare to acting in front of a camera, and which do you prefer, actually?
Though I'm glad I got my start in theatre, to me my love is film all the way. I love the process of rehearsing and discovering my character while working on stage, but once the show is up I'm good for one weekend performance and then I get bored. With film you still prepare but things change daily while on set and it really keeps you on your toes.
How would you describe yourself as an actress, and what are some of your techniques to bring a character to life?
I have grown into a character actor. I love taking on new challenges and being able to show that I can be cast against type. Basically life experiences is where I draw from. I don't really have a technique. I want to communicate the range of emotions that make up life, and express them as playing the notes on a keyboard of feelings. We expose our vulnerability as human beings on a daily basis; the actor's job is to interpret those vulnerabilities in every style of performance.
Actresses (or indeed actors), filmmakers, producers, writers who inspire you?
This changes daily because there are so many filmmakers out there and with technology I am able to view films I may not have been able to years ago. I have so much respect for the filmmakers that surprise me. I love just picking a film I know nothing about and being completely surprised when it turns out really unique (Butter is a great example of this). If a filmmaker or actor impresses me I will research the crap out of them and become a true follower. This happened with Jessica Chastain in Jolene. I saw this film 2 years ago before anyone has even heard of her and said "this girl is going places." I thought the same thing with Amy Adams in June Bug. I love that both of these actresses continue to challenge themselves and we don't see them in the same role over and over again. Same goes for Frances McDormand.
Actresses I aspire to be like are: Vera Farmiga, Frances McDormand, Juliette Lewis, Jennifer Jason Lee and Melissa Leo.
Your favourite movies?
Though they change daily, here are a few I have off the top of my head: Newfound Girl, Spork, Butter, Red White & Blue, Lawless, Red State, Country Strong, Jolene, Shakespeare in Love, It's Complicated, Fargo, Something's Gotta Give, Five Easy Pieces, Whip it, Thumbsucker, Almost Famous, Wrist Cutters and Orphan.
... and of course, films you really deplore?
Any film that does not have a solid script or does not put their money into the production value. People, when it comes to cost don't skimp on sound. This area gets overlooked a lot. I've seen some films with bad actors, but because the story was so well written, it really did not bother me as much and I actually enjoyed it, but only a few.
Your/your movie's website, Facebook, whatever else?
http://www.jenniferscottactress.com
http://www.imdb.me/jenniferscott
https://www.booster.com/eyesuponwaking
Anything else you are dying to mention and I have merely forgotten to ask?

Feeling lucky ?
Want to
search
any of my partnershops yourself
for more, better results ?

The links below
will take you
just there!!!

Find Jennifer Scott
at the amazons ...

amazon.com

amazon.co.uk

amazon.de
Looking for imports ?
Find Jennifer Scott here ...
Something naughty ?
(Must be over 18 to go there !)

Daily several people reach out to me sharing their stories about depression and suicide. They all stressed that this film will help give them a voice. I'm also trying to get a PSA campaign going to help bring out the awareness. If you want to share your story of depression and put yourself on tape, please reach out to me through jennifer@openeyesprod.com. Here is a link to what we have so far and are looking for: http://www.youtube.com/watch?v=PUM8BPMRGiI
Also if you're interested investing and helping us get Eyes Upon Waking completed, please reach out to me or you can make a donation on our site through Paypal: http://www.eyesuponwaking.com
We are also starting a campaign to help raise additional funds to get us to the next level through this site: https://www.booster.com/eyesuponwaking - you can purchase one of our lovely T-shirts for only $20. All the money goes into the making of Eyes Upon Waking.
Thanks for the interview!
No, Thank You!!