Your new movie Anyone Home? - in a few words, what is it about?
It's about a single mother and her young son who are hired to live in a model home in a housing development after the housing crash. It's taking "house staging" to the next level. She is not what she appears to be and her mental illness takes the audience on a crazy ride inside her bi-polar mind.
What did you draw upon to bring your character to life, and how much Jasper Cole can we find in Walker?
I try to always bring some vulnerability to my roles if I can. I usually play the more alpha roles and this time it may seem like Walker is the aggressor, but the tables are turned and things go from bad to worse quickly. It was a very restrained performance with physical limitations.
You spend part of Anyone Home? tied up in a rather grostesque way - so in what way has that influenced your acting?
It was a great exercise in really bringing what I was feeling and thinking out through my eyes, They always say the "eyes are the key to the soul" and "the camera doesn't lie" so I felt pressure to make sure I was able to convey Walker's inner thoughts, fears etc.
How did you get involved in the project in the first place? And to what extent could you actually identify with Anyone Home?'s brand of horror?
I was lucky and grateful to get offered the role from a great caster Kendra Patterson. I had auditioned for her for various TV series over the years and she knew my work. That doesn't happen for me that often these days as it seems we are all auditioning for any role we get. I really love the style of the film because it could really happen and it's not a "monster under the bed"-kind of horror film. It's more of a psychological drama. Films like When a Stranger Calls scared me more because it's a situation one could actually face in real life.
What can you tell us about Anyone Home?'s director Patrick Cunningham, and what was your collaboration like?
Patrick is amazing on every level. It is his film directorial debut, and the passion and excitement he brought to the set everyday was contagious. He's smart and calm and very sure of what he wanted yet was open to collaborating with all of us on the set. I look forward to working with him and co-writer/producer Will Frank again.
Do talk about the shoot as such, and the on-set atmosphere?
This project was a long journey from the beginning til now. We actually filmed originally in 2012 and then did several additional shoots, adding more footage for my character "Walker", which was requested after test screenings of the film early on. The team really took their time to make sure it was creatively what they wanted and having a great company like Gravitas Ventures distributing it is just icing on the cake.
Any future projects you'd like to share?
I'm excited to have a new film Captured releasing January 1, 2020. I play Shelly, a creepy groundskeeper who may or may not hold the answers to lots of family secrets. He is sort of a red herring in the film. I got to work with another first time director, Joe Arias, and a young cast of actors who star as rock singers who travel back to the lead singer's (Brittany Curran) childhood home to shoot a music video. All HELL breaks loose!
What got you into acting in the first place, and did you receive any formal training on the subject?
I was a "closet thespian", meaning I wanted to pursue acting early on but it wasn't considered "cool" growing up, so I waited til I graduated high school and started college. I then went to the Atlanta Alliance Theatre School and studied playwrighting, acting, producing and directing. I started in theatre and did over 30 plays. I have since trained with John Kirby here in LA, the late Tracy Roberts and Lonny Chapman at The Group Rep Theatre among others. I still feel the best training is 'on the job" and working on sets and actually getting in front of the camera as much as you can and never turn down any jobs when first starting out.
What can you tell us about your filmwork prior to Anyone Home?
I have done many films but much more TV work. In the past few years I did the Saturday Night Live comedy MacGruber, The Purge: Anarchy, Hansel & Gretel, Awaken the Shadowman, Dark Sacrifice and just wrapped a cameo in the new comedy Sallywood starring Golden Globe winner and Oscar nominee Sally Kirkland.
Having acted in both big budget and indie films, and on TV, how do all these kinds of set compare, and which do you prefer, actually, and why?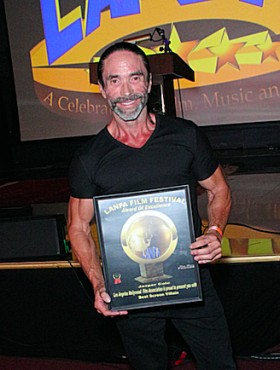 Jasper being awarded "Best Screen Villain" at the 2019 Los Angeles Nollywood Film Awards
The only real difference are the accommodations and obviously the pay. As for the work, I approach each one exactly the same. With big studio films you have lots more time, but quite honestly I love the fast pace of indie films. I like to work fast and I always feel I'm best in the first few takes anyway. It may be my theatre training but I even like to film the rehearsals because great stuff can happen.
Over the years, you've become known as a "screen villain" - so what are your thoughts about this label?
It took me years to be "typecast" or get on any list... so I'm thrilled. In TV/film finding our lane as actors is a blessing. Theatre is the one medium where actors can stretch a little more, but TV/film is all about branding.
We also have to talk about your talk show One on One with Jasper Cole for a bit, and what's the idea behind it?
I started it 8 years ago as On the Set with Jasper Cole for 4 years and now a more personal show One on One with Jasper Cole for the past 4 years. It gives me a chance to show more of my real self. I love pop culture and politics and social issues. This past year I have really been focusing on the homeless crisis in LA and the country. We do episodes called The Horrors & Heroes of Homelessness. My show is live on Thursday nights 6 pm pst on Blogtalk Radio and then archived on iTunes, iHeart Radio, Spotify, Spreaker and over 30 more platforms worldwide.
How would you describe yourself as an actor, and some of your techniques to bring your characters to life?
I'm not one who thinks that acting is brain surgery or curing cancer but I like to approach acting from a place of just listening and reacting in the moment. Keeping it real and accessible to an audience. I think we all bring something unique and I try not to overthink it.
Actors (and indeed actresses) who inspire you?


Feeling lucky ?
Want to
search
any of my partnershops yourself
for more, better results ?

The links below
will take you
just there!!!


I love so many different actors and actresses from the past and present. Montgomery Clift is one of my all time favorite actors along with Daniel Day Lewis, Jeff Bridges and Sam Elliott. Character actors who inspire me are Harry Dean Stanton, Jackie Earl Haley and Mickey Rourke among others. I love Jessica Lange, Jessica Chastain, Sarah Paulson, Angela Bassett, and the list goes on and on.
Your favourite movies?
Imitation of Life starring Lana Turner, A Place in the Sun starring Montgomery Clift, Papillon starring Dustin Hoffman and Steve McQueen, Terms of Endearment, Ordinary People to name just a few. I like character-driven films.
... and of course, films you really deplore?
Lol... way too many to list!
Your website, Facebook, whatever else?
Twitter: @jaspercolesays @oneononejcole
Instagram: @jaspercolesays @oneononejcole
Facebook: Jasper Cole and One on One with Jasper Cole
Anything else you're dying to mention and I have merely forgotten to ask?
Please VOTE in 2020 regardless of who it is, JUST VOTE!
Thanks for the interview!